| | |
| --- | --- |
| | |
Hmmm…the band sent me this demo and also their '97 demo. The '99 tape shows improvement, especially the drumming. Though I got a bit of a darker, cryptic atmosphere from the old demo. You get five songs of brutal death/grind blasphemy that a die-hard freak can really savor. – Dale
Price is apparently a hefty 6 I.R.C.'s (International Reply Coupons): Sanatorio, Caixa Postal 1303, Belo Horzonte, MG, BRAZIL
Only 2 songs on this demo, of note, this Australian act features Anthony Till, the main man behind the awesome Misery's Omen. The overall sound is a tad muffled everything is mixed well enough you can definitely hear what is going on. "Lone Pine" really takes me back as this release just reeks and bleeds old Greek black death metal. I unquestionably find my mind returning to early Rotting Christ, Varathron and Necromantia. All of which I loved back in the day and still do now, classic stuff. It is marvelous to hear a few bands starting to revive this seemingly lost style again and do it so well. A deep dark and depressively melancholic atmosphere permeates throughout these two tracks. Update – I have just received word that Sacriphyx have been signed to Nuclear War Now! For a few releases. Always nice when a good band finds a good label. – Dale
Sacriphyx, Box 30, Civic Square, ACT 2608 AUSTRALIA neil_o_death@yahoo.com.au
Shit I have been getting in some great demos this issue. Better crop then the last issue. Sanctorum blend Euro styles such as melodic death metal, thrash and a little black metal expertly. They are really talented players. They keep things melodic but never sacrificing extremity and keep that brutal and aggressive edge. I like this band a lot and apparently they are recording their debut CD as I speak. Another great thing about this tape is that is it is totally free so send your name and address and get this killer tape FREE! – Dale
Sanctorum, c/o Joe Waltz, 6376 Anita Dr., Parma Hts., Cleveland, OH. 44130, USA Email = mdaimon@hotmail.com
This is the one man band of David Baxter (ex-Plutonian Shore, ex-Skrew, ex-Škáŋ). The man's talent shines through on this full-length of 'progressive' black death metal. The roots of the progressive touches are centered on things like acoustic parts, progressive rock influences, latin rhythmic incorporation and some small outside the box thinking with regards to song structuring. The black death elements are thankfully strong, pronounced and enjoyable to my ear, these metal rudiments are really more of the foundation of the music than those other things I named above. All instruments are solidly performed here, but the drumming in particular is a highlight, so I probably should not have been surprised upon further inspection to find out David played the drums in his past bands. While a lot of the rhythms and riffing is catchy, those elements are also generally kept heavy and/or essential to the song itself. Which for me, thankfully largely lacks the too sickly sweet melodic levels, seemingly just for the sake of being melodic, a pitfall a lot of melodo death bands fall into in my view. I do say largely, as there is a few times where I feel the core metal sound on here is slightly undermined, but those moments are brief and fleeting. Another highlight in addition to the drumming, for me, is his vocal performance where his echo-y, rasping growls are commanding and run up an down a register, which includes short transitory hints of clean-ish singing voice with a hint of gruff thrash style vox. Yes, the vocals really flesh things out and honestly they are probably a little under used on 'Solivagus' as a whole (and not at all in the title track as an example). Some of the progressive elements do not always hit the mark for me, but that said for an old goat black death purist like myself I still found a lot to like here. - Dale
https://www.facebook.com/sarpahorde https://sarpa6.bandcamp.com/
You know sometimes you come across a release and yes I do mean release, not demo, not rehearsal tape but a professional release by a record label. You come across it or it comes across you (and does not even offer a cum rag to wipe it off), you listen to it perplexed at how a label could actually release it. "First Strike of the Possessed", is garage band rehearsal material in every way, from the paper thin, boring and unimaginative material, pedestrian sub-par playing, thin tinny drums and instruments in general that sound as if they were all recorded simultaneously, in different rooms of the same building creating something very disjointed sounding. Yes, my friends 11 minutes of something that was not good enough to be recorded on a boombox, more less given a proper release. They claim in their bio to be influenced by Beherit, Blasphemy, Profanatica, old Napalm Death, Terrorizer, Anal Cunt and Venom! HAHA Satanochio cannot even hope to hold a candle to Venom or even own one their albums, they sound nothing like Venom or Beherit or Profanatica but do come off as a lame 3rd rate mix of early Napalm Death mixed with Anal Cunt and mumblings / sound clips of the movie "Evil Dead" and evil lyrics to add the 'Satanic' part to their tag line of being "Fist-fucking Satanic grindcore / noise". I do have some very unfortunate news, well make that two sad bits of news. First off, this release was only pressed in 33 copies and is now sold out, so I am afraid you will be shit out of luck ;). Only 33 people bought this? Sounds about right. The other regrettable tidbit of news is the band are currently recording a full length album, hopefully they are smart and limit it to 66 copies because there are only so many suckers to go around, you know. VENOM! I nearly busted a gut on that one! Thanks for the laughs guys. – Dale
www.satanochio.go.ro axa666@yahoo.com www.axavalaha.go.ro
Coming out of New England's death metal scene is Scalpel with their second cd "Methods To Delusion". It features ten tracks of old school death metal, showcasing well written and performed material. Scalpel play raw, brutal death metal similar to the mid '90s US scene, mixed with their own ability to write memorable music. The guitars are played with both extremely fast and crazed patterns, and some more calmer mid paced sections. The drums are done with the same tempo ranging from hyper-speed blasting, that do slow to a heavier more middle paced tempo. If you are a fan of the mid '90s American death metal scene, then be sure to pick up Scalpel's newest release today. - Patrick
https://scalpel.bandcamp.com/ https://www.facebook.com/Scalpelofficial/
Scorched Earth rain (pun intended) down mid-paced steam rolling deathtrash with the all important memorability factor. The vocals follow suit as you can hear and sing along to every gruff word. As the band say on their flyer "Six crushing anthems of death-thrash genocide!!!" That sums up this musical maelstrom. So go get the most out of your extermination! - Dale
Get yours for $8 US / $9 US Everywhere else" P.O. Box 4101, Seattle, WA. 98104, USA Email = scorchedearthxxx@netscape.net
More death-core stuff. The first 2 tracks have too much hardcore in the voice and the groove sections. The drummer is a really talented and pretty tasteful musician. It's weird the production is good except the 2nd song where it is really weak!? Different studio? The last 3 songs display a little blasting and mostly death metal music and this is where Scrape's strengths lay. Obviously the more death style tunes inspire the singer as he drops much of his hardcore style and shines. Mixed bag but the talent is there. – Dale
Scrape, 164 Powers St., Apt. 3, Brooklyn, NY. 11211, USA Web = www.scrapeonline.com
Talk about bombastic extreme metal! Scythian's debut demo is a pulverizing tour de force that combines the brutality of European & old American styled death metal, with morose doom passages and a heavy 80's thrash aesthetic- imagine a combo of Sodom, Morbid Angel, Nocturnus and Bathory and you get the idea of exactly what to expect out of this relentless iron-balls recording. "Suffering to the conquered" opens with the eerie and somewhat ethereal "Astral Assassins" before picking up rapidly with "Shattered Idols" and then the very Bathory esque "Pray to war". Next up comes "Spires to ashes" which echoes German modern Black-thrash stalwarts Desaster. The title track follows, showing off Scythian's more than competent handle on ancient Teutonic thrash metal coupled with just the right hint of Bathory's "Blood, fire, death" era. Appropriately enough, Scythian closes this devastating release with a quality rendition of Bathory's "Holocaust"- one of the few Bathory covers actually done right. Scythian have emerged strangely enough from England- a location with little to nothing to show for the heavier side of this genre. But who cares about where this band comes from, right? "Suffering to the conquered" blows away just about anything coming out these days so smugly labeled "brutal death metal", and it is -more- than an adequate representation of the very best of what keystone death & thrash bands have to offer us. A rock solid production, strong vocals and unique combination of brutal & epic influences makes this a highly memorable and worthwhile investment. Now signed to Galactic Records, Scythian should have new material coming along in the near future. Until then, absolutely do NOT hesitate to contact the band for a copy of this release. - Wilhelm
band contact: scythian.death@gmail.com
I have no information on this band and could dig up very little about them online. But I can tell you they are from Ohio and play a disgusting brand of grindcore. I rather enjoyed this album, it lives up to it's title and is very sick, it is also very high energy, dirty grind with that cool fuck you and everything about you attitude. Which I really liked haha. Some of their stuff reminds me of some earlier Meat Shits material, like some of the stuff off of that bands "Fuck Frenzy" and "Ecstasy Of Death" albums, minus all the porn samples and horror movie clips though lol! This is some good shit, if you are into wall of noise grind, with short blasting songs and enjoy rolling around in your own filth, while listening to this juggernaut musical maelstrom. This is what they are about, no deeper than that, so if you like ripping grindcore with an attitude, then pull your dick out of that hooker, take your last swig of whiskey and get in touch Sewage Grinder! - Dale
http://sewagegrinder.bandcamp.com/ https://www.facebook.com/shitgrinder
Well now, I have some history with this one, the two men Clayton & his cousin Chris Shaver are the same two who made up the awesome Canadian band Morbid Darkness, which was around from 1989 to 1996. I was in touch with them, mainly Clayton (though Chris is a cool guy as well); I even made the 10 hour drive to stay at Clayton's house. I believe it was in the summer of 1994. Not only that, I co-ran the record label Autopsy Kitchen Records and we re-released their '94 demo tape on 7" ep, about a decade later. I have not been contact with Clayton for the last decade or so, apparently they lost contact with each other for many years as well, with much water under the bridge I am sure. They have now reformed (playing together for the first time since '96!!), and rightly so, after so long they have chosen to form a new band and this release is the result. I can hear hints of that old M.D. sound, but overall as many years of life's travails will tend to do, they are different people now, so it stands to reason the music they produce is pretty different sounding yet the old deep chemistry remains. I must admit, upon first listen I thought this was just decent, but I am about a dozen listens deep and it grows on me more and more, I can not stop listening to it now! Many elements in these songs are stuck in my head, and that is a good sign. I would say Morbid Darkness were more of an old school black death metal band and Shadu I would call more of a dark death metal band, but their old school thrash, speed & heavy metal root system is deeply entrenched and proudly on display. The music is heavy and catchy, it had me headbanging at times; there are some killer lyrics and even some cool repeated chorus sections. I love the line "Raise Your Head, Open Your Mouth, Drink In The Rain Of Blood!", which is a great line that conjures a cool vision in my mind. There are some cool short guitar solos, which definitely remind me of some of old solo project jam tapes and things Clayton would give me back in the day. Clayton (guitar & main vocals) has added to his growling vocal arsenal since the old days with deeper croaked growling ala Impetigo, angry adrenaline filled yelling, boiling & bubbling acidic undertones on his voice, as well as adding some newer black metal stylistic touches. It is interesting hearing how his older man, life miles modulating those vocal chords slightly changed his intonation and his years of experience have deepened his creativity and levels of his vocal inflections. Clayton has always been a charismatic guy, but now his musical literal voice now reflects that more than ever and has never been channeled more effectively. The vocals on here are diverse and deadly, I do not want to over shadow that Chris adds his own vocal elements that nicely round out this deep armory. Speaking of Chris (guitar, bass & drums), he was always the backbone of the musical song construction bringing both members individual talents and raw materials into sharper focus. Shadu are uncompromising, raw and old school, but honestly at the same time do not really sound much like other old school worshipping bands, they sound different to my ear, in a good way, something you do not hear often in this day and age. I am really looking forward to the album now due out late this year or early in the next. - Dale
https://vhod.ca/s-n-m https://shadu-nar-mattaru.bandcamp.com/
It has only been a little over two months since Shadu-Nar-Mattaru graced my mailbox with their self-titled 25 minute debut demo ep. Already they have a new EP with another 23 minutes of new music; these two metal demons are clearly feeling the pull of musical inspiration and have been slaving hard in front of their brimstone & hellfire furnace forging new music for the hungry UG scene to devour. I have given some history on this band in the review above (so read that review first), so let's jump right into the music. I feel like their thrash roots are bubbling up a little more this time, as they forcefully swing their mighty celticfrostyhammer wreaking musical destruction and sodom-y in all directions. Having said that about the thrash roots, their sound is still all rooted in a very traditional and dark death metal sound. The opening title track is a very rhythmic, infectious tune that got me headbanging and features just fantastic lyrics that you can sing along to, with the vocals easily; these lyrics are striking with a cool memorable chorus making this song a real anthem to me. Well done. The songs on here continue to be strong, catchy and heavy with some really tasty sounding guitar work and little nuances going on that I enjoy very much. They even tried their hand this time around at an epic length song, with "Torchbearer" clocking in at eight minutes and sees a slowing down of their usual mid to faster paced material, the tempo in this song is a lot slower and a bit doomy sounding, which creates a nice creepy, gloomy necro-aura to their sound. It is not all slow and doomy though, there is a short pithy middle section, before returning to the eerie crawl and even has a great emotive guitar solo in this epic centerpiece track. The vocals on here are varied in style, all quite distinctive and represent a real strength for the band, you can tell a lot of thought and attention to detail went into them. They keep the vocals extreme, but there is also an emphasis whether they are bloody gurgling yells, gruff thrashy screams, black metal rasps, death metal growls etc… on always keeping them intelligible vocalizing in a precise, enunciated delivery. The outro "Mortuary", which features underlying subtle guitars, foreboding drums and a myriad of slightly obscured whispering, growled, spoken, yelled voices all repeating the title like some hypnotically frightening, sinister ritual. As soon as I heard that outro it triggered something in my memory, it felt vaguely familiar. Then I watched a short interview with the band and found out why I had that feeling, as this is actually from a rehearsal tape (which Clayton Shaver copied for me many years ago) the two made way fucking back in 1990! It still holds up and sounds good updated on here. The band have decided to scrap the previous plans of an album in favour of continuing, for the time being, to just keep releasing more of these eps and I believe they have a third one planned for this year alone! Keep them coming if they are going to be this good and the inspiration continues to flow like it has been. With this release and the next one, I believe they are going to go the digital download route for now rather than pressing up CDs. I know if I still ran a label I would be contacting these guys about releasing this stuff on some physical formats, this stuff would sound great on vinyl! - Dale
https://vhod.ca/s-n-m Shadu Youtube Channel https://shadu-nar-mattaru.bandcamp.com/
I dig how the first song on here starts off feeling already in progress, you are automatically off and running, no lead up, no build up, just like 1,2 fuck you let's go! The opening track "The Passage Through Oblivion", for me, got my energy level and interest level up quickly as it thrashes hard straight ahead and as always is shrouded in the now patented blackened death aura of the Shadu sound. The guitar fill just before the two minute mark, and again briefly about thirty seconds later is like audio sex to my ears, love that shit and there are similar examples of this throughout the release. The title track (on this five song EP) is up next, as they slow the speed down a half measure and amplify the level of catchiness and memorability up. The guitars and the drumming overall, on this second song, keep the pacing feeling very rhythmic and infectiously hypnotic alongside an unforgettable chorus. The second to last track "Zeta Reticuli", which of course refers to a star system, which many throughout the years have thought to contain alien life. This two minute song is largely an instrumental acoustic guitar interlude piece that did give me a moody sense of the expansive vastness of outer space and all the mysteries it may possess. The final track "Fade The Day" sees the band attempting their most ambitious work yet with an 11 minute opus that starts off with a poem from H.P. Lovecraft (whom I am a long time admirer of, it does not say what poem but I believe it is from the "Psychopompos…" poem), which make killer lyrics for a metal song and really helps set up an dark air to start things off. This epic length song for me is an enjoyable song music wise (more of that splendid audio sex guitar work on display here), but the varied dual member, assimilated vocal work and equally epic and well done lyrics are the centerpiece of enjoyment for me. In my opinion, this is probably the bands most diverse and musically cohesive release that feels like two man Shadu are finding their stride. When I say cohesive above, I am referring to the earlier EPs that had some great groups of songs, which could be enjoyed if you plucked them out and listened to them in isolation. Where as, with this EP it feels like more of a whole, where to enjoy each song fully you need to listen to the release as a whole experience to get full enjoyment of the music. For me, that is harder to do and shows a higher level of planning, fitting each piece of the puzzle together to create a big picture vision of the whole audio portrait, if you will. Maybe in future they will do the same with the lyrics for a full concept release? Who knows what the future holds for this promising band, all I know is I am looking forward to finding out, as these two demons show no signs of stopping or even slowing down their prolific musical output (that is now 3 EPs in 2019 with an overall run time equivalent of two full length albums!). I am sure we will not have that long a wait for what is next, but until then "From The Darkest Corridors" comes highly recommended from me. - Dale
P.S. - The band have just released an online only nine minute track called "Nocturnal Winter Part 1" available on their youtube channel or bandcamp (links below). It is truly a killer song!!
https://vhod.ca/s-n-m Shadu Youtube Channel https://shadu-nar-mattaru.bandcamp.com/
The duo of Chris and Clayton Shaver, cousins bonded by blood and by metal, also collectively known as Shadu-Nar-Mattaru return to the pages of Canadian Assault. Based upon past experience I am stoked for it. The proceedings kick off with an evil, acidic black metal opening to the first track "The Wrathful And The Sullen", which quickly gives way to a heavy, infectious song full of old metal goodness infused with fantastic energy! Damn, that is a good way to get the listener pumped and the adrenaline flowing, sucking you in right off the hop. The second song keeps the pound ripping and the energy rolling. The third song "To Dark And Forgotten Chambers", brings the tempo to a simmering boil and turns up the emotive qualities in the music's structuring to create a very chilling, affecting aura backed with some killer lyrics and an infectious chorus. Actually, most of the lyrics on here are really fucking good, well thought out, well written and fleshed out in audio form with a plethora of vocal nuances superbly performed and placed within each song. I also should give a nod towards some of the savory guitar work and the brief, but stirring guitar solos on here. These guys really know how to bring the best of old school metal, where the song is king, it is all about the flow, it is about staying true to your roots, it is about the memorability and the inner sentiment that needs to be present to make a real metal anthem. For me, Shadu-Nar-Mattaru have tapped into the ability to create that type of classic metal, I hear a lifetime of devotion as fans and musicians poured into this release and I am here for it all day, every day. 'Dawning Of Nibiru' is twenty-five minutes of outstanding metal music that does the Canadian scene proud and obviously comes highly recommended from me. - Dale
https://vhod.ca/s-n-m Shadu Youtube Channel https://shadu-nar-mattaru.bandcamp.com/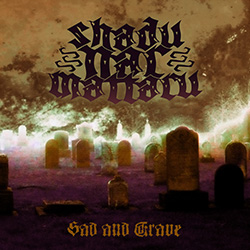 The prolific Shadu-Nar-Mattaru (consisting of cousins and longtime musical collaborators Chris & Clayton Shaver) return once again to the pages of Canadian Assault. Their releases are always a welcome sight in both my mailbox and inbox. There are three songs on this new EP "Sad And Grave", "A Black That Drank All Light Forever" and "Ladder Of Lights". The lengthy title track starts things off by setting the pace with a more musically downcast, less violent and more morose Shadu, showcasing an added depth to the bands musical armory. Not to worry they always stay true to their core and their '80s roots, yet still moving those many influences forward with that own sound baked into everything. The Morbid Darkness lyric in the second song did not go unnoticed by me, a welcome nod to cousins' original band of the same name that started way back in 1989! I would have to say my fave song on here is "Ladder Of Lights", it is a really good song that while keeping a brisk pace, it does not feel like it when listening somehow. The music this on this track has a gloomy essence, punctuated by a despondent Lovecraftian intellectual psychosis feeling. This is especially brought on by listening to the fantastic lyrics in the song that are brought to life with superbly performed and arranged vocals. This release is less attacking and evil sounding than recent Shadu material, as I mentioned above, but there is also something slightly different in the guitar tone or the recording process itself? It does not however affect the high musical benchmark always set by Shadu, so no worries there. So yes, back to my thought above, this EP is in a different vein than past material as it has a dark yet classy sounding aura, while also possessing more of a melancholic sadness, turning into suicidal madness emotional quality to music that I found quite enjoyable. You definitely should check out this criminally underrated band, and if you check out their bandcamp page they sell their whole catalog for an extremely reasonable price, so I would highly recommend going that route, you can thank me later. - Dale
P.S. - I would also recommend you visit the Shadu Youtube channel, they recorded a killer cover of Slaughter's infamous classic song "Disintegrator/Incinerator". It is a truly respectful and ripping tribute to this legendary Canadian band!
https://vhod.ca/s-n-m Shadu Youtube Channel https://shadu-nar-mattaru.bandcamp.com/
The first track "Twilight Vespers Of Damnation" starts things off at a rapid pace, with strong energy riffing and that just sucked me in immediately. There is a tangentially Iron Maiden feeling in the guitar solo in the middle of the song that is pretty killer, the vocals switch off in different variants, which gives off a good liveliness to them and are so well done and memorable. Shadu keep things on the simple side overall, putting the focus on catchy riffing that is, again that word memorable, always keeping a spotlight on the superb vocals, which are backed by generally always excellent, sometimes strikingly unforgettable lyrics. Having said all of that, I do miss the recording / production of some of the earlier releases that had a darker, fuller tone and bottom end by my ear (it actually reminds on this release of the guitar sound on Edge Of Sanity's "Purgatory Afterglow"), but that is just a tiny nitpick on a personal preference. The guitar work on the instrumental song "The Plateau Of Leng" hits the spot for me, an infectious rhythmic riff I loved (and could have been used more extensively in my opinion), this is followed by a nuanced guitar fill / solo that oozes a classic metal sound, as the track begins to recede back into the darkness. The final track "As The Sunlight Turns Into Dust" despite being my least fave on the release, still features some memorable lyrics, and vocals that drip emotion and possesses another sweet riff. Shadu just keep bringing it and have managed to churn out no less than 7 (often lengthy) EPs over the last two years, enough material really for 3-4 full-length albums! That is impressive and most of this material is high quality dark Deathrash music I can recommend. This bands deserves to be more widely known, but I know they do it for the love of metal and the UG scene, they also appreciate any and all of the cult following they do have now. Check them out ASAP!! - Dale
https://vhod.ca/s-n-m Shadu Youtube Channel https://shadu-nar-mattaru.bandcamp.com/
This is a special release for me and for the band I am certain. If you have been following my series of reviews of releases from this band, you will know these cousins originally formed a band together called Morbid Darkness that was in existence from the late '80s to middle '90s. I was a big fan of this Canadian band (and really though different from many years passing, Shadu is a tangential or in some ways not so tangential continuation of M.D.). With that in mind, for this release they have decided to revisit that original incarnation in many ways including using the old guitar tone and some stylistic elements. To say I am stoked for this release is definitely an understatement. There is even a killer Gustave Dore artwork cover, another nod to the early days. The guitar tone on here is really warm and dark sounding; it suits the material on this nearly 30 minute EP (full marks to Shadu for always listing their releases as EP's, how many bands these days try to pass off 10-25+ minute releases as "albums" these days? Too damn many in my opinion). It is impressive to me how these guys turn out so many releases and nearly every damn song features excellent, rhythmic heavy riffs that are both imminently headbangable and memorable. As is usual with Shadu the vocals are really varied with varied charismatic sounding and very decipherable growls, gruff yells, plus a myriad of roiling vocal acidic accents always backed with quality lyrics that tell a story and infectiously imprint themselves in your memory. As gloomy sounding as this release is that classic heavy metal sound always bleeds through their blackened death metal sound. That traditional metal bleed through encompasses these old goats many metallic influences, hard earned through long years of dedication. This is reflected in some really refined guitar fills and smoking guitar solos, all craftily woven into their sinister musical tapestry. Apparently this return to their early roots with the guitar tone is planned as a one off I believe, but I enjoyed it and that old sound mixed with their matured songwriting and advanced experience is a lethal combination on 'The Eternal Wore'. All of which makes this a high recommendation from me. I look forward to what is next from this extremely prolific band (9 releases in just over 2 years and that is not to even mention Chris Shavers two quality solo projects Transir & Edifice), so I know I likely will not have to wait long. What more can you ask for from one of your fave UG bands? - Dale
Shadu Youtube Channel https://shadu-nar-mattaru.bandcamp.com/
The Canadian two man band Shadu-Nar-Mattaru brings their shadowy and deadly sound back to the pages of CA yet again. I have to say I like the guitar sound on here, it may be my faulty memory but it feels like the guitar has a touch more bite and heft to it on this recording. I found with this twenty-five minute EP hat my head alternating often between nodding and outright headbanging and that is a damn good thing, even impressive at times considering how long (7-10 minute range) the songs are this time around. Shadu have a knack for always keeping things dark and sinister sounding, they always keep the core of their sound intact yet are often changing up their general approach sometimes release to release. You will get one release that features shorter rip 'n tear thrashier songs, another with long doomier songs, another that goes heavy on the darkness and evil etc… It is possible to spread your wings a little musically without ever losing sight of what you set out to do with the band and keeping your roots firmly in the ground. Despite the long songs, unlike lengthy songs on a couple past releases this time they do not feel doomy. I mean that gloomy oppressive aura is there but they keep things at a middling pace with the odd brisk gallop mixed in. I want to make sure to praise succinct and classy guitar fills / solos that dot the landscape; they add a real emotional depth that puts some extra flesh on bone. The bands trademark vocal creativity and high quality is as reliable as the day is long. Those vox are a multitude of charismatic and comprehensible growling, gruff yells and other tumultuous vocal chord manipulation from both men. Lyrically this band always capably crafts and paints mental scenes that would probably make the likes of H.P. Lovecraft and Frank Frazetta proud. I have reviewed a lot of releases (this is the ninth in three years I believe!) from this very musically fertile band. So, it can be a challenge to come up with new things to say, but when the band consistently delivers quality it makes that challenge a pleasure. Do yourself a favour and stop sleeping on this great dark deathrash band. - Dale
Shadu Youtube Channel https://shadu-nar-mattaru.bandcamp.com/
The everlasting and ever flowing stream of artistic musical inspiration and consistent proliferation of releases never ceases to impress me. Shadu as many of you know is a Canadian band that consists of cousins Chris and Clayton Shaver. Their latest EP presents six tracks and over twenty-five minutes of music. Something I have pointed out in the past is the band always maintains their strong musical nucleus and rich range of old school metal influences. While still managing to skillfully augment their style slightly from release to release, sometimes it is raging speed, sometimes long doomy songs or headbanging deathrash, and other times marathon length songs that are not doomy juxtaposed the next time with short ripping tracks. An example of this is their last release "Doomwards And Downwards" had epic songs that were seven to ten minutes in length each, this time around not one song reaches the seven minute mark. The opening track 'Wraiths Born Of A Black Expanse' is a mid-range paced tune that has this pounding and galloping quality, coupled with melodic adventurous guitar work. It is anthem-like where you will probably find yourself unconsciously stomping your foot and nodding your head along the music. That opening song certainly gets the adrenaline flowing for me. I think it is fair to say that first song is a prelude of what is to come on the next song 'Winds Of Decimation' with more of an emphasis on pounding, anthem-esque feel, which features some buoyant traditional metal sounding guitar fills / solos, melodies and memorable infectious choruses. The lyrics (which are always great with Shadu) despite the more stirring airier songs are a contrast to me, as they are really dark, stark, gloomy and haunting. Which, being totally honest gives me a slightly uneven feeling when listening to that tune. Having said that I think the unevenness finds a better level in the last two tracks "Anunnaki" and "Ghost Parades of Murdered Children" (I imagine this is influenced by recent news from their province of the discovery of hundreds of native Indian bodies of children on old church/school grounds). The first of those two tracks brings a more serious and introspective mood, where as the last song, a portion of which the title of the release is lifted from, turns a darker shade of night to match step with the exceptionally chilling lyrics. This excellent song is the best on the release for me and it is dripping with emotion, a great vocal performance filled with morbid darkness and some really poignant guitar work. This is another very enjoyable EP and I continue to heartily recommend this great band to all that will listen. - Dale
Shadu Youtube Channel Shadu Bandcamp Shadu Facebook Shadu Spotify
Hot damn! After releasing nearly a dozen twenty five-ish minute EP's over the first three years of their existence (2019-21), Shadu have unleashed their debut full-length album. This Canadian band tends to like to shape shift a little with their sound, while always retaining their old school foundation, which pulls inspiration from everything from speed metal to black metal, thrash metal to death metal. This time around they have a lot of shorter songs; the music is more direct and driving this time around with the usual emphasis on crushingly heavy songs that have a catchy element to them that is perfect for headbanging. Whether they play doomy on one release or a cold and evil style on the next, they always seem to manage convey a strong level of effective emotion through excellent deft guitar work and a dynamic varied vocal performance. Despite the shorter songs (most are two to four minutes) this album is still a robust length of around 45 minutes projected across 14 songs. Speaking of the guitar work some of the sequences and fills on here are fucking gorgeous, a fine example of this is a track I am listening to now entitled "Eldritch Dawn". Back to the driving aspect of this album, it has a rapid pacing a lot of time, not blinding speed, just this steady stalking pace that is unrelenting and something I found quite compelling. Something Shadu always has is superb timeless classic extreme metal lyrics that are always delivered vocally in a severe and dark fashion. Those vocals are delivered through an array of yells, screams and charismatic growls that are always decipherable enough you can easily follow the lyrics as you listen along. Speaking of this area, check out how long the great growl at the end of "Lord Of Lies" is, I dug that. As much as those vocals are a feature they are only second to the guitar work and song construction here, both of those areas are first-rate and in my opinion help elevate Shadu apart from much of the UG metal crowd. I can recommend any and all of this bands many EPs, they are all quality releases, but in some ways they seems like they were training grounds to sharpen their skills leading up to the creation of 'The Sorrowful Frost' – highly recommended! - Dale
Shadu Youtube Channel Shadu Bandcamp Shadu Facebook Shadu Spotify
This is Skeleton Wolf's debut release, featuring seven songs, of newer blackened death metal. The guitars are well written, and extremely well played; they go from a fast black metal guitar style to a more controlled modern death metal pattern. The guitarist knows how to create, and play, a lot of solid guitar runs, and some very well written solo's mixed into a few of the tracks. The drumming is very skilled as well, and can go seamlessly from a mid tempo drum style, to executing a faster aggressive drum pattern in a few songs. The vocalist does a good job with brand of death metal growls, interspersed with some black metal screams filtering in and out, from time to time throughout the material. - Patrick
https://www.facebook.com/skeletonwolfmusic/ http://skeletonwolf.com/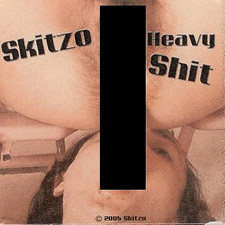 Excellent, a new Skitzo record. I had high expectations for this and I am well pleased to say I was not disappointed. I would say with this album more than the last couple, they have gone back to their roots of '80s speed / thrash metal and crafted it beautifully. There are a bunch of guest appearances here, Jeff Becerra sings the whole song on "Metallic Tyrants" and this song is going to go down as a classic, so catchy, so face ripping fast and very memorable. Phil Demmel also sings lead on "We are Dead", John Marshall from Metal Church and Sickie Wifebeater from The Mentors both contribute some lead guitar work. Just so much going on here. I guess my only minor complaint is the drumming, now and then sounds a bit forced and not overly smooth on the speedier sections, but not to the point distracting. "Head of Laci" slows things down a little and we see a little more introspective side, yet no less heavy or perverted, that main riff is just so chunky and driving. Main man Lance Ozanix sounds better than ever, really I have never heard him belt out vocals this good, with this much range, it appears his ability has finally caught with the undeniable character and texture his voice naturally possesses. The recording is just excellent, clear, loud and superb separation between instruments and hey the drums do not sound like a typewriter, wonders will never cease. If you want to headbang and just enjoy yourself in the old tradition get this is album and hell you even get a robust cover version of "Iron Fist" to cap off this 12 song platter, I am sure a label will be secured shortly. – Dale
Skitzo returns to the pages of Canadian Assault, this legendary California heavy metal / thrash band, continues to conjure up the old metal rituals! I say legend, and I mean it; this band is grossly underrated, and not nearly heralded enough for continuing on from the early to mid 1980s until today! I have total respect for someone keeping the dedication and faith for decades. Skitzo is, and always has been, the brainchild of the talented and imaginative, and deliciously perverted Lance Ozanix. Skitzo effortlessly from song to song, switch from heavy metal to thrash metal, and back again. When they thrash out they fucking thrash, Lance's vocals on thrash parts, at times, are the spitting audio image of classic era Nuclear Assault and Overkill. A lion's share of the time he sings in a gruff, partly spoken, partly sung vocal style, which I believe is partly handled in a co-vocal situation by bassist of Nate Clark. "Dimentia Praecox" is filled with massively heavy, melodiously memorable riffing; that and the arranging are a real strength for the band. Finishing off the trio, we are treated to a strong performance from drummer Mike Carli, with some tasty drum patterns, and a powerful pounding of each and every strike on the kit. As usual with Skitzo, they seem to get some great guest musicians, this time is no different, as we hear an extensive, and impressive appearance by Tony Rainer formerly of Blue Cheer. Okay so that covers the new Skitzo tracks on here. This release is an interesting mix of things, as you get those new songs, you get an old Skitzo song about Ted Bundy from 1982 (!!), plus a bevy of great cover songs, which are deep cuts from bands like PCP, Axe Witch, Posthumous and Skullduggery. Plus some unlisted devilish surprises, at the end of the album, which I will let you discover for yourself. As ever, you should expect absolutely beautifully produced, crystal clear yet heavy productions we have come to expect from this band. I say get this fucking thing, right now, it is about time this band got the recognition it is due! - Dale
https://myspace.com/skitzo667 http://www.skitzo.biz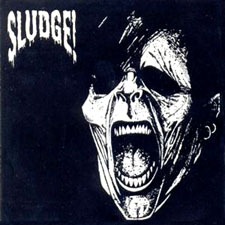 Heavy and mushy hardcore with metal influences. "NJ Hate Core" is heavy and the songs are OK but could stand some improvement structurally with more emphasis put on memorability. "Alone & Twisted" is a slight betterment, mostly in the riffing which stuck with me a lot more. Still nothing amazing but Sludge are coming into their own slowly but steadily. – Dale
Sludge, c/o Dave Orkin (the bug exterminator!?), 1932 Cologne Ave., Apt. # C-9, Mays Landing, NJ. 08330, USA
One thing I like about Sludge you get no preaching straight edge crap. What we get here is more metal tinged mid-tempo hardcore. Their performance on here seems a bit more focused then their demos. They improve with each release and seem to have a good following. It's just not for me. – Dale
Web = http://members.bellatlantic.net/~sludge98
What I am listening to here is a four song live recording from NC's Society's Burden. Maybe it is just because I am intoxicated at the moment but I find this release to be very plain and boring. I keep expecting the band to break into a Down or Crowbar riff or something. No doubt it is the whole "southern dixie" style these guys are influenced by but they are just aimlessly puking out riffs without any originality. Hey! I just noticed, on the bio one of the members is wearing a Down shirt. Cool T-shirt, just work on the riffs. – Jeffrey Kusbel
Society's Burden, 5312 Manson Road, Julian, NC. 27283, USA
My Canadian brothers return with a new album. The production seems a bit drier and more focused this time which lends itself well to Solus' bludgeoning sound. Will Korbut's growls are deep but dense and tend to have a slight low hiss to them from time to time. I guess I would be remiss not to mention some bands whose influence I detect in this killer bands sound. Those are: Athiest (2nd album), At The Gates, C. Corpse, and Death alongside small touches of of '80s bay area and German thrash scenes. Recommended. – Dale
Skinmask Productions, P.O. Box 271, Stn. B, Toronto, Ontario, M5T-2W1, CANADA Web = www.skinmask.com/solus
I recently glowingly reviewed a release from the band Imperial Savagery. I mentioned at that time, it is almost like having one of my fave old death metal bands, Corpse Vomit reformed, as that band had three former members of Corpse Vomit in it's ranks. Well, apparently I spoke too fucking soon, because Sons of Famine has no less than all 4 members of Corpse Vomit, and for all intents and purposes is literally a new band, entirely reborn from the ashes of the mighty Corpse Vomit. They certainly share something in common with their other band, which is unadulterated savagery; they have it in spades and deal it out with no mercy. This is some raunchy, dirty, and angry death metal played at blitzkrieg speeds, there are some truly biting riffs on this bitch. I like the odd brief, frenzied little guitar fills strewn about the album, they really stand out in contrast to the pounding and add a cool dynamic to their sound. This demo brings me back, to the early to mid 90s, when for me the death metal scene was at its pinnacle. I mean, this does not sound dated, but it does sound classic and timeless. I'm not just talking about the awesome guitar sound on here either with that comment. There are four songs on this demo, and it is a little on the old side currently, so fuck me, I hope we get a new release from this great band soon! These death metal legends, all these years later, still deliver the goods and still deserve your attention. - Dale
http://sonsoffamine.bandcamp.com/releases https://www.facebook.com/sonsoffamine
It has been a long time since I reviewed a compilation (they were all over the place at one time but seemed to nearly die off about 15 years or so ago). I always find them hard to review with so many bands and only one song to go on for each one. Paul from Soulgrinder 'zine has been branching out lately and releasing a couple things in addition to the great issues of his print fanzine. The quality here continues, as the packaging, layout and artwork are all on point. This is not an amateurish attempt as I assume he had some mastering work done here. Unlike most underground compilations the sound levels are not way up and down, which was always a down side to them in the past, but it feels very level and solid in that area. Paul is a great champion of the mighty South American UG metal scene and that continues with this compilation, you get bands from Canada, USA, Germany, Spain, Chile and a number of bands from Brazil & Peru. So, this is an excellent primer, for educating yourself on that scene. Pretty much every song on this comp. ranges from good to very good, but my personal fave songs were from the followings bands: Nimrod (Chile), Runa (Peru), Faethom (USA), Cardiac Arrest (USA), Estigma (Peru), Madrost (USA), Sinaya (Brazil), Profaner (Peru), Lifeless (Germany), and Demoniac Slaughter (Peru). Price is $12.00 (USA) $18.00 (Worldwide). - Dale
https://www.facebook.com/soulgrinder.zine/ http://soulgrinderzine.blogspot.com/
I decided to call this the Soulgrinder package, as both of these releases were sent to me by Paul Caravasi of Soulgrinder zine, who is possibly North America's leading authority on the South American underground scene. First up, we have Kraken from Peru, this self-titled disc is their one and only release, it is older than the stuff I usually review as it was released in 2014 (yes the band is active). Upon listening to this though, I can understand why Paul is keen on spreading their name around the scene, by helping them with promotion. I want you to think of mid to late '80s thrash scene, like the cream of the crop bands, as Kraken would fit right in perfectly with them. I realize that is high praise, but Kraken have all the trademarks starting with a high level of catchy headbang inducing riffs, just one right after another played on high octane. There are great, well laid out and performed solos that flat out smoke. The drumming is right on point, precise and powerful. The singer has a pretty classic gruff yelled thrash delivery, he is a maniac putting his all into his emotive maniac screams, and you can feel the sincerity and adrenaline injected into his performance. The recording / production of a lot of South American bands is often on the lower end, but damn this sounds amazing, it is crystal clear, heavy and has real punch to it. Come on you guys we need a new release! It has been 3 years, but fuck me did you guys do yourself proud with this recording. They would be amazing live I bet! Okay, now on to the dvd, much like the compilation disc I reviewed last month things like this are hard to review. This has one song and in some cases two songs from each band (30 tracks in all!), filmed of course at the 2015 edition of the annual Lima Metal Fest in Peru. Once again, prepare yourself for an education on the South American UG scene! Everything is quite professionally done, with there being probably at least five different camera angles edited together (now and then they get a little crazy with too many fast edits though), including one on a zip line type rig. You get the live performances, interspersed with some band interviews clips, the promoter of the event and even some comments from fans in the crowd. A lot of lyrics are in English so some of you will be happy to hear that and the styles range from heavy metal to thrash to death and black metal. I think my fave performance of the entire thing is surprise Kraken! They were great; I only wish they were one of the bands with two songs. My other fave songs / performances were from Machinage, Cobra, Despondent Chants, Reino Ermitano, Necropsya, Profaner, Runa and last but not least the two non-South American bands on the bill being Nocturns A.D. from Florida and Faith Or Fear from NJ! This is some good stuff and if you want to order it the price is $10 US (shipping included in US) $15 US (overseas). - Dale
https://www.facebook.com/Kraken-PER%C3%9A-568734679934614/ https://www.facebook.com/soulgrinder.zine
What an unrepresentative and useless band moniker! It certainly doesn't elude to the fact that this band blasts out some great heavy, thick and semi-technical death metal. Watch out for this band but hopefully if they come to their senses it will be under a different name.
Spasme, c/o J. Beaupre, 1715 Poupart # 305, Montreal, Quebec, H2K 3G9, CANADA
Steeltoe kick out some fairly catchy and intense material. They mix hardcore with death/grind and thrash. Their attitude and feel comes off a bit punkish though. I know that doesn't sound good but it is. I mean things could be tighter and I could do completely without a song like "Snitch" or parts of it. With it's awkward spoken word parts and kinda cheesy lyrics. That is a small complaint and don't let that deter you from an otherwise cool listen. – Dale
Steeltoe, P.O. Box 407, Salina, KS. 67402, USA Web = http://steeltoe.iuma.com
It is a shame that this disc arrived in the mail with a crack in it. I took a chance anyway and tried playing the disc. It did play the opening intro, plus the first two songs. Unfortunately for me two songs are hard to truly judge upon (but I will try my best), especially when taking into consideration the rest of the disc is comprised of about 40 minutes of music. Stilllife play progressive hard rock / heavy metal with long epic songs ranging from six minutes in length to over ten minutes. You can tell this is a demo level band, albeit quite a good demo level band, based on upon the level of execution and focus in the song writing. That is not meant as a negative, they actually have much more ambitious song writing aspirations on display when compared to most bands at this young stage of development. You can project at the same time with some maturity and time added to their song writing skills, this could be a very special band. I think listening to these guys you might be reminded of bands like Fates Warning, Queensryche, Iron Maiden and maybe I am crazy but it reminds me a touch of one of my fave albums "A Mended Rhyme" by Tad Morose. The vocalist did a good job, and reminds me a lot to Ray Alder from Fates Warning and I am a huge fan of Alders vocals (see the album "A Pleasant Shade of Gray" for a sterling example of his talent). It really is a pity my disc got a crack in it, maybe a tip for the band would be to include a piece of cardboard in the envelope next time or tell the mail people not to step on it haha. At least I got to hear some of it, and I liked what I heard a hell of a lot. So that is a caveat to those reading this review, I have no idea if the rest of the album is up to the quality of those first two tracks. I can only assume the answer is affirmative. I hope the band will keep me in mind for their next release, I hear they are working hard on it as I write this. – Dale
http://www.myspace.com/stilllifehome
This a new EP released in 2010 from the Australian Stormbane (not to be confused with the Brazilian one). Four tracks of death and thrash inspired metal. Four members in the band as well. After their first demo comes this release. Is there anything wrong with this? No, not really. Singular death metal guitar lines with a death/thrash vocal style. Rhythm section is pounding the riffs into the listeners head. For an unsigned band, it's good. Is it something I'd buy? Probably not. There are just too many other bands that sound like this. I don't hear anything that separates these guys from the hundreds of other heavier metal bands. Production is good - nice separation in the instruments without it being overly produced. Raw enough to keep the edge, ya know? I did like the third tune, the title track, an instrumental. Nice musicality with in the structure of that tune. But, again, it's nothing to write home about. I believe the bass player spent some time in Spear of Longinus. So, that may give them either some cred or some press. But, if you take the music on it's own merits, it's just decent. - Mark Sugiyama
http://www.myspace.com/stormbanemetal
That band name immediately makes me think of the horror flick from the 80s called C.H.U.D (which stood for Cannibalistic Humanoid Underground Dwellers). Well I said in the last review of the Vladimirs, that their album was something different from what I normally get. Well it is funny I would have to use that line in back to back reviews. This is even more out there from my usual norm. However like Vladimirs, SSS seems to revolve their songs around horror movies and as I said I have a soft spot for that and am a huge horror fan. Subhumanoid do not do it through lyrics though, it is all through movie samples. As you may guess this is an industrial project I suppose you might call it. Some might think samples from horror movies is over done, a lot of demo bands do it and personally I never seem to tire of it. Just to be clear here, this is like pure industrial music, not industrial metal as some might be assuming. The music is repetitive beats, a drum machine, no vocals but there are little hisses, growls and the like of which you might often hear emanating from a zombie in a movie and that actually works with the music on here. Which is pretty simple and as I said repetitive in a sort of stark, cold mechanical way. I kind of got into this, but I am not sure whether or not the average metal maniac reading this would dig this or not. But if you feel like checking out something different than the norm and not run of the mill, then you might want to check out SSS. There are 4 tracks on here and off the top of my head I would say it runs maybe 8 to 10 minutes in length. I could not locate a website when searching online and none was included with the disc, so just an Email for those interested. By the way was that one sample taken from the classic film They Live?! Nice. – Dale
I reviewed this bands debut recording in issue # 3. I liked it, but I had some criticism for the band. I am happy to say this new disc is an improvement and really superb! Suicide Culture play mid-paced thrash/death that will have your head bobbing repeatedly. This is one of the better unsigned bands out there. – Dale
Send only $1 US (postage) for a free promo tape. Suicide Culture, c/o Josh Hanenburg, P.O. Box 70566, Seattle, WA. 98107, USA Web = www.suicideculture.itgo.com
This band is from New York, the main force behind the band, is the Argentinian guitarist / vocalist Alfonso Ferrazza. Apparently Sunlord started out as a cover band and then eventually morphed into what we have here on this disc. I am not sure, how to describe them, as they display a bit of a hodge-podge of influences from song to song. One song might be all out ripping thrash, the next is kind of crossover punk / thrash thing, the next is hard rock / metal with heavy influence from Motorhead and so on. It is all over the place, but there is some cohesion of style, which manages to peek through now and then, within each song. I am guessing in this trio, Alfonso is doing the vocals mostly out of necessity, because his vocals are clearly the weak link in the Sunlord sound. At first, to be honest, I thought they were terrible, but as time went on and more listens were had, they started to grow on me a little bit to the point I did not mind them as much. Nonetheless they are still the achilles heel of the band in my opinion. Because the music is pretty great, there is a lot of talent there, some cool riffing and skillful song structuring, which kept my interest very well. I might like to see the band try to hone their sound a little more, so their next album has a little more unity, and a possible vocal upgrade possibly, would go a long way. Because the there is a lot of talent in this band and they know how to write some killer songs that rip. So I am looking forward to see how they progress with time. - Dale
http://www.dinnermusicforthegods.com/ http://www.reverbnation.com/dinnermusicforthegods
Coming out of North Carolina's metal scene is Suppressive Fire, combining elements of complex and guitar driven death metal, with some thrashy elements. The guitars are very well done, with outburst of fast thrash guitars, with some mid paced heavier sections. The drumming is performed, with a lot of power, and fast drumming patterns that fit with the chaotic guitars quite nicely. The vocalist does a good job, delivering gruff vocals, intertwined with some screams. If you are a fan of early to mid nineties, style of death metal, then this is a band you will want to check out very soon. - Patrick
https://suppressivefire.bandcamp.com/ https://www.suppressivefire.net/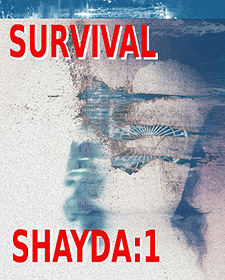 Survival are a thrash band, with some hardcore leanings, and hail from Oakland California. They sound like a pretty wild band, just from reading some background on them, with various members slipping in and out of jail stays. But on to the music, which is really heavy, catchy and minimalist. They get straight to the point here, they find their sweet spot and stick to ala old Prong, another band that pops into mind is DRI during their great "Thrashzone" album era, but Survival are probably a bit more stripped down than them. You can hear the hardcore influence, every now and then, in the structure and gang shouted parts on the track "Walls". At times, they create more of an atmospheric sound with their music, than you would probably think reading this review. It is that, you just have to hear it to get it, with that element of their sound. This is nothing mind-blowing, but I enjoyed this cassette, but I could see some of the extreme metal die hard crowd, which often reads Canadian Assault, having a tougher time getting into this. But, especially for 80s thrash crossover fans, who are into stuff like the aforementioned Prong, or maybe Biohazard (with their heavier songs), will want to check this out. I have seen this listed somewhere as a full-length, that is simply not the case, this puppy is less than 17 minutes long, it is short but good. - Dale
https://www.facebook.com/SurvivalBayArea/ https://survival1.bandcamp.com/music
Sxuperion is a one man band (who is also a member of Valdur, Weverin & Garden Of Hesperides) that plays a form of heavy, crushing death metal with some lethal black metal influences thrown into the deadly mix. The guitars are played with a nice blend of fast, chaotic guitar patterns, but things do slow down to a more controlled mid paced tempo at times. The vocals are low, deep death metal growls along with some gruff growling mixed into a few of the tracks. The drums follow along in the same vein with a fast blasting arrangements blended in with some slower, more controlled drums. This was my first time hearing Sxuperion, but if you are looking for a band that plays some destructive old school death metal similar to old Incantation then "Endless Spiritual Embodiment" is right in your wheel house. - Patrick
https://bloodymountainrecords.bandcamp.com/ http://www.bloodymountainrecords.com/
This release from this North Carolina band is a concept album. What is the concept? Well, it is a fantasy and sorcery theme; I bet you are thinking oh another Game Of Thrones thing surely. Well, you would be wrong, I think this epic novel worthy tale the band has woven has it's root in earlier authors like Michael Moorcock, Robert E. Howard, Edgar Rice Boroughs, Fritz Leiber etc… It is filled with battles, magical beasts, witches, death, vengeance, cruelty and triumph. But on to the music, TW play some plodding music, which is equal parts '70s & early '80s heavy metal and classic doom metal. Though there are accents of other things, like slight hints of southern hard rock, as well as a bit stronger hint here and there of the more modern stoner doom sound. There are some tasty guitar fills and leads on here I enjoyed. A big influence for the band is surely Candlemass, but not just in the music, the vocalist without doubt has patterned his sound and delivery after the mighty Messiah Marcolin. However, as you can imagine, Temtaption's vocalist Micah does not possess Marcolin's amazing depth and wide range, nonetheless Micah does a fine job in the mid-range of mirroring that legend. I like the emotional depth the band is able to convey, with a concept album it is hard to make things sound fluid, whilst often trying to mimic the actions and narrative musically of what is going on in the story. Which is part in parcel why concept albums, if you do them full on, are difficult create properly molding the music to the words yet I think Temptation's Wings has done a fairly admirable job of just that. A solid doom record, with a lot of heart put into every aspect of it, it is worth checking out. - Dale
https://temptationswings.bandcamp.com/ https://www.temptationswings.com/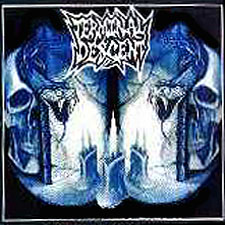 Yet another album from one man band Terminal Descent. More technical and emotional deathrash outpouring. Tony is a talented metal warrior who writes some excellent material. As I said in the past the songs could use a little more identity from one another. Though this release takes a step in that direction. Unlike most of his releases only one track has vocals here but I was never bored. – Dale
This 7 song disc will only cost you $5 US to: Terminal Descent, c/o Tony Mikkelson, 236 N. 11th St., Forest City, IA. 50436, USA
Tony do you ever sleep bro!? Now this MCD makes it 4 albums and 2 MCD's in the last 2 years!! He expects to record another full-length by the end of '99 too! Just in case you were thinking "oh he records them on his stereo", if so you are wrong as his releases have quite respectable sound. We are treated to 6 new songs of Tony's unique sounding speed/thrash and death metal mayhem. A little more straight forward this time and more aggressive. I am proud to report, with each release his songs are taking on more of an individual identity. Which was something I criticized in the past. At times it is easy to tell only one man recorded this but what a talented one man! How could you not order this release when it only costs $3 US/$5 World. – Dale
This is a one man band. I'm always apprehensive with these as more often then not it is some 14 yr. old brat who can't play any instruments. But then again you really need no talent to make ambient/trance music on a keyboard. Luckily that is not the case here! It's a rehearsal so the sound is really so-so but decent enough for me & the raw, fog compliments the music. Which is quite good doomy / dark metal that displays some good riffing and song structure. Worth looking into. - Dale
Terror Throne, c/o Robert Campos, P.O. Box 101, Summit, IL. 60501, USA
No date, no bio, no information except contacts which suits me just fine. I acknowledge that is four piece are either Russian, Ukranian or are from Belarus, My incisors have bit into a shit-sandwich with some infected hospital waste for dressing on this one. I'm sick of it! Call me a bastard, but this sub-par DM laced with Godflesh, futuristic sci-fi sounds, folk, flute and stealing keyboards right from the final Emperor and Dimmu Borgir. All this is good for is posers who think Fear Factory is the real shit! No Remorse! – Clayton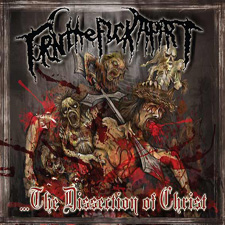 Torn The Fuck Apart hail from Kansas fucking City, Kansas and play brutalizing death metal. I love some good crushing and pillaging death metal as much as the next guy. I liked some of the little secondary guitar noodling accents to the riffing, similar to stuff Cryptopsy used to do and others. But I have to be honest that was the only thing about this album I really liked. The vocals are decent too. The music however, overall is some really generic, boring death metal, Torn even try to throw in some groove parts that sound forced and uninspired. I can respect these guys for trying to do things on their own and just getting out there and making it happen, more power to them. But after releasing a demo and well I guess, essentially two self-released full length demos after that, over the span of nearly a decade, with still no action on the label front, I can see why. But hey, if the boys believe in what they are doing and are having fun, well then keep on plugging away. I am not saying they are terrible or anything, just very, very average. - Dale
http://www.reverbnation.com/tornthefuckapart https://www.facebook.com/tornthefuuckapart
This Canadian band, hailing from the left coast of my homeland, play an interesting style you do not necessarily run across often, which is technical progressive thrash metal. This is the bands sophomore full-length release, which clocks in at over an hour long; I have to say the production on here is top notch it is crisp, clear and heavy. I also must admit first here, upon my first full listen I was not really feeling this record, it was not grabbing me and there is just so much going on all the time, it felt a little chaotic. But, upon repeated listens, mixed with a little patience, the layers started peeling back for me and I began to get into the intricate workings of the music, along with emotive somewhat stilted flow. Sure, there is a lot going on here, possibly a little too much at some points, maybe some of the epic length songs go on a bit long for their own good, but really most of it works. The song styling and arrangements are all over the place, but there is a method to the madness and control within the technical chaos. If you have a little patience with "The Infinity Complex", I do think you will see some of the brilliance going on here, with the many threads separating and weaving back together again to take you on a fun ride. Something I like, despite the technicality, despite the majority of the album going at full tilt with many twists and turns, yes it is also progressive. But most importantly, they do not forget about the heavy and the violence of true thrash metal, which delivers some headbang worthy riffing gallops and guitar chugging to satisfy the old school fans out there. Some of the more subtle, classy guitar fills and leads really add a touch of affecting class, to this whirling dervish of metal mayhem. The musicianship is first-rate, the song structuring intricately thought out and performed, it is an impressive release on those merits alone. I can already tell though, the vocals are going to be a deal breaker for some, possibly even many, they are not your typical thrash metal vocals, at first blush, they do not seem like they belong with this music. I felt that way myself on first listen, then those vocals started to click for me and in their own strange way, reflect the frantic spirit of the music. They are gruff and yelled, but they also have this very abrasive, in your face, grating edge to them that harkens a bit to the higher nasally vocals some death metal bands employ, as a semi-frequent accent to the mainstay growling. They are crazy too, almost out of control, like the partially indecipherable vocal representation of the voices going through the head of an insane murderous convict. Honestly, they remind me, as does the music, of a slightly less insane more modern sounding version of the vocals, and again the crazy adventurous music of the The Accused with their classic mid to late '80s albums. The more I think about that the more I would be very surprised to hear the band say The Accused were not an influence on Torrefy. You have to put some work and patience into this record, but if you do, it will pay off in a very rewarding, wonderfully mentally exhausting and satisfying way. Check this out for sure; it is something different, something interesting in a time when we do not see much of that. - Dale
https://torrefy.bandcamp.com/ https://www.facebook.com/Torrefy
Torrefy hail from Victoria, B.C. Canada and explode out of my speakers with some high energy yet dark sounding speed thrash metal madness. This is the bands third full-length release. Torrefy do change up the speed dynamic from time to time, but generally not for long as it is certainly not an understatement above, these fuckers fucking fly at supersonic speeds at nearly all times with everything just dripping in adrenaline. The drums are lightning quick and powerful, the guitars are a blur with some really swift and enjoyable guitar fills and solos. The vocalist John Ferguson's has some cool wall to wall, acidic and searing maniacal screams, which are punctuated with some classic gruff touches and whispers of a death metal growl now and again. The range of the vocals is pretty impressive, as is the verbal acrobatics Ferguson is forced into to keep up with the velocity of the ever changing and morphing song structures. The band list themselves as "Black Speed Death Thrash", outside of slight elements of black and death in the vocals, I just did not hear it. As stated above I see them more as a pure mixing of speed metal and thrash. However, the more I listen to this, the more I am feeling this influence with regards to the elements in the song construction just not in overall tone and style. I could see it if you are a die hard black death metal fan, but do not care for thrash (what is wrong with you?! I know you are out there though haha) this may not be your cup of tea. Whatever you want to call it is fine, I just call it a good extreme metal record by a talented band that deserves your attention. - Dale
https://www.facebook.com/Torrefy/ https://torrefy.bandcamp.com/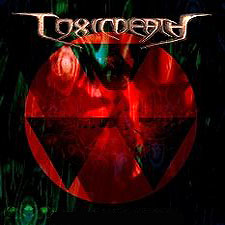 Toxic Death burst out with some blast filled techno death metal. The production is disjointed and hurts the music I feel. T.D. do know how to hit you lightning quick like a predator after it's prey. At 10 songs this is one lengthy demo and it only costs you $5 US. Intelligently arranged and performed above the average death metal.
Underworld Prod., P.O. Box 40, Kojetin 752 01, CZECH REPUBLIC
Trenchgrinder carve out the most savory morsels of crust and death metal and mold them into their own impressively constructed debut full-length album, Peace is Forfeit. Their debut sees the four-piece outfit from New York combining some older material of theirs with some new into an overall well-organized and securely woven apparatus. The first track introduces the listener to the tones of malice and futility of resistance that we become increasingly familiar with as the album urgently marches on. Forward-facing mayhem (however contradictory that may sound) remains a central pillar in each track, which can especially be heard in "Deterrence and Retribution" with its brief, flaring guitar solos. Enticing, rhythmic riffs fuel the momentum of the album, keeping the tanks rolling boldly onward, but the occasional flurries of drums and guitar amid these more mid-tempo moments are what keep the listener on their toes. Owen Rundquist's vocals are also a highlight due to their slight unorthodoxy in the death metal genre. 2017 has definitely been a great year for seeing extreme metal bands such as Succumb disrupt genre boundaries and preconceptions, and I argue that Peace is Forfeit finds Trenchgrinder joining these ranks. Rundquist shifts between different pitches and levels of coarseness with his somewhat gurgled, throaty vocals in such tracks as "For Knowledge of Blood," perhaps exhibiting the conflicting voices heard during wartime. Once the listener makes it through the brazen bulk of the album, they land on the last track, the one whose title is most exemplary of the consequences of armed conflict: "Desolation." This track is an instrumental, but its grave tone paints a bird's-eye view of the bleak aftermath of such an engagement. Culminating in a slick, palatable 33 minutes of run-time, Peace is Forfeit is a succinct, yet powerful force to be reckoned with, and I would highly recommend it for any fan of death metal. – Aaron
https://trenchgrinder.bandcamp.com/ https://www.facebook.com/trenchgrinder/
It really is a small world sometimes. I get a package from an old contact / friend from France, who runs Nihilistic Holocaust Records, only to find out the band he sent me for review, is from my own backyard in Philadelphia. Damn! I am glad he did send this may way. Trenchrot play great old school death metal, in the vein of stuff, like early Dismember, Carnage, Grave, Afflicted ("Prodigal Sun" album), Pestilence, Repulsion mixed with other different stylistic dm bands like Asphyx, Autopsy and slower more doomy death bands. Despite those latter examples, most of the music on here, clips along at a pretty brisk pace, it is more the atmosphere of those doomy bands. The sound on here is crushing and the riffs will melt your brain, as they roll over you, in ever attacking waves of audio orgasm. I should mention I am an absolute sucker for that old Swedish dm style and the other bands I rattled off. So a more picky fan, of this style may disagree, but all the same, I think Trenchrot fucking kill it here, despite wearing some influences on their sleeves. I believe the band have just released their debut album on Unspeakable Axe Records. I need to get my claws on that thing, as this demo has me excited about contracting a more severe case of Trenchrot. - Dale
http://trenchrotdeathmetal.bandcamp.com/ http://nihilistic.voila.net/
A beautifully pro-packaged tape. The music however is not pretty at all, in fact it is ugly, heavy, fast and driving. Just how I like it. Trephination pretty much run the gamut of slow, fast, brooding tempo death metal. The only lyrics not printed on this 6 song tape are the ones to "Ghetto". I guess maybe they ran out of room or so no one will be offended but either way I could make out most of it from the singer anyway. One cool excerpt is "I give her crack to suck my dick, I'm so high I can't get hard, What the fuck!…Oh it's getting hard now!". Great debut demo, I am sure with a bit more maturity the next outing is going to fucking slaughter!!
Trephination, 1130 Bleigh Ave., Philadelphia, PA. 19111, USA
I am immediately hit with a very, very familiar sound when pressing play. Right from the vocals to the guitars, to the riffing style and really everything sounds like Pantera. That is not to say they do not have the sound down and are good at what they do. It is probably boils down to the fact I am a not a huge fan of this, what is sometimes called modernized thrash metal, when I do feel like listening to some (which is not often) I will just reach for a Pantera album to be honest. I will say they did not skimp on the production of the album, everything sounds very good and clear. If you are not like me and wish Pantera was still around then this might be a band for you to check into. – Dale
http://www.facebook.com/trialsmusic
Well, for the Impetigo die hards out there, you wanted more Stevo, you shall get more Stevo! This time, it is not delving into his early pre-Impetigo days; no we get to see what Stevo has been up to lately. I was pretty damn excited to be honest as an Impetigo die hard my own self. There is an interesting twist in here, in that Stevo's lyrics are written and sung in Italian! His vocals sound really fucking cool, like half sung, half spoken, deep vocals that remind me, a lot of the great Big Boss of the Czech band Root, especially in his earlier days. I am mesmerized by those fucking vocals, Stevo sounds like a maniacal beast of an uncle, on a murderous drunken rage, taking the time to deeply enjoy living out those deep dark thoughts. His vocals only sound more diabolic being sung in Italian. Also, I should mention in this trio, it features Vanessa Nocera of Wooden Stake & Razorback Records on bass. This band and it's entire concept is a tribute or an ode, a love letter of sorts, to the great Giallo genre of cult horror movie classics from Italy. They mix in lots of audio clips, as intros, and directly within the songs, which I really enjoyed and thought they incorporated very well. The music really mixes up the pacing, from mid-paced to fast sections, which are then interspersed with some slower moody atmospheric sections, which really add some emotional depth and punch when things speed up again. The music itself, I am not sure how to describe, probably dark heavy metal and thrash would be the mainstay of the sound, but there are also some of the band members death metal and grind backgrounds seeping in, if you listen closely. There are some parts, that remind me of the early 90s period, from one of my fave Italian bands of all time Mortuary Drape. The production / recording almost sounds like it is from that late 80s / early 90s and I fucking love that too. This demo is simply amazing, I keep listening to it over and over and over, it is so addictive and good, one of the best releases of the year hands down for me. I am getting aroused and bathing myself in blood just thinking about a full album from Twist Ending…Oooohh. By the way the tape has 2014 printed on it, not sure if there was a delay or what, but it was not actually released until 2015. - Dale
https://www.facebook.com/twistending http://novisiblescars.bandcamp.com/
Unburied is an old goat, gray beard entity (much like me) in this UG metal scene. The band having formed in 1994 and releasing their first demo in 1996, then carried on to release another demo, three split EPs and two full-length albums through 2012. At this point I think main man (now the only man as Unburied is a one man band nowadays) Matt Pike was burnt out and fed up with all the line up hassles and the like. So the band appears to have went on ice, but Mr. Pike decided to wake the slumbering beast, whilst taking all control over his bands music, recording, mixing, production and even cd pressing / distribution of his releases. This move resulted in a return with Unburied's first album in seven years entitled "Primitive, Raw, Underground" in 2019. This brings us to this release, Matt's second full-length since the revive – let's dig into it. I liked the short River's Edge movie clip he used at the start of the second track "From Beyond The Grave". Actually, much like those early death metal demos in this genre there are a lot of movie clips mixed in from movies like Fight Club, Drive, Dark Side etc… I am here all day for those as these clips are nicely timed and mixed into the songs here. This release in some ways feels to me like a really killer death metal riff tape, to base future songs around. I don't mean for that to sound harsh in any way. But whether it is the lack of a consistent bass guitar rumbling foundation, or the song construction, or the overall mixing of the individual recording elements (and no not because it is raw – I love a raw and gritty sound), perhaps even due to a combination of all of those factors. It just feels to me like there are small gaps in the song flow that need minor cohesive strands of sinew and connective tissue to bridge those little gaps. I understand and respect why Matt is going it alone now, but maybe the music would benefit from more members? A good one man bands makes you forget it is a one man band. Having said all of that, I feel like things come together best on a track entitled "Criminal Underground" towards the end of the album, which is the best tune on the release for me, more of this please. The vocals are gruff shouted growls and the band could use a bit of upgrade in this department, but Mike does his best and the raw violent and biting emotion really convey his this man's dedication and commitment for what he is doing. He does bring some doomy elements, now and again, into his songwriting that I appreciate. I would say if you like raw, primordial and stripped down mean death metal demo tapes like those from the early '90s you will appreciate this and it will bring back some of that old great feeling. The passion Matt has for death metal and UG scene bleed through every second of this album in the music and lyrics. That is a good thing and my hat is off to him for soldiering on throughout these long years!
<Bonus Review> LEATHER & CHAINS 'Zine Issue #1 *28 Side Stapled Pages* I have to give Matt Pike props, he was disappointed in the UG metal 'zine situation in the US, so instead of just bitching he did something about it. He made this whole fanzine in one month and it is better than a lot of first issues of print 'zines that I have seen in my long experience in this scene. I like how he made sure to fill up his pages, not use huge kindergarten font in order to make sure there is lots of content. There are four pages of proper length well done reviews of albums, demos and fanzines. Then you have interviews with Deceased, Flesh Crawl, Nunslaughter, Bad Luck 13 Riot Extravaganza, Immolation, Gravesite Productions and lastly, probably least with me (Canadian Assault – thank you my metal brother!). The interviews are great, just like I like them long and in-depth! There are flyers re-printed, it is just pure UG support and devotion. There is nothing at all I can say bad or critical about this whatsoever. I just hope there are more issues in the future. - Dale
https://unburied.bandcamp.com/ https://unburiedbandmerch.wixsite.com/website
This is the debut release from this Rochester, NY band presenting five tracks totaling just under 20 minutes of music. This young band plays raw sounding stripped down yet not stripped down, brutal old school metal of death. What do I mean by that? Well, it is stripped down death metal, but the simplistic main body is supported with some well crafted song structuring and subtle yet skillful guitar playing and drum work, which brings that straightforward foundation of their songs to a higher level. Ultimately Undeath it seems are more focused on making memorable, headbang inducing songs than trying to fit a million elements into a song or just playing as fast you can just for the sake of it. I really enjoyed some of the great energetic guitar fills that propel the music forward amongst the mainstay slower mid paced moody death doom style elements. Some influences I hear bleeding through this killer demo are stuff like Disembowelment, Demilich "Nespithe", early Immolation, early Gorguts, Morbid Angel (2nd & 3rd album period) etc... I might even say some of the more finesse guitar work reminds me a little bit of early to mid period Death. I also really dig the dark, obscured sounding growls with rolling whisper undertone to them, definitely a highlight for me. Honestly, recording is only slightly raw, slightly muddy sounding. I think it suits and accentuates their music well, if I was in this band I would seriously consider recording their next release the exact same way. That thick, heavy and deep guitar sound is really pleasing to mine ears. I already can not wait for this new bands next release! - Dale
https://undeath.bandcamp.com/releases https://www.facebook.com/CaligariRecords
Like a quick punch to the face, this eight song CD will drop you! From start to finish the band go all out grind and when they slow it down you get a crazy slam riff to pulverize your speakers. The insanely sick vocals go from low and brutal to high pitched screams. This New Jersey based band were a great surprise to me thanx to Jenn (bass)! - Scott
Get it for $8 US/$10 US World to: Unhallowed, c/o Jenn Carrao, 5170 Berkshire Valley Rd., Oak Ridge, NJ. 07438, USA
Unholy Baptism are a duo from Arizona's black metal scene with their debut full length release. Mantus takes care of the vocal duties, with some grim, raw screams and black metal shrieks that really fit the bands cold black metal style. Both Moloch and Mantus handle the guitar duties, which go from a controlled mid pace with some well written and performed patterns, before going for a more crazed and faster guitar style. The drums are programmed by Moloch, but are done with both hyper-speed blast beats and some slower mid paced drumming. Unholy Baptism play a style similar to the mid '90s grim black metal, so if you enjoyed stuff like early Burzum, Gorgoroth etc… then be sure to check this album out. - Patrick
https://unholybaptism.bandcamp.com/ https://www.facebook.com/UnholyBaptism/
A short interlude of wind sounds and bells starts off the new Unholy Baptism release, which consists of eight tracks of cold Norwegian inspired black metal. As mentioned, the band does draw on influences from early to mid '90s black metal, but do add some of their own touches into the sound while displaying their strong musical skill in the process. The guitars are mainly played with intense and fast patterns, but the guitarist does slow down to calmer mid paced range at times. The vocals are raw grim black metal screams and screeches. The drums are done with a drum program and are a myriad of extremely fast and chaotic beats, but thankfully it does not sound like a robotic drum machine and instead much more like a real drummer than you would expect. If you are a fan of the early '90s black metal greats such as Immortal, early Darkthrone, Marduk and Dark Funeral then do yourself a real favor and check this band out today. - Patrick
https://unholybaptism.bandcamp.com http://unholybaptism.com/
Yeah it is old but it was sent in for review none-the-less. Decent but pretty average death/black metal that is only worsened by keyboreds throughout. Wish the guitars were higher in the mix and the keys were lower, much, much lower haha! Only 2 songs on here but they are very long epic tracks probably clocking in about 16 minutes total. Not good, not bad just very mediocre. The dude from Morbid Tales Comp tape is either in this band or managing them so write him below. - Dale
Dark Reign Tapes, c/o John Evangelou, 5 Pigandion 16, 26441 Patra, GREECE
A rehearsal demo! This takes me way back, to my earlier days in the scene buying and tape trading for rehearsal demo tapes all the time. Then Pro Tools on cheap home computers came along and that seemed to virtually put an end to rehearsal demos. I miss the rawness, the energy, the spontaneity and live feeling of rehearsal demos. It was not common back then though, to press them on a professional tape, as is the case here. St. Louis, Missouri's Unspeakable is a band who obviously shares my affinity and good memories of the old days and ways. The music they conjure up is decidedly old school as well, and to my ear, consists of a mixture of early death metal mixed with the first wave of black metal (ala Venom, Sodom, NME etc…), maybe even a bit of raunchy metal punk like Discharge or GBH influence as well. At times, I hear sounds that remind me to the death band Phantasm from the early 90s UG scene; anyone around back then probably got at least 50 of their flyers in the mail each week. Their "Abominable" demo tape was pretty great. The music on here is grimy, ugly and brutal. So much so, many people in the scene who love experimental death and black bands with super clean plastic production will hate this, but they did not make it for you so straighten your sweater, tighten your man bun and hit the fuckin' road. This is made for people who love the way things used to be, who like extreme metal raw and dirty. The vocals are obscure, evil sounding demonic yells & growls that I really enjoyed and they have more inflection and character than you might expect with that description. The music itself has a kind of necro, suffocating atmosphere to it, which I like, alongside the middle pacing (with the odd speedy bit here and there) adds to the grim moodiness. There are three original songs on here, plus a cool cover of NME's "Unspeakable" from their 1985 demo, which they obviously took their namesake from. This very limited release (100 copies), serves a cool collectors item and promotional tool at the same time, as I believe these three tracks will be on their upcoming debut LP due out in the near future. I hope I get a chance to hear that, it is sure to be a true bestial onslaught of an album. - Dale
http://devilmusic.bigcartel.com/ https://unspeakablerites.bandcamp.com/
This band features the prolific talents and dedication of Lord Sxuperion, who has no less than 4 different current bands (including one man bands Garden Of Hesperides & Sxuperion plus full member bands like Weverin & Valdur) releasing a steady stream of albums and eps. The California based Valdur return once again with their sixth full length to date, which features six songs of heavy, crazed blackened death metal insanity. The music on 'Goat Of Iniquity' seems to be rooted more in the old school death metal style, with some black metal influences spread throughout the songs. The guitar work is extreme and chaotic with razor sharp patterns cutting through the chaos. The guitarist does cut back to a slower, calmer mid paced structuring in some of the songs adding contrast and fleshed out with a few solos mixed into the music. The drums follow along the guitars in the same vein highlighted by some furious hyper speed blast beats in between the less speedy material that fits Valdur's style perfectly. If you are familiar with Valdur's previous releases, and like them, then do yourself a favor and pick up a copy of this release today. - Patrick
https://valdur.bandcamp.com/ http://www.bloodymountainrecords.com/
This is a one man band by the drummer of Blessed Offal (among other bands). There are four tracks on this cassette, which are filled with hatred and drip with a morbid atmosphere. I think Vein could be best described as worshippers of Blasphemy and Sarcofago. That is what you get here, nothing new or innovative, but it was not meant to be, it is not pretending to be anything else. The atmosphere on here is extraordinary, it really does capture the mastery of the classic works by the bands I mentioned above. I mean right down to the obscure sound, low-fi production values, which is probably the only way this style of evil warring black metal should be heard. If you are a devotee of this sub-genre of music, you will want this release, if you are not a die hard follower of those bands and this sound; this is probably not for you. I seen online there is only 5 copies of tape left, hopefully you get one before they sell out. There is however, a digital download version for $4 you can find at a link below. - Dale
http://novisiblescars.bandcamp.com/album/into-the-vein http://nvslabel.blogspot.com/
This was a surprise in my mailbox recently, not to even mention a real blast from the past! I reviewed a few Venusian demos way back in the print issue days, maybe somewhere around 1999 to 2003 time period I want to say. We are talking about discography of nearly 30 releases to date, since this one man (David Vora) band's inception. I am not sure when it all started, but I believe the band goes back to the mid-90s! This may be one of David's most personal releases, as there is a song about a family member on here, as well as another song, all about what it is like to live with his affliction of Schizophrenia. I commend David for opening up like that; it is brave how much of a brutally honest glimpse he gives you into both his condition's effects and living through the heavy medication he needs to take to manage it. Sorry for the long background and preamble, time to get to the music. The drum machine on here sounds terrible especially during the slower and mid-paced songs, it is not as bad during the faster sections. I thought in the past I have seen pics of Vora in front of a drum kit (even though it sounded like he was drumming on a plastic bucket or something), not sure why he went to the machine, maybe out of some necessity? The vocals are kind of half sung, half spoken word, rather than being growled or shrieked or something like that. His voice does sort of have a slight Cronos from Venom tone to it, which unsurprisingly, knowing me is something I actually like on this release. I do not know what to say. The whole thing is not good, understand I am making that clear that it is pretty bad actually. Having said that, I find certain sections of this release kind of infectious to listen to somehow despite the low quality in all areas of this release. It has been many years since I last heard V.D.C., I am both amazed at David's dedication to keep this going all this time, but I must admit I would have thought he would just naturally have progressed to a higher level with his playing (even right down to his cover "artwork" as well). Maybe I could say his song crafting has improved slightly. Then again, it has been probably over a decade since I listened to the old material, so I am relying on very old memories of it. But I respect the man's dedication to sticking with it and believing in himself, no matter what anyone says. David is pretty fucking old school still! You have to actually write to him, as he does not have a bandcamp or anything else along those lines, at least not that I could find. - Dale
https://youtu.be/u4_1kJDSY6k davidvora10@hotmail.com
This was a pleasant surprise to see arrive in my mailbox. This band based out of Phoenix, Arizona may be a new band, but their members are anything but, they are all veterans of the scene, having been in various bands. The band leader bassist / vocalist George Robb, has also been in many bands, maybe best known as a founding member of Agent Steel, where he appeared on their demo, debut album and ep. These boys could have stepped right out of the great early to mid 80s Crossover Thrash scene. I can hear influences in here (think specifically of the earlier works from these bands) like Slayer, D.R.I., Cryptic Slaughter, The Exploited, Exodus, S.O.D., Corrosion of Conformity, Sacred Reich etc… Violent Revolution carry on the tradition perfectly, they really have this sound down, playing with a raw, angry edge at all times. This album is a wonderfully rampaging wall of noise and controlled chaos. I even dug that short manic solo in the middle of "Damaged". I love the vocal parts, where they spit out that gruff thrash and hardcore mix of vocals, and multiple members trade off lines of lyric. It really keeps the energy high, and gives you a feeling, of how cool it must be to see Violent Revolution live. Because there are many times, I found myself headbanging to this, and the sudden urge to jump up and punch the air wildly, like it had stolen something from me. The only thing I can seem to find that is wrong with this demo; it is 4 songs and an intro, too fucking short! I want more ASAP!! Get this raw, beautiful throwback angst drenched, spiked fist in the face of modern slickly produced bullshit. - Dale
https://www.reverbnation.com/violentrevolution1 http://www.violentrevolution.net
We have 4 songs here "Hunter For Blood", "Beast Of Sodom", "Midnight Madness" and "Pain Of Death". Unless I'm mistaken I believe this is a side band from one or more of members of Spear Of Longinus. Quoting the demo inlay this was "recorded in 1 hour $15 bux…Live in the studio – No overdubs" and "No digital equipment has fucked up this demo". It's true to the sound is as warm & rough as a red-hot sword cutting thru trendy bones. In fact it sounds like a production on many a lower budget '80s metal album and that sits with me just fine. I have to agree with Keith Dempe (Eternal Darkness & C.A. writer) that this reminds me a bit of Possessed. A veritable studded fist in the face of all these black disco goth symphonic garbage bands polluting our scene today! – Dale
Razor Of Occam, P.O. Box 101, Prospect SA 5082, AUSTRALIA Email = Razor_of_Occam@yahoo.com
This is the debut single, "I am In Hell" from Vorzug, a new band from the Phoenix, AZ area. The band plays a very old school style of blackened death metal, with some thrashy guitars in the song. The song is mid-paced, with some great killer guitar solos and riffs in the debut song. The drumming goes from extremely fast thrashy drums down to a middle paced range. The vocalist, starts off with the death growls, but towards the middle of the song, it switches up to old school black metal screams. I am very eager, to hear the debut when it is released, but for now if you are into digital songs / downloads, then get a copy of this one. - Patrick
https://www.facebook.com/vorzugmetal http://www.reverbnation.com/vorzug
What is it with Italy? Nearly every demo band I have heard from there in the last couple years. Goes from average to awful! Vow Dreams are somewhere between the horrible and average categories. Plodding death/doom is an apt description I think. Nothing eventful or even remotely memorable. Did the well dry up after Bulldozer, Paul Chain, Domine, Natron and Death SS or am I just hearing the wrong bands!?
Vow Dreams, c/o Antonello Mura, Via Napoli n. 7 08015, Macomer (NU), ITALY
I have to commend this Wisconsin band, on going all out on the promotion front; they sent a very complete and impressive promotional package. I have not seen this much effort, money and patience put in to a promo package for probably a decade now (Yeah I have been at this a long time I know) at least. It was a little more common place back then, but these days in the age of digital downloads and everything, well it is nice to see. Warseid play I suppose more of a European style black folk metal. Now this is listed as an ep, but you get 30 minutes of music, to Decide and a lot of bands would consider that album length. The vocals are harsh black metal rasps with a growling undertone type of vox, they are fine for what they are, but I have to be honest, for me, to my ear they do not really suit the music very well. They just do not seem to convey or match the energy or emotion of the music or seem to fit very well to the music, if you know what I mean? It is not one of those cases where you go I can not imagine a different vocalist in there, I can and the one I imagine is a better fit. The music itself is some good black metal, not really harsh or low-fi, yet they do not abandon their aggressive or hateful roots altogether either. No it is a little crisper, with a slight punchy metal edge, but that edge is rounded off by some of the symphonic elements and nice rhythms and well thought out, catchy harmonies. The music is really pretty solid, it could honestly use a bit more flow though, it is a tad rigid and not always seamless when transitioning from straight up parts to the more symphonic or melodic sections. But that will come with time; I am sure because there obviously is some imagination and talent on display here with Where Fate Lies Unbound. I think fans of the more symphonic or melodic black metal and folk sounding bands will be interested in this one. Yes it is not without its faults, but at the same time it nicely displays a talented band still finding their way they just need to work on those vocals first, of course. – Dale
http://www.reverbnation.com/warseid http://www.warseid.com/
Aww yes, Canadian metal. Surely you know those words fill me with pride. This is the debut assault from Witchblade. The vocals and the production have a decidedly black/death sort of feel to them. But the music itself is more in a mid-tempo epic thrash vein, with an air of power metal overtones throughout the material. I quite enjoyed this. I think with a little vigilance and musical progression Witchblade could be a name of note and reverence one day. – Dale
Witchblade, P.O. Box 539, # 21 10405 Jasper Avenue, Edmonton, Alberta, T5J 3S2, CANADA Web = www.telusplanet.net/public/dbowker/witchblade
I reviewed this bands demo "Abolish In Thorns" in '95 for the Canadian 'zine The Sepulchral Voice(RIP). I recall saying they were a good, solid and dark death metal band with potential. So 4 years later have they grown into my lofty predictions? The answer is no. They are pretty much the same talented band trying to stretch their necks above the crowd with very moderate success. This is the US release version of their album and has 2 bonus tracks to round the number to ten. The CD cover is the size and layout of a 7" ep which is a cool idea. – Dale
Withered Earth, 5 Beechwood Drive, Rochester, NY. 14606, USA Web = www.witheredearth.com
Damn, it seems like I get a lot of quality stuff to review, from bands emanating out of Texas. Whore Of Bethlehem are no exception, this Austin Texas band immediately rub raw the senses, both audial and visually speaking, when you hit play and then start reading their song titles and lyrics. I must say first off, the guitar sound on here is fucking massive and brutal, I love it, and those riffs simply crush all unfortunate to get caught in its path! If is obvious, to me at least, listening to this that these guys are big fans of a large section of the old Floridian death metal style. I can definitely hear influences from bands like Morbid Angel, Deicide, Malevolent Creation etc… Maybe I imagining things, but I think I hear a little Dismember in there as well. But these guys are tight, barbaric; they keep the song writing dynamic and even mix in some frenetic solos. The drummer is a beast, he mixes it up well and puts in a Herculean performance, and he matches those massive riffs step for step and beyond. The vocalist also varies his vocals, slowing it down in sections, speeding it up his growls in others, slipping in an out of a higher, more nasally sound for brief periods and spits out growling yells at emotional high points in songs. I am pretty impressed with the vocal work on here, it is not just growling slapped over top of music, there is thought and timing put into his pissed off roaring. For me, this is a great young band, to keep an eye out for as fans of old school Floridian death metal will wet themselves listening to this album. - Dale
http://www.whoreofbethlehem.com/ http://www.reverbnation.com/whoreofbethlehem
I love this bands attitude and honesty in their bio, I also can really relate to them as they speak about playing a style similar to what they grew up listening to through tape trading, plus talk of being old. I am right with you brother, grew up on tape trading too (early to mid 90s) and I am also an old goat in this fucking scene haha. The four songs on here for me simply are fantastic, they are heavy, they are rocking, they are dark and they are dripping with old school intensity and attitude. Not to mention combining some of my favourite bands and styles as influence. I am not even sure where to start but think of mixing classic Celtic Frost / Hellhammer, Venom together with Dismember, Grave, Darkthrone (especially their releases where they show their Frost influence) and even some Motorhead thrown into the mix for good measure. The vocals kind of follow suit to those influences I mention above, a mix of old thrash gruff yelling with a decipherable growling undertone. They wear their musical hearts on their sleeve, and I like that, we share that metal heart and it is hard to tear apart. I say if you are a product of the 80s and early 90s metal and miss those days, With Burning Contempt is for you. Keep the ancient flame burning and the spiked fist pounding! - Dale
https://www.facebook.com/WithBurningContempt http://www.reverbnation.com/withburningcontempt
It is always nice to get something from a band from my area, as is the case with Philadelphia's Workhorse III. This release is something a little different than what I usually receive for review. The band is a trio, fronted by lead guitarist / vocalist Lisa Christ Superstar, well mostly fronted by Lisa, as guitarist Steve McCarthy handles some of the lead and supporting vocals on some songs. I feel listening to their music, it is rooted in hard rock, but it is also heavily influenced by metal and always has this little seedy underbelly of punk running underneath the proceedings. Despite Workhorse playing a straight forward hard rocking style, there are actually some very cool guitar fills and leads on here, which add an extra dynamic emotional layer that puts the songs over the top. I like the energy of the band, they change things up, but always rock while lyrically and conceptually having this cool raunchy party vibe. I could see them being a very entertaining band to see live. I think fans of bands like Motorhead, Plastmatics, Girlschool mixed with a slightly more diverse palate of classic rock influences will really dig this album. - Dale
http://workhorse3.bandcamp.com/ https://twitter.com/3Workhorse
This Chilean band took me by surprise and in a good way. There are only two songs on here, but they are both killers and not short songs. Worship Death play grimy, pulverizing old school death metal in the vein of Autopsy, Repulsion, Dismember, Grave etc… This is some pretty fucking glorious stuff. It brings back that old feeling, very nicely to the point; I can almost taste the air of ripping open one of my tape traders packages from the early 90s. I love the trademark Autopsy style drumming and angry bee in a box gutfuck riffing. The vocals are like hearing an obscure recording, emanating from a pit, that serves as the mouth of hell. About the only even remotely negative thing I could say is, I wish the mix on the recording was a little better, more even, and the first song could use a little more flow to the pacing. But otherwise, I can not recommend this enough, to old school death metal die hards!! - Dale
https://www.facebook.com/worshipdeathmetal https://worshipdeathmetal.bandcamp.com/