| | |
| --- | --- |
| | |
On the current time frame, in the midst of my horrid and abhorrent life, I've always believed death metal was based on evil. "Narrow minded shit with nothing significant to show besides our cocks", they say. Oh-fuckin-kay, these fuckers are a few bricks shy of a load. "This is Satanic punk 'till bestial death!" Uh, umm, hmm, alright then, let's pop this fucker in. Whoa, this is fuckin' "A" DM! Think vocally of 1991, early Necrophobic "Unholy Prophecies" demo '90 and their debut, let alone Macabre End "Consumed by Darkness" 7" ep and though the production is mediocre, it fits with the killer vox and instruments, perfectly. Melodic, yet in your face, laced with killing leads, pounding drums are displayed in a way they are really adding to this sickening mess! On "Side Chaos", Goat Devil is an evil pleasure as the Sacred Spear is an instant favorite. Crucitatus on grrr and drrr, Johan on vrrr and brrr and Necrophiliac Bonegrinder on drrr as 2nd grrr. Vocallly on "Side Desecration", Vital Remains Jeff Gruslin comes to mind on "Worship The Demon". At times it's like Impetigo meets Carnage and check out the solo on WTD. Musically, "Witchcraft Bloodbaths" reminds me of very early Incantation meets Acheron (USA) riffage with hints of "Dawn of Possession" Immolation ~ fuck me! Alas, "Death Metal or Die" is just what the title indicates, memorable, to end an album I could play all night. Buy this for the true DM feel alone, Cacodaemon rule!! Now what do you say, Mika Akim? Long live the pigs of Sadistik Impurity, Slaughter the rest!! – Clayton
http://cacodaemon.dy.fi cruciatus@hotmail.com
Woo hoo! A gothic / dance / industrial compilation. Just what I need, geez this blows! The bands included are: Mandanus Imperium, Autumn, London After Midnight, Type O Negative, Therion, Moonspell, Left Hand Path, Ever Eve, Lacrimosa, Switchblade Symphony, Love Like Blood, The Gathering, Tiamat, Dreams Of Sanity, Clan Of Equinox & Christian Death. One thing I will give NBA is they have stuff on here from other labels to give people who like this a good selection of bands. Let me see the song/band I like on here is…ummm…The Gathering track is OK, but that is it! The packaging and layout are stunning (yes, I found something good!). Chant after me G.I.L.!, (Goth is lame!). – Dale
Nuclear Blast America, P.O. Box 43618, Philadelphia, PA. 19106, USA
Psalms for the dead is Candlemass' final "studio" cd and what a release! The doom legends have certainly outdone themselves and released their best most memorable release to date. Heavy, traditional doom riffs that are both extremely heavy and powerful but also extremely catchy and will be stuck in your head long after the cd is over. Vocals are performed by the great Robert Lowe {of Solitude Aeturnus fame} are sung amazingly as each note is delivered masterfully and sounds perfectly. The production for the release is just as great as it is not too over-produced but it is done just well enough for each musician to shine with their individual instrument. It is a shame that this is the end of one of the doom greats recording days but Psalms For The Dead is about as perfect of a cd as you will ever you hear. So nothing like going out on top! {Special Note: The band is not breaking up but will not be recording anymore studio-releases from here on out instead just focusing on touring and playing live so keep an eye out on the Napalm and Candlemass web-sites for all the latest updates and news concerning this great doom band}. - Patrick
http://www.candlemass.se/candlemass/ http://www.myspace.com/candlemass
A two man black metal band from the USA. One man handles the instruments, one handles the vocals. Their name comes from the ancient breed of wolf, the dire wolf. Musically TMP lays down some great instrumentation. A bit of the early suicidal black metal sound is evident. A bit epic in places. Good stuff. Vocally, anguished screams that in my opinion are not on par with the music. I would rather hear this album as an instrumental. Or, improve the vocal performance. A good release. I'm not sure if this is their only material but I'd like to see how they've developed since this came out. - Mark
http://www.myspace.com/thecanisdirus http://www.moribundcult.com/
This Czech band have been around for over ten years now. This release came out in 2009. Sort of a hybrid of styles - doom, metal, even a little folk in the overall feel. Musically they are competent. The vocals take a bit of getting used to, though. Main man Blackie seems to be a one man band with the exception of drums. It's nice to hear bands that are one or two members that can pull off the band sound. It's not easy. You have to have vision to really hear what the other instruments should be doing to pass yourself off as 4 or 5 member band. This isn't really something I would buy but there's no denying it's quality music. - Mark
http://www.myspace.com/calesclan http://metalbreath.cz/en/metal-breath/
Generally I am happy to see a release by a Canadian band show up in my mail box. Despite where they are from I often wonder how releases like this even manage to find their way to me. Seriously. We are a mix of commercial radio rock and poppy ska-raggae emo type shit, let's send it to Canadian Assault they might love it! Lots of energy and a good recording that is about all I can think of to say positive about this feces. Hey get this out of the cd player quick, it is starting to draw flies. – Dale
www.capdown.net www.fiercepanda.ca
I have been lucky enough to follow this great band since their debut cd in 2006 "morgue mutilations". Now up to their fourth masterpiece of old-school horror-gore drenched style of death rot. The band has unleashed "Vortex of Violence" the bands most devastating release to date featuring 11 songs of uncompromising, aggressive death metal in it's truest form heavy, straight forward riffs and solo's that are both relentless but also original and varied as you can tell each of the songs apart of one another which is not easy task in this form of metal. Adam Scott's vocals have never sounded more sick or vicious growls that are definitely some of the best of the best in scene today. Vortex of Violence will definitely go down as one of 2012's best death metal releases. So do yourself a favor and buy this it will please both long-time and new fans of this great Illinois band. - Patrick
http://www.myspace.com/deathrot http://www.ibexmoonrecords.com
This is a WAR Music, release who have now inked a distribution deal with Relapse. C.F. hails from Sweden and it shows as they thoroughly rape early '90's Swedish death metal w/ the late '90's Gothenburg melodic sound topped with a little dose of American aggression. Other than the vocals this is a indistinctive, unoriginal act. However, having said that, C.F. puts together some amazing melodically harsh material that still smokes and I verily enjoyed. – Dale
Relapse Records, P.O. Box 251, Millersville, PA. 17551, USA website = www.relapse.com
The Carnival – Three tracks from each band. The Carnival play crazy and violent old school speed / thrash metal. We should expect nothing less from Bestial Burst. The music kind of reminds me of some sort of twisted take off on the classic Sacred Reich stuff. I do not come across many bands playing this sort of style so this is a breath of fresh air.
Enormity – Extremely sadistic thrashing metal with catchy as fuck riffing. Also intermingled with the thrash base is some chunky death metal influence and the balance they find is a good one. The vocals are diabolical, following suit with the music. This release is just chock full of mayhem and it is a good time listening to it. – Dale
www.bestialburst.blackmetal.fi/ bestialburst@blackmetal.fi
A large smattering of blackened death metal is offered up this time, straight out of the swamps of Louisiana. It would be rather difficult to list the influences here. Due to the fact Catholicon sound like a mix of just about everything out there. It is task to detect anything of their own within the 13 tracks presented. That does not necessarily make "Treatise on The Abyss" a bad album. Quite the opposite and is a really solid piece of hate and malicious aggression. Standing out in this scene is going to be a problem for them as there just is nothing here to say "hey check this out, despite having no sound of our own, you have never heard it done this way before". So I would unfortunately expect Catholicon to end up one of those bands who put out some good albums but slipped through the cracks largely unknown. I would only recommend this to die hard freaks that have to have just about everything that comes out (I have met and have been friends with some of you and I am always amazed you come up with the money for this haha) in the black / death scene. – Dale
www.negativityrecords.com www.fuckyourgod.com
It has been a while for me since I have heard any Celestia stuff. I think the last thing I got my hands on may have been their 2001 promo tape. Which I quite enjoyed thoroughly. Despite that 8 year gap, I see, looking through their discography that they only released an album, ep and demo during that period of time. Though of course let us not forget the band leader is quite busy with his label Drakkar Productions. One thing I always liked about Celestia is they play black metal but somehow always managed to imprint a touch of their own sound and identity into the style. Something that is much easier said than done these days. I would have to confess these days they are probably less black metal than in the past but all of those elements are still here in smaller doses. Celestia is very atmospheric and melancholy in an epic emotional sort of way. They also thankfully do not solely rely on synth to attempt cheat and create cheap atmosphere. There is some real thought put into the compositions and playing. A fact that is certainly not lost on me and adds another layer of enjoyment to my appreciation of this release. I can definitely recommend this album and it comes out on an excellent dedicated label as well. Check this out. – Dale
http://membres.lycos.fr/celestia/ http://paragonrecords.org/
'Only Death...is Real!', (A slogan that has survived till this day) from the days I spinned Hellhammer and Frost and Tom Warrior (despite using the Fischer name replacement) will always be my metallic icon despite my departure in disgust of what once predominated Frost after 'Into The Pandemonium'. Naturally as most of you, as my 19 year stalemate done away with and the 'Warrior/Ain' comeback had me skeptical, and who wouldn't be but those that just were not there (unlike myself) when they began their legacy?I must exonerate all my critique as the true CF is alive again as sure as shit like white on rice! Indeed I spin and shall remain spinning 'Apocalyptic Raids/Morbid Tales' unto my dying day, but now comes the moment of truth. Many of you expected a 'Morbid Tales, Part the Second' leaving me bewildered. It simply is unintelligible to expect another 'Dethroned Emperor', 'Procreation (of The Wicked' or 'Circle Of The Tyants' (nearly all near 14 years old) and CF would have failed direly attempting so. The Frosties are notorious via expansion from one album to the next unlike the abomination of 'Cold Lake', Momotheist offers much of the greatness of 'Morbid Tales' yet are heavier than ever with outstanding vocals laced in a thick melancholy and emotion which pales anything remotely sullen on 'Into The Pandemonium'. Here the heavier is heavier, the morbid more morbid all laced with a genuine depressive sadness, sorrow, apathy, hatred and a darkside yet unexplored previously. The newbies shall by ignorance disregard this statement and you can simply lick the shit off my dick when I'm done with your petty disagreements! Just spin this near 70 minute affair and feel. Seriously, has ever The Morbid Ones once repeat an album twice? No. Did they fail in doing so? Yes in 1988(Tiny Tim admitted to this)...on Monotheist there is beauty in darkness with a handful of softer songs as cunning(and at times more so) than 'Danse Macabre' that only Monotheist and said band can only do justice to; unlike your doom and gloom band of the month of BM elevator music of the day cannot near compared to the Godfathers of a morbid darkness as heard on monotheist. In truth the frost bites harsher than ever, who humbly began it all in 1982 and yet have not lost the midas touch still in 2006.Take fucking heed of Monotheist and remain morbid in the dark. In end after so many passing years Monotheist is CF before the fucking lake and the vanity that lacked nemesis! Remember,don't piss in my helmut as it truly Frost's my Celtic, so buy or I'll make you cry if you don't support this album! It's Celtic Frost at 666% and the Emperor's have returned to reclaim the Jewel Throne!I am honoured to have done this special review and so should you of a cult band that still stands the test of time...Are You Morbid? - Clayton
This is a new band for me and released by a new label as well, I am sure we can expect to hear a lot from this label in the years to come. Centuries of Deception play atmospheric black metal, that I got into but in the wide spectrum of the scene this is pretty average. Still a worthy addition to the, extreme black metal devotee's that must have it all. Available through Deathcult Distribution... – Dale
Another band comes at us out of the great Polish metal scene. Centurion really do not sound much like most of their countrymen, in fact they play a style with a big nod towards 90s American brutal death metal. And it is vicious, straight ahead extremity lunging forward like a speeding bullet train. The vocals are rapid fire growls that try to match the break neck speed of the music, they are pretty imposing and frightening sounding. I do not have a lot to fault Centurion for, they do everything pretty well, but at the end of the day this album just does not stick with me that much. I would say extreme die hards of this style might want to give this a try, otherwise I might pass. - Dale
http://www.myspace.com/centuriondeathmetal http://www.wydawnictwopsycho.com/
This is a new band from Denmark's underground metal scene, but one I'm sure we'll be hearing a lot about in the coming months. The music is heavy slow to mid-paced guitars that have a old-school death/doomish feel and sound to them. J.P's vocals are a mix of deeper death growls, screams and some gruff spoken type of vocal patterns. Cerekloth have done a great job of mixing in old-school death gods like Autopsy, Cianide etc and mixed in their own warped, disturbed creative ideas. If you are looking for something old-school sounding but with some originality to it then check out Cerekloth. - Patrick
http://www.cerekloth.dk/ http://www.hellsheadbangers.com/
England and death doom go together like leather and spikes and Centurion's Ghost are one hellbent incendiary bulldozer of creeping metal. I was struck immediately by the quality of this band, the fluidity and nose for knowing when to keep the songs simple to increase the skull crush factor, call it the Asphyx principle. There are a lot of great influences wrapped up in this record, in the biography they list Venom as a big influence, I can hear it but not in a strong way in my opinion. They also list Cathedral, Candlemass & Celtic Frost and all those are fair but I also hear traces of Benediction (way underrated band!) alongside traces of early Afflicted or Disharmonic Orchestra. For that matter very early Paradise Lost or My Dying Bride, you know before they went all commercial and keybored-y , may not be completely out of line. The guitar work going on in the background is actually more involved then one would notice upon first listen but really accents the uplifting moments and keeps our eyes filled with gray during the emotional melancholy passages. The vocals of Mr. Begley are utterly fantastic and are some magical doomy mix of early Kreator Mille, Martin Van Drunen, Goatlord and others I cannot even explain, my ear knows it but my tongue and finger tips get confused. I just dig these vocals a whole lot! I can sense the confusion? Why all the thrash references and doom, it is because their sound is rooted in dark thrash but make no mistake this is a doom metal band, first, second and third but they have denim filled with stitched on patches, in their minds and know how to induce a headbang fury. One other thing that strikes me, is for a young band they have mastered flow to their songwriting and incorporate fleshy nuances and vision that is beyond the bands paltry few years existence would suggest. I am finding myself increasingly more enthralled with each listen, I am beginning to think an interview might not be out of the question here. Is there any better recommendation for a band then that? – Dale
I Hate Records, Box 13023, S-60013, Norrkoping, SWEDEN http://www.ihate.se/ www.centurionsghost.com
It has been a long, long time since I have heard any new Cerebral Turbulency. For those keeping score, I reviewed their split tape with Gride and Malignant Tumour, in Canadian Assault. That was a 10 years ago! I guess both myself and the band are turning into old bastards in this scene. The layout of the booklet is very interesting. The lyrics come on a smaller, separate book, it is strange but cool. Part way into this album on the first listen I found myself saying what happened to Cerebral Turbulency? Where did the all out grind attack go? There are still some small signs of it but it is mixed with a lot of American sounding metalcore and some hardcore vibes and even some industrial overtones. It almost feels a little bit so called lousy 'nu-metal' like at times (but no rap vocals, thanks to hades for some small favours). You know I really hate this sort of thing. To be quite honest I find myself rather disappointed with this album. I wish if bands are going to change this much they would do their fans a favour and change their name. It is the respectful thing to do for their fans and their own legacy. I suppose some might consider this an expanding of their horizons but to me it is like they erased the horizon completely and painted over in the colour of blank boredom. There are some small and short decent bits on here but they are too far and few between to enjoy. Do you like groovy, dance-y music that you can jump up down to on an imaginary pogo stick? If yes, then "Crash Test", might just be for you. I am hoping on the next album of Cerebral Turbulency, which I will review soon, will be much different and closer to the old grinding days. – Dale
http://www.khaaranus.wz.cz http://bandzone.cz/cerebralturbulency
Czech grind is a thing of legend in the UG and one of the best and most prolific grind scenes around. One of the good ones and one of the well-known are Cerebral Turbulency. Who are coming fresh from going off the rails last album with the semi-awful and decidedly bland "Crash Test" mallcore train wreck. Will Cerebral look to get back on track and make amends to the loyal followers who were disappointed and dejected? I am happy to report that Turbulent ones are back steaming ahead on the right path. The real aggression and trademark grinding have thankfully returned in a big way. Some sections of the album are an intense rape 'n pillage assault with chainsaw guitars and lightning quick, scatter shot drumming. There is a lot of very good things going on but it is a mixed bag as well. Because they incorporate so many different things (samples, effects, tons of different vocal styles etc…) into the songs. Some of the off the wall things really work and other times it does not and seems like they were forced into the song just to have it there. But do not let that statement keep you away as there is plenty of good material to go around and Cerebral Turbulency give you a taste of what made them so good in the first place. Yes this is some intense shit. Which is all the more pity with this being the bands final release as they have decided to split up after 15 years of grinding. – Dale
http://www.khaaranus.wz.cz http://www.myspace.com/cerebralturbulency
Germany has produced it's share of quality dark death metal bands over the years and Chapel Of Disease can be added to that company. This is some ripping 'n thrashing metal, some of the guitar patterns and song arranging, is pretty clever keeping my attention well. I definitely am getting an old school death metal vibe, like late 80s and early 90s era. I read another review of this and seen the comparisons of Pestilence, Bolt Thrower, earlier Death and I really cannot argue with those, pretty spot on. There is another old band or two on the tip of my tongue, but I just can not seem to get them off. I can hear maybe a little Demolition Hammer or something along those lines in there. Anyway, Summoning Black Gods is good sinister thrash tinged classic style death metal with some crushing, speedy riffing and an atmosphere that will force your head to banging. This record will make the old goats like me and just old school fans in general happy. - Dale
http://chapel-of-disease.jimdo.com/ http://www.fda-rekotz.com/gx/
I love crossover thrash bands. This particular one comes to us by way of Italy. Hells Headbangers have really been diversifying the bands they sign lately and in a good way. As can be expected with this style the songs are often on the short side and the album comes in at under 30 minutes. Goodness these fucking guys can rip, they hit you with those cool tumbling riffs that trundle forward quickly like a sweet motorcycle with timing problem in the overheating engine. Those killer riffs make me want to mosh and headbang like a raving lunatic. I also love those gruff and gutsy vocals that sound like the guy has been a life long smoker and heavy drinker. This shit is getting me nostalgic and wanting to reach for my Cryptic Slaughter, DRI, Tankard, SOD etc… The audio insanity of Children Of Technology fits right in perfectly. It is great to see bands like COT, Adrenicide, Short Sharp Shock keeping this style alive and well. Not only that but they want your beer, your bitches and think your teeth look silly inside your mouth, so spit them out! There are limited cassette and vinyl versions of this release, good luck searching them out. - Dale
http://www.myspace.com/childrenoftechnology http://www.hellsheadbangers.com/
Things happen slowly, akin to the pace of the tunes played, is one of the most used jokes in the world of doom metal. Yet even by those standards the amount of time 'Minstrel Of Mourning' has taken to finally see the light of the day is mind-blowing, as documented by the extensive liner notes by both Stevo and Brett Fugate included in the album's booklet. Yes, Stevo - the monster best known and respected for his work in Impetigo, one of the most important and cult bands EVER in the underground history. Undeniably, there are some parts on these songs bearing resemblance to the classic that is Impetigo's 'Horror Of The Zombies', which could hardly be a surprise as both those albums have been written roughly at the same time, yet we're talking a different beast here. Stevo switched from bass to guitar, added the quite explanatory pseudonym "St. Vitus" to his name and alongside the remaining three band members created and recorded a doom album full of despair and mortal dread. An album that sounds as good now as it would've sounded if released back in 1993 - probably because the stench of death is eternal and some of it is captured here by no-frills riffs and tempos, interesting, sometimes rather bizarre, vocals and an overall atmosphere much akin to the one of strolling through the graveyard on a harsh November night. 'Minstrel Of Mourning' isn't the type of album to give you a revelation, neither is the end-it-all doom masterpiece but it's a good document of a band doing what's in their hearts, as morbid as they might be, ahead of its time. Doom fans and Impetigo maniacs alike should pay attention to this. – Vladimir Petrov
http://www.metal-archives.com/bands/Church_of_Misery/10708 http://www.razorbackrecords.com/
The U.S death metal legends return with their sixth full-length release and the name couldn't be better "Gods Of Death". In Cianide's twenty years plus in the underground the band has never once compromised their sound or "added" any new elements to change with the times or be more popular in the scene they helped create. That is something to be respected whether you like this band or not. Gods Of Death carries on Cianide's tradition of creating and playing some of the heaviest death metal ever heard. Crushing mid-paced guitars and heavy, mid-paced drums that keep up with the mood and pace of the band. The vocalist delivers with some excellent death growls with no effects, no pig squeals just angry growls. Cianide are a band that doesn't change for anyone. But they get better and better with each release!! Definitely one of 2011's best death metal albums! Buy this or die a poser. – Patrick
http://www.myspace.com/cianidekills http://www.hellsheadbangers.com/
I am not quite sure what to make of this band. They call themselves Philosometal or something like that. Their whole lyrical concept is heady philosophy meanderings and pondering that will probably go over most peoples heads. The lyrics may have had a lot of thought and complexity to them, but the music is a complete dichotomy to the lyrical content. The music is so stripped down, so simplistic, especially with certain songs that it barely a song haha. Quite often it will just be something like a really slow, very low key riff with almost background accent, basic drumming. I guess you could say the vocals which are mostly gruff yelled thrash type vocals are pretty much the supposed to be the center stage of the bands musical presentation. I have to be honest I am not very interested in philosophy, especially with my music so the main focus of this band does not do a lot for me. The music is minimalist sort of late 80s commercial style thrash riffing and structure, but slowed way down and stripped down to it's most basic level. The music was pretty good stuff. But overall I would not give this a recommend to be honest. - Dale
http://www.reverbnation.com/circadianskizm http://circadianskizm.com/
Coldworker brings us their third album, the first to grace mine ears. The mighty Dan Swano apparently was responsible for the final mix and mastering on here and accordingly it sounds great, but retains a heavy, non-plastic edge. No complaints there. This is death metal and while it is not totally retro, you can definitely hear the great old Swedish dm sound creeping into their material. The music is really tight, has some catchy riffing and the drummer is a whirlwind, he comes over the top scrape off any flesh that may be left on your bones. This is some good death metal music guys, but it is also pretty predictable, straight ahead fair which some of the more discerning fans of the genre might not get that much from. I don't know I enjoyed, nothing remarkable, but good competent death metal music with a little of that old Swedish flavour many of us love. - Dale
http://www.myspace.com/coldworker http://www.listenable.net/
I've never liked hardcore but I've always dug what Coalese, were doing. Their bludgeoning, pissed off style always seemed to me, beyond the limits of music. This is pure aggression, no weak bones in this body. The title of this album seems to fit their music and lyrics perfectly. Impatient?, No argument here. - Jeffrey Kusbel
Coldworker brings us their third album, the first to grace mine ears. The mighty Dan Swano apparently was responsible for the final mix and mastering on here and accordingly it sounds great, but retains a heavy, non-plastic edge. No complaints there. This is death metal and while it is not totally retro, you can definitely hear the great old Swedish dm sound creeping into their material. The music is really tight, has some catchy riffing and the drummer is a whirlwind, he comes over the top scrape off any flesh that may be left on your bones. This is some good death metal music guys, but it is also pretty predictable, straight ahead fair which some of the more discerning fans of the genre might not get that much from. I don't know I enjoyed, nothing remarkable, but good competent death metal music with a little of that old Swedish flavour many of us love. - Dale
http://www.myspace.com/coldworker http://www.listenable.net/
Voices Of Wonder have a great promotional dept. and their packaging are some of the best out there! It's a pity almost all of their bands are awful! Here we have another trendy 'jump metal' styled band but w/ a bit more of a crushing doomy quality than most of their counterparts. The vocals are extremely lame. The singer, if you can imagine sounds like the guy from Crowbar with a heavy European accent spiting out cheesy lyrics. So if you enjoy that Skinlab / Machine Head style better fire a letter off to V.O.W. for a catalog, after all it's only a hop, skip and 'jump' away. – Dale
Ever commit brain-death, coma-inducing suicide without heart palpitation? I have (yes, seriously!) and if I had a mic in my valediction, this is what it would have been. Following "Tormented Belief", both main man Horrendous and Necromorbus have unleashed their second opus into a conceptual 2nd of trilogy album affair. A vinyl version of this album is available in a limit of 500 copies, which are pragmatically sold out by now. "All Hail (Master Satan)" from the "Saeculum Domini" CD is present on this disc. The vocals sound like a homicidal dying mortal gone insane while having suicidal mental breakdowns rarely captured in BM, no matter how many times you repeat this; it don't let up. This consists of such atrociousness and sorrowful emanating that one may point at "Salvation"-era Funeral Mist, yet you can not. The neurotic higher pitched vocals sound savage, rabid, coldly and hatefully unto anyone that bears human flesh, it detrimental to your life! Add this to with musical moments from 1990-94 Nordic-era true BM and Satanic metal on their behest of black-heartfelt riffage and we're getting there! The grievance of many fallen angles, the extraordinary torture of existence, the hatred upon all mankind, the exiled dementia-precox' souls, unavenged Demoniacs, that now have increased a ten-fold more than that and you fathom what CC sounds as the more it molests you. I am certain these two travel amidst their native Portugal with razor blades deeply embedded through their 'skin suits'. I'd partake razor raping my own pelt with this release, but Corpus Christii has already done a fine job of that! Satanist myself, their name in the Roman Catholic church, CC is a festival in honor of Eucharist (the fucking Messiah!) on the first Thursday of the trinity; the eight Sunday after Easter. Posers beware, this isn't the Funderground, this is pure Satanic BM formed from the scorned souls of Hell in earthly form. Professional, well produced and one of the best out there today, question is, have you got the guts? - Clayton
www.undercover-records.de www.corpuschristii.com
Nothing like listening to some good ole old-school brutal Swedish death metal to get the adrenaline going is there? Apparently the musicians in corrosive carcass feel the same way and have created some of the Best and heaviest Swedish death metal to be hard in some years. As soon as you hit the play button to listen to this monster of a release of you are instantly hit with heavy, thundering drums fast whirlwind guitars that are equally as heavy as they are fast. The vocalist fits the music perfectly with his deep vicious growls. Fans that enjoy early Dismember, Entombed and the more rawer Swedish style bands will love Corrosive Carcass I know I can't wait to hear what these guys put out next. - Patrick
http://www.reverbnation.com/corrosivecarcass http://www.officialabyssrecords.com
The opening track is an instrumental, that sets the table and let's you know straight away that you are listening to accomplished, controlled and stylish musicians. Then you are followed up with the song "Chaemera", which it is immediately hard not to think of Thin Lizzy, it is that subdued but still rocking type of vibe, replete with Phil Lynott sounding vocals. Then things change up and you get more of an energetic rocking sound with a real progressive tinge to it like King Crimson or something, but without forgetting to come back around to rocking out. This is really a very interesting record. I must admit though, despite the sound being clear, it is so over controlled sounding, lacking a lot of bottom end and oomph, for a lack of a better word. I think if they got that kind of production and fleshed things out that way more, it could really take their great sound to a whole other level. This is something to check out, not for every extreme metal fan to be sure, but devotee's of old school and new school progressive hard rock will want to give this one a listen. I must say Shadow Kingdom records for me, are starting to become one of the best labels in the world at identifying new talent and releasing it, yet also digging up really worthy gems from a forgotten yesteryear that were unfortunately overlooked. - Dale
http://www.skykrakken.com/ http://shadowkingdomrecords.com
This is the Michigan Coven, not to be confused with the Pacific Northwest or Chicago bands that used the same moniker. Also up front you should know this is a re-release of an album the band released in 1987, but it was only ever released on vinyl! So does this fall into the hidden or forgotten gem category, I would say the answer is yes it does. I find their music very cool, quite hypnotic and leisurely paced but still heavy metal and not really slowing down into the doom regions. The vocalist has this very obscure, laid back trippy vocal delivery much of the time and I really like that, he does turn up the emotion now and then and even has an epic Norse (reflecting the lyric imagery) flair about his vocals. Now that I think about it I might have to take the doom comment back as now and then Candlemass comes to mind. But I must say Coven on this album have a sound of their own. I mean I can list a couple bands just to give you an idea of the type of melodic, atmospheric heavy metal they play. Some bands like Manilla Road, Omen, Cirith Ungol come to mind as having a vaguely similar sound and more than anything probably a similar pacing to their music. I'm not saying this was the ultimate find of all finds, but I am damn happy someone dusted off this cool album and brought it back out of obscurity for us all to enjoy and give the album some new life. This is my first meeting with Shadow Kingdom Records, going by this release and looking over their roster of releases I hope to be hearing again from this label and soon! - Dale
http://www.reverbnation.com/coven13 http://shadowkingdomrecords.com/
Count Raven is a name well-known to doom heavy metal merchant followers like myself. The Raven had been silent, for some, long thirteen years now! Apparently the original band tried a reformation, but despite some good live appearances was once again not destined to continue. The mainman of Count Raven, Dan Fondelius decided to carry on regardless and recruited new members Fredrik Jansson on bass and Jens Bock on the skins. What with so much time passing and some original pieces falling by the way side. Has the old magic faded away? It is the question swirling in my mind as I prepared to play "Mammon's War" with muted anticipation. The biggest positive for me is Fondelius staying, as he is the vocalist and much of the character of the old foundation. His Ozzy Sabbath-era vocals, are perfect for this style of classic doom, and, I am admittedly a sucker for this vocal style. The opening track, "The Poltergeist" grabs you straight away as a hooky, traditional heavy metal burner that should please fans of old. You get some of everything, from the heavy to the emotional, melancholy and introspective. But you are snapped out of the trance with great rocking as well and memorable riffs. It is hard not to enjoy the sullen, epic atmosphere on this album and some of the nuanced and classy background guitar accents of Fondelius are not lost on me. This is a grand return to form for Count Raven in my view. I hope the new line up is solid and they stay around for another long run. Get this. – Dale
www.ihate.se www.myspace.com/ihate666
Old-school death/thrash lives and it has never sounded better or more fierce. Ohio's Crucified Mortals have nice catalog of back demo's, splits, but have unleashed their full-length debut with eleven tracks of early 80's aggressive thrash guitar oriented music mixed with some early 90's u.s style death metal this is a perfect blend of uncompromising, unrelenting death/thrash. The guitars are played with a lot of chaotic violent riffs and pure metal solo's but also within the chaos the band showcases some well-written and even complex structures. The vocals are gruff growls. The production is pure-perfection it is not extremely raw/thin sounding like so many from the 80's were but is also not over-produced and weak like so many of today's bands. It fits the band chaotic sound very well giving the listener the chance to hear every guitar note, thunderous drum or horrific growl. Crucified Mortals is a must have for all fans of old-school death/thrash - Patrick
http://www.hellsheadbangers.com/ http://www.myspace.com/crucifiedmortals
This Polish horde is somewhat of a mystery as very little is known about the members. Well Haxan is the bands "debut" originally released in 2008. Hells Headbangers has decided to re-release it for the maniacs who might have missed it the first time around. The best way to describe Cultes Des Ghoules sound would be filthy, raw old-school death metal with touches of black metal within the thin/raw guitar riffs and screechy style vocals. Cultes Des Ghoules is definitely not a band for everyone but if you enjoy the older bands like Varathron or early Mortuary Drape then this should give you some idea on the great style the band has continued to carry on within their sound. - Patrick
http://www.hellsheadbangers.com/cultesdesghoules/ http://www.hellsheadbangers.com/
At times is an unfortunate statement that black metal has become a watered down, caricature of itself. There is an absolute grey mass of bands littering the landscape like some beaten down, demoralized war torn country about to surrender. The problem for me is too many bands and not only that but too many bands who do not even really care about black metal, who do not truly believe in black metal but do it for fun and do not take seriously. In addition, the influx of fruity synth heavy "atmospheric soundscapes", goth infusion, and fancy studio recordings via pro tools etc… have sapped black metal of all the reasons we worship it in the first place. Raw feeling, utter darkness and evil strangled out of traditional instruments and the depths on one's own wicked soul. Clean productions / recordings is like stoking a huge bonfire and when it is really blazing reaching for water instead of more wood and throwing it on the fire. The result is a pathetic smoldering glow. Enter Cryfemal, not overly talented, they keep things simple and straight forward attacking you head on. "Perpetua Funebre…" blasts forth with a certain diabolic energy and Satanic ritualistic atmosphere, striking at the heart of my discontent with determined ferocity. I really like the drumming too, it has an off kilter, loose charm that brings back early Judas Iscariot memories. The guitars have a hint of the "Deathcrush" gut fuck to them and wind their way through the material like a snake being charmed by a piercing yet melodic musician. The vocals are decidedly for me a twisted mix of early Burzum and present day Lust with a touch of something else I just cannot put my finger on. Yes, those black rasps really stand out and accentuate a fine malicious record. Cryfemal stock the coals and keep a bit of the igniting fuel missing in so much of our scene and no I am not referring to the rumours that certain past & present Cryfemal members are facing incarceration for various crimes. – Dale
Oniric Records, c/o David Prado, C/Olmo N. 1, 7 I, 06400 Don Bento (Badajoz), SPAIN www.oniric-distro.com oniricrec@yahoo.es www.cryfemal.cjb.net
Cryptic Tales are quite an old band from Poland, and was formed back in 1989!! They are existing for some years, then stopped doing music, and now, 7 years of silence the band is again upon metal throne. I didn't hear the music they played early in its path, but I hear music now which they created, and I'm totally satisfied with this record! The music CT plays is amazing yet original death-doom metal mix, with keyboards as well. The whole stuff consists of fast killing guitar riffs, as well as drumming, and great keyboards together with good growl vocals are here. Lots of fast and slow parts, really unearthly atmosphere of despair and depression… I was really killed by this CD, I listened to it many times, and I can't stop to listening to this CD. The death-doom metal scene nowadays isn't the best, and our guests decided not to play in a modern way, but in that truly obscure old one! Music is really "live", catching and just amazing! Each chord, each tune is totally filled with ALL means which should be in such music as death-doom metal. And I think soon this band will get high level here in the UG! So let's support them! - Aleksandr Maksymov
cryptictales@interia.pl www.cryptictales.pl
Well, my Canadian brethern have come back with their 3rd album and first for Century Media. The bio mentions the departure of vocalist Lord Worm but fails to mention that after the material to the second album was written guitarist Steve Thibault (one of the main songwriters and now manager) also departed the fold. Wonder if Steve still writes with them? I wouldn't know as I have a promo copy with no liner notes. First off, I don't think Cryptopsy can ever top their amazing debut album "Blasphemy Made Flesh". New vocalist Mike Disalvo (ex-Infestation) is very good with his deep, heavy death growls. I miss Lord Worm, I imagine Cryptopsy is really gonna miss him live as he really commanded a crowd and it was fun watching him eat earth worms. But, I must move on as Cryptopsy did. The boys come back with another great technical and intricate and lightning fast tempo changing death metal mindfuck! Did I mention the drums yet? They are as per usual phenomenal and the best in the death/grind genre. Flo is a human whirlwind, go see them live and experience first hand what a I mean - God!! This will please all extreme brutal death/grind fans. Cryptopsy show again why they are considered one of the best there is in the genre. – Dale
CWAF – Play a simplistic and stripped down but very heavy metallic style. They like to keep things rhythmic and unchanging for long periods. Which when they do change things up, it has a much larger impact than technical bands, who stop on a dime, a dozen riffs and time changes in each song. I love the Police State intro on here, check that shit out. Cwaf is a little hard to pigeon hole, they have some connection to death metal yet also are owing of their origin to sludge bands like Cavity or Eyehategod. The drumming on here is massive, a great performance. I would say this disc is worth picking up just for the 4 Cwaf tracks.
Noosebomb – is a band I had not heard of either. Noose, are purveyors of Sludge metal as well, so the pairing is a natural one. Though, they have a very different take, on the style than Cwaf. Noosebomb are more active and have a much more traditional heavy metal base. The last song on here entitled "What is the World Coming To" is an epic doom influenced masterpiece. It is probably worth mention that Noose features members of Disrupt and Grief in their line-up. – Dale
http://noosebomb.com/ www.bestialonslaught.com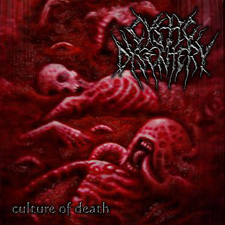 Florida's Cystic Dysentery have released their debut album, which is eight tracks of brutal, fast, technical death metal. There is nothing really new or outstanding on Culture Of Death. I suppose if you are a die-hard fan of technical death metal and buy/collect every band that releases something in this genre. Then I'd say buy this release. But otherwise I would just recommend listening to your older Deeds Of Flesh or Dying Fetus releases. - Patrick
http://www.myspace.com/cysticdysentery http://www.deathgasm.com/