| | |
| --- | --- |
| | |
The Swedish Ofermod debuted in the UG scene with an explosive and refined seven inch EP way back in 1998. This piece of vinyl really made ripples in the scene, so revered that this two song EP has been re-released on disc, vinyl and cassette no less than seven more times over the years. So it was surely puzzling to some, as to why it took no less than 10 years for their next release, a full-length album to finally surface. The answer to that is main man Michayah Belfagor, was in and out of prison for the next 12 years after the release of that EP. So, in between these stays in prison (for things like assault, robbery etc…) in 2005 word got around that Ofermod was working on and recording their debut album, but it never came out and Michayah went back to prison for a couple years with that recording never surfaced all of these years… That is until now, some 15 years later, that rumoured (and thought to be long lost) debut record now see's the light of day and dark of night under the title 'Pentagrammaton'. The album actually sounds great too, having just recently listened to the '98 EP, this long player picks up right where that release left off even though it recorded so long afterwards. It is still the same high quality evil and hateful black metal with an undercurrent of dark death metal. This is listed as a double album, but the total runtime, for those interested is about 45 minutes long. It is interesting that Moloch from the Spanish band Teitanblood does vocals on the first half of the album, and Michayah Belfagor himself does vocals on the second half of the material. They both sound good to mine ears, strong and sadistically sinister black metal rasping with a growling whisper. I mean I can hear slight differences in cadence and tone, but if I was not trying pay close attention I would not have picked up that it was two different vocalists. It is cool that Shadow Records (run by Marcus Tena as of the band Triumphator) decided to dust off this no longer mythical recording and for me at least it does not disappoint. - Dale
https://www.facebook.com/OfermodOfficial https://www.shadowrecords.se/
This was originally released in late 2019 on limited cd, so now Eternal Death is giving it a cassette version which I am sure will be welcomed by fans of the Polish band. The duo plays a raw, old school black metal style similar to early Root. The vocals are a mix of gruff old school growls and screams, there are even some well sung clean vocal patterns employed in a few of the songs. The music is rooted in the mid 90's black metal style with both slower, mid paced music and some faster passages are intertwined into the song structures. If you are a fan of Ordo Sanguinis Noctis' previous releases then do yourself a favor and pick up a copy of this quality release on it's new format. If you are a new listener to the band and enjoy early Root albums and musical atmosphere then do yourself a favor and check out Ordo Sanguinis Noctis. - Patrick
https://www.facebook.com/OrdoSanguinisNoctis/ https://eternaldeath.bandcamp.com/
Rochester, New York's Orodruin have been around since the very end of the '90s, but this is only their 2nd full-length album. Having released their well admired debut album some sixteen years ago! They have released a split MLP with Reverend Bizarre and a couple EP's since then, but this album has been a long and much anticipated release among the doom circle of diehards. For those not in the know, the band play classic doom metal in the tradition of bands like Black Sabbath, St. Vitus, Trouble, Solitude Aeturnus and that sort of realm of bands. I would say unlike some of those bands, Orodruin mix in and wear on their sleeves a NWOBHM influence, which bleeds in and out of their quality traditional doom metal sound. As you can imagine with that influence, the pacing is decidedly epic doom, but they do speed things up (even rocking out) here and there, from time to time and even inject some tasty lead guitar parts at times. The vocalist John Gallo has an amazing voice that is very well suited to this style of music and I enjoy listening to him sing. He has a sound to his voice of his own though there is no denying that I hear little bits of Sabbath era Ozzy, Robert Lowe of S.A. and Messiah Marcolin in his vocals and all are great influences. I know the question you are asking, was it worth a sixteen year wait? Well, that is a lot of expectation to live up to, not to mention subjective depending on how big of a doom hound you are. So, I would have to say, okay maybe not, those are extremely weighty expectations to try and live up to after so many years have passed. However, that does not stop "Ruins Of Eternity" from being a quality album that devout followers of epic heavy metal and doom should enjoy and appreciate. - Dale
https://www.facebook.com/orodruinofficialband https://www.cruzdelsurmusic.com
Orthodoxy create an all encompassing, nearly impenetrable and thoroughly suffocating atmosphere with their brand of brutal, somewhat doomy death metal magic. This is one impressive debut album from this Spanish band, though do not let that fool you, as the band may be relatively new, but the members are veterans of the scene and come from past or current bands like Obscure, Domains, Profundus Tenebrarum, Whoredom, Pestkraft etc… This is pure traditional death metal, you will not find pretty melodies here, nor adventurous progressive song structuring or diverse cross sub-genre pollination – no this pure crushing fucking metal of death! The riffing on here is wonderfully repugnant and pulverizing, unrelenting yet doomy and the drumming is really powerful and precise. The vocals are enjoyable deep, acrimonious boiling growls that pour across the music like a river of black blood, complimenting perfectly the superbly evil smothering atmosphere of the music. I could definitely see fans of the classic death metal bands with doomy touches like early Incantation, Funebrarum, Morpheus Descends, early Sinister, early Immolation, Asphyx and Cianide etc… I am loving the hell out of Orthodoxy's "Novus Lux Dominus". - Dale
https://orthodoxy.bandcamp.com/ http://www.thesinisterflame.com/
This release for me personally is my introduction to this Finnish black metal collective. Which has been around for a decade now, and this is a good introduction to the band as it is a compilation album consisting of their demo, two EPs, a split EP and an unreleased track. The demo and EPs, span from the bands beginning in 2010 to an EP from 2018; so a pretty full look at their progression to date (no full length albums as of yet). Honestly, I could feel the development from the first song to the second; from the same debut demo as the band seems to have quickly found the footing of their sound. Which has a strong second wave black metal base, but they do like to slow things down by adding some gloomy epic atmospheres (to the point of sounding creepy King Diamond-ish in some moments) to the arctic aggression. They also keep some of their riffing a little heavier with a wee bit of gritty chug, compared to a lot of bm bands in this style. Pantheon do seem to have some skill and feel in the song building area on when to transition between these sounds and do so smoothly. The fifth track off of their split EP (with Creatura) sees them stretching their reach again by adding new elements to their guitar style and a dark death metal style growl on top of their usual raw, caustic rasping seen from the band so far. The final four songs from their newest EP "Pugatorial Awakening" sees them taking that raw, catchy riffing and streamlining it a little, the second wave bm influence is still vaguely present, though fading a little into the woodwork with the band focusing more on the emotive atmospheric tones and haunting melody. I have to be honest, I find myself starting to miss some of the rough, cruel more evil edge of the earlier material. I feel like the synth and harmonies are taking over a little too much, for my liking personally, so I would pass on this one myself. But, maybe that is more your cup of tea? Either way, this is a release for the completist Pantheon fans and/or certainly a good way to thoroughly introduce yourself to this band if they have piqued your curiosity at some point. - Dale
https://pantheonofblood.bandcamp.com/ https://signalrex.bandcamp.com/
Gene Palubicki (Blasphemic Cruelty, ex-Angelcorpse) is the mastermind behind this band that was started back in 2009. 'Sacraments Of Desolation' is the bands third full-length, which contains eight songs of uncompromising and intense blackened death metal at it's best. The guitars are played with both an abundance of skill and the experience behind it showing through. The guitarist does write some well executed guitar passages, even adding some well accomplished guitar solo's. The drums are played at a hyper fast speed with some very well executed drum patterns. The drummer does slow to a more mid paced range in a few of the tracks, before going back to the non stop explosive blast beats. The vocals are grim death metal growls with some gruff growls and screams used in some of the songs. If you are familiar with Perdition Temple's past work, and liked it, then do yourself a favor and pick up a copy of this new album you will not be disappointed. - Patrick
https://perditiontemple.bandcamp.com/ http://www.hellsheadbangers.com/
Chapters of Depravity is this Los Angeles, California band's second full-length album featuring eight songs uncompromising crushing death metal. The guitars are done with a lot of skill showing some well written and performed guitar arrangements. The guitars are mainly played with fast pacing, but the guitarist does slow down to a more controlled mid-paced always possessing relentless brutality. The vocals are low death metal growls that further highlight the extremity of the music. I would say if you are a fan of primitive, filthy old school death metal degeneracy with some creative writing skills mixed in then do yourself a favour and pick up a copy of Pestilent Death's newest attack. - Patrick
https://pestilentdeathofficial.bandcamp.com/ http://www.bloodharvest.se/
Make no mistake, this band of ghouls from Greece have a deep affinity for very late '80s and early '90s Floridian death metal, and on "Portraits Of Mind" it shows big time. I always find it interesting when overseas bands adopt an American style of music. There is, much like the earlier Death albums a classy, very musical guitar solo in every song, generally worked in skillfully and seamlessly. As tasteful as those solos are, and yes, as catchy and melodious as some of the riffing is on here, they do try hard to strike a balance of making sure heaviness and brutality remain a prime foundation of this record. I say that, while admittedly still finding myself every now and again saying no turn up the brutality and not the other way around hehe. That is how I am wired. Plague also, especially in the second half of the record slow things down a bit and focus a little more dark, moody tones creating a bit of a somber atmosphere at times. The vocals I enjoyed, as they are kind of obscure sounding whispery dm growls with fluctuating aggression and dark brooding pitch and tenor when the music calls for it. There is a strong melodious aspect to possibly attract some melodo death fans, but by and large, this album should really satisfy die hards of the old Floridian death metal scene and we know there are many of those out there. - Dale
https://www.facebook.com/plaguegreece http://www.redefiningdarkness.com/
Porta Nigra are a German black metal band who will return in 2020 with their third full length release. "Schöpfungswut" is six songs of well crafted and composed music, which is rooted in Avant-Garde black metal, but does add some of the bands own musical style to the sound. The guitars are played with a high caliber of skill and experience through past bands and Porta Nigra's near decade of existence serves them well here. The music goes from a fast pace to a more controlled mid paced guitar style that fits the musical style perfectly. The guitarist does perform some memorable guitar passages into each of the songs on here. The vocals are a mix of death metal growls and some black metal screams that are used throughout the release. I am not the biggest fan of Avant-Garde black metal music fan, but Porta Nigra has crafted a memorable and quality album here. - Patrick
https://www.facebook.com/PortaNigraBand http://www.soulsellerrecords.com/
My interest in reviewing this release was based on how much I admired Spite's recent debut album. So, you could say Spite introduced me to Possession and I now know that is a good thing. After a sullen intro, we get two lengthy songs from Possession, which radiates an extremely sinister and eerie atmosphere that is dripping with audio sacrilege. The music is a black death mixture with median pacing, and despite how extreme and dirty the music is, it also has a beguiling quality to the memorable riffing that is an obscured dark growling personification of evil! Good shit. Now on to the Spite portion of this split, they take up roughly ten minutes of the 27 minutes on release with two songs, one of which is a 1995 demo track cover of "Cruel Creator" from the band Manitú. Spite on their original track (and title for their side of the split) for this release continue along their strong path of mixing first wave black metal ala Venom, Bathory with heavy doses of the early second wave along the lines of the early works of Immortal, Root, Darkthrone, Satyricon, Mayhem, Ancient Rites etc… I just worship this sound and mix of influences, and as professed I am a big supporter of this bands works, which continue in fine form here. I have been in the UG scene for what seems like forever (early '90s onward), so I do not miss a lot of bands, but I have missed the mark on Manitú, so I have never heard this song they cover, but either Spite have put their deliciously wicked spin on this song or Manitú's material is similar as this is a fucking killer track and fits in perfectly with Spite malevolent sound.
A side note here for completists out there and/or Possession die hards, this split is being released simultaneously with a split with Venefixion on Iron Bonehead Records, which continues this release from Possession with "Passio Christi Part II". I need to go listen to that one now myself, in the meantime, this split is well recommended! - Dale
https://www.facebook.com/hisbestdeceit https://invictusproductions.net/
Psychomancer stands for an individual who can communicate with the spirit world and control the dead. This band of Psychomancer's have controlled the forces of the dead and channeled these forces into audio form as "Shards Of The Hourglass", their third full-length release. It contains ten songs of well composed and written nimble yet brutal death metal. The guitars are comprised of some interesting and memorable patterns and the music itself has a mid tempo, but also mixed some faster, more heavy fast guitars. The drum work on here is really precise, controlled and extremely tight. The growling vocals are very intelligible to pick out lyrics and have a really commanding presence within the extreme music. If you are looking for some really quality death metal with conviction then check out this album as soon as possible and keep an eye on this record label that seems to be starting to build up a solid résumé. - Patrick
https://psychomancer.bandcamp.com/ https://www.facebook.com/orchestrated.recordings
Pulver rise out of the German metal scene producing a really old, classic style of hard rock and heavy metal hybrid, which will likely bring to mind some of the earlier New Wave of British Heavy metal and hard rock bands like Demon, Uriah Heep, Tank, Holocaust, Diamond Head, Scorpions, Saxon, Witchfynde, Angelwitch etc… There is a dash of Iron Maiden now and then, but generally the music here is not quite as ripping and energetic as those bands I've mentioned above. The singer, who is very prominent has this really laidback, lazy vocal style that spreads across the guitars that are already chill and routine sounding in their own right, creating sort of a sleepy sound to my ears. The vocalist especially it feels like if you took a regular heavy metal frontman, gave him a handful of Xanax half an hour before the show and then shoved him out on stage. Dave Fröhlich is a good vocalist, but I guess those vocals are just an acquired taste, which I am having a hard time acquiring. Pulver are a talented band, they write some very solid yet kind of generic songs that I enjoyed, just not enough to really recommend this young bands debut album. But I will keep an eye on them and die hards of NWOBHM style that just want to get everything decent might still want to check into this one. - Dale
https://www.facebook.com/PulverHeavyMetal https://www.gatesofhellrecords.com/
Baltimore seems to have a thriving death metal scene these days and Putrisect are no exception, adding that quality scene with their debut release. 'Cascading Inferno' is six tracks of heavy and dark death metal largely played in the mid paced realm, but the musicians do speed it up at times throughout the songs. The guitars follow along in the middle pace territory while even adding some well written and performed solo's in some of the tracks. When the guitarist does cut loose and rip along with some faster, chaotic patterns sprinkled throughout the release. The drumming tight and strong with a mix of crushing heavy beats that do speed up to a more intense hyper-speed drumming patterns. The vocals are a mix of low death growls and some screams used throughout a few of the songs. It is a good brutal death metal album that fiends of the genre will enjoy. - Patrick
https://www.facebook.com/putrisect https://bloodharvestrecords.bandcamp.com/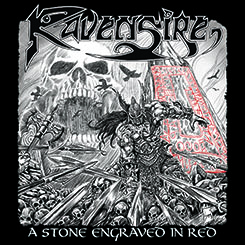 This is my first encounter with Portugal's Ravensire who play an epic, traditional style of heavy metal. 'A Stone Engraved In Red' consists of seven songs of very well crafted and performed heavy metal greatness including a very well written and performed instrumental song. The vocals are sung with a lot of powerful screams that fit to the bands style to perfection. The vocalist does also blend in some stylish more melodic, clean vocals at times throughout the songs. The guitars really displays a level of experience and skill in this mid paced range mainstay, but also showing their range while skillfully transitioning to some faster tempo guitar patterning at times throughout the album. If you are a fan of classy epic, traditional heavy metal then get yourself a copy of this excellent release ASAP. - Patrick
https://www.facebook.com/Ravensire https://cruzdelsurmusic.bandcamp.com/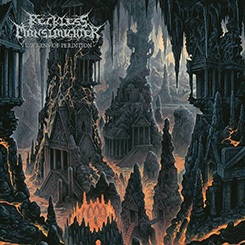 I was excited when I learned about this release from what appeared to be a long-running German death metal band. The cover looked like something from the early 1990s, the logo is great, and the song titles were awesome. The music, however, did not hold up to my expectations. The sound is top notch, the vocals are powerful but monotone (along the lines of Chris Barnes), the guitars are heavy and decently played, so on the surface this seems like something that I would enjoy. However, there is a certain monotony in the songwriting that just leads me down the path to boredom. It's like paint-by-numbers death metal – it's creative, but it's not outside the box at all. It sounds like an average mid-90s Floridian death metal band created this while they had nothing better to do. I could not get over the sheer averageness of this record and this is a band with several albums in their back catalog. It's just uninspired overall. For a band that's been around since 2010, I expected something much more mature. I'm not eagerly anticipating their next release, but if they release another, I'll give it a spin in hopes that the bare bones of what they laid out on this record get some brand new rotted flesh on them. - Andrew
https://recklessmanslaughter.bandcamp.com/ https://fda-records.com/en/
Reign In Blood announced itself to the underground scene back in 2006 with their debut demo tape entitled "Black Metal Madness Till Death", followed by a split 7" ep (w/Infernal Regency) & a second full 7"ep, then in 2009 their debut album and then abruptly the band settled down in complete slumbering silence. This year marks a decade since that first album, so this sinister German black metal entity has finally woken up and returned back to life with their sophomore album "Missa Pro Disfunctis". Reign In Blood are not your usual black metal band playing the 2nd wave Scandinavian style bm, no the band is more akin to the first wave of influences that includes Czech bands like Root (a lot in their second & third albums), Master's Hammer and other bands such as the Italian legends Mortuary Drape, alongside some Greek bands ala Thou Art Lord and early works by the bands Zemial, Necromantia and Varathron. Yes, it is that old sound of the late '80s / early '90s black metal bands that were starting to tread their own paths, yet still rooted in the first wave of black metal. I worship both the first and second wave, but the second wave is so common that it is a good change of pace to my ears to hear this early evil and eerie dangerous sound being employed in a way that keeps that ancient flame burning bright, all the while with Reign putting their own malevolent stamp upon it. The music has a very sinister freezing atmosphere, while still maintaining a level of melody within the bombastic audio sadism, which makes for an appealing dark listen that you can thoughtfully get lost in while still nursing a slow headbang. There is also some subtle, but very nicely done guitar work that does not stand out, but adds great depth and supports to the principle riff and musical flow. I am not the biggest fan of drum machines, but they hide it well, so fuck it I guess haha. The vocals definitely set Reign Of Blood apart as they are a maniacal sounding blend of hysterical out of control yells & shrieks, intertwined with a cleaner yet still gruff voice that is seemingly on purpose a fluctuating warbling in and out of deeper / higher tones and going out of key. It is hard to explain, but those vocals are so distinctive, tortured and different sounding that I love the fuck out of them! This release is highly recommended for those really old school black metal disciples who remember and admire the deeper roots of old bm, not just the hallowed Scandinavian later wave we all worship. - Dale
https://ironboneheadproductions.bandcamp.com https://shop.ironbonehead.de/en/
This release was originally put out last year on cassette only (limited to 100 copies) and now, cult label Iron Bonehead has picked it up for release on disc and vinyl. It may be a new band, but the members are old goat veterans of the UG metal scene in the form of Ustumallagum (from the old legend band Denial Of God from Denmark) and A.th (of Italian Occultic doom master Black Oath), who seem to be the driving forces behind the band that also includes drummer P. Guts (from the bands Krossburst & Necro). The music has a very ancient old school black metal feel, like it was before the second wave with Scandinavian bm style. This is first wave black metal with strong and mighty undercurrents of doom swirling through the music in between the more speedy and evil yet catchy back bone of their sound. The bio names some of the bands influences as Mercyful Fate, Death SS, Samael, Celtic Frost, Goatlord and Ripper. I can hear bits of all of those, but especially the Goatlord, Celtic Frost, Death SS and old Samael influences – so I will add a few of my own that I heard similarities to, such as the demos of Dream Death, plus a little sprinkle of Bulldozer and Mortuary Drape. Ustumallagam vocals are a sinister rasp that is very clearly annunciated and so it is easy to understand the lyrics, but that voice and rasp are coated in a dark and acidic undertone of a vocal equivalent of a continuously rotating saw that is cutting through bloody soft tissue and bone. For me, this is one of Ustumallagum's finest vocal performances, which is saying a lot considering his extensive, quality work over these many (only about 30!!) years of spewing his deadly audio venom. I have even been around this scene long enough to remember his work in Gigum Xul, when that was first released. Speaking of the man…Did I ever tell you about that time, a couple decades ago, when Ustumallagum sent me a print fanzine trade package that included bloody animal teeth with bits of flesh and hairs attached? He really did, but never mind, that is probably a story for another time, so until then get this great fucking release right now! Expect their debut album around the end of the year – hell yes!! - Dale
https://www.facebook.com/The-Rite-band-page-219647875291113 https://ironbonehead.de
I was pleased to see that Rites Of Thy Degringolade were returning with a new recording. I have been following the main man drummer / vocalist Paulus and his musical exploits for a very long time. In fact, I interviewed him twice for Canadian Assault, once back in 1997 in person (with his old band Sacramentary Abolishment) and then later again in 1999 during the early days of Rites. It is great to know Paulus is still going strong 20 years later! This release is this western Canadian bands fourth full length album and second for the ultra dedicated NWN! Productions. I would say there is less blitzkrieg speed and war metal style, nowadays, in the bands sound and structure. They instead focus more on an ominously heavy and moody atmosphere, with a more introspective vibe than the old stuff. Having said that, the band is keeping to their roots and musical integrity intact, there is still a cruel, violent edge to the proceedings. They have taken things in more of a superbly crafted dark death metal direction, with less of the black war metal approach, though as I said, some hints still remain. I feel like they are getting even more out of less now, and the continued maturity of Paulus, as a songwriter, and a musician in general is on full display with this album. There is some really nuanced guitar work going on on this record; they keep the main thread of each song, but add layers of depth through a healthy dose of refined guitar fills, as well as interestingly succinct and smooth diverse structural detours. Oh yes, I should not forget to also mention the often brief, but alternating classy and frenzied guitar solos, something I quite enjoyed. I really like Paulus' darkened raspy & harsh vocals, which also somehow possess a hypnotic quality to them, achieved through tone and phrasing that I find quite addictive to listen to. Just focus on the infectious commanding choruses of tracks like "Above The Highest", and the title track, or the vocal patterns utilized throughout the song "The Final Laceration", if you do, I think you will understand where I am coming from with that description of the vocals. For me, as a listener, "The Blade Philosophical" is the successful realization of a powerful album, which is a satisfying, multi-faceted piece of musical art that will take you on an affecting mental journey. - Dale
https://ritesofthydegringolade.bandcamp.com/ http://www.nwnprod.com/
I gave this Aussie band a listen, and I was immediately taken by the bands stylish classic heavy metal sounds blasting out of my speakers! It immediately took me back to the mid '80s (yes I am old metal goat!), when this style ruled the roost and was laying waste to all in it's path. I had already listened to this a couple times, and I was already headbanging and singing along to some of the lyrics. Then, after I hit play for a third round, I look at the line up and fuck me the leader of this band is an old contact of mine! None other than Denny of the eccentric and legendary black death metal band Stargazer (not to even mention his other bands like Cauldron Black Ram, Misery's Omen, Martire etc…)! I had not kept up with Denny recently, but what a fucking pleasant surprise! Denny is one talented motherfucker, he plays drums, bass and does the vocals on here. Speaking of the vocals, they are clean, smooth and powerfully resolute, occasionally accompanied by some high screams or deeper gritty brusque emotional accents. This trio produce such quality vintage heavy metal that it blew me away, I mean this rivals some of those classic albums from back then, while at the same time having an own flavour to their sound. They keep things at a middling pace much of the time which suits the songs and their style perfectly. These tunes are slightly stripped down, but all are quite memorable, catchy and metal as hell filled with archetypal superb riffs. There are of course some nice guitar fills and solos sprinkled into metallic musical tapestry, which I enjoyed. There are no filler songs on this killer record; it is consistent in sound and quality, from start to finish. You also have got to love finally seeing an Australian band giving ultimate praise to the great Mad Max / Road Warrior movies, mixed with manly lyrical bravado to match! So, grab a brew, don your denim vest covered in band patches and thrust your spiked fist in the air as you headbang to some real heavy metal!! This is a must for fans of the NWOBHM and the middle '80s gruff & gritty American heavy metal that like it a little sleazy too. - Dale
https://www.facebook.com/RoadWarrior1986 https://www.gatesofhellrecords.com/
Nightwolf is the mastermind behind Runsespell, who play mystical black metal and are set to release this, their third full-length in September. The album features six songs of '90 black metal with mid paced and some faster parts intertwined together skillfully to make a very interesting sound throughout. Nightwolf at some points composes and interjects some slower parts, which gives the music more depth and feel. The guitars feature both acoustic and electric guitars blended together seamlessly for a nice smooth mixture of tones. The drums follow along in the same vein, with some aggressive fast drum patterns and some slower to middle velocity drum arrangements. The vocals, when used are traditional black metal raspy screams. I must say Runespell play a very mesmerizing black metal style that reminds me of the early Greek and Polish black metal legends. - Patrick
https://runespell.bandcamp.com/ https://ironboneheadproductions.bandcamp.com
Greece is well known for their dark death and black metal scenes, which have a rich tradition, but this is one of the first speed / thrash metal bands that come to mind from that country. The album consists of eight songs, which includes two instrumentals and the excellent finishing opus track that clocks in at nearly 15 minutes! Sacral Rage play extremely energetic and speedy tempo music, which is highly melodious and technical, yet kinda possessing a prog-y thrash metal edge to it. There are so many time signatures, change ups that will have your attention spinning, as you duck the many swift guitar fills and solos fly around. Soaring over the top of the music are high pitched, sorta whiney, ultra siren vocals that I like the more and more I listen to them. They could probably use a little lower register accents now and then, but fuck it I dig them, though at the same time I could see them as being an acquired taste for some. I mentioned John Cyriis of Agent Steel, early Fates Warning as reference points for these vocals, when I reviewed their record a few years ago and those are still fair I think. This album kind of sounds, to me, like a group of musicians coming from a melododeath style background who later decided to form a thrash band. As opposed to just die hard thrashers, but maybe some of that is just down to a production that reminds me more to that style of music? Their style reminds me of bands like Annihilator, Helstar, Coroner, Queensryche, Fates Warning but taken further down that melodic path and adding a little more emotional less heavy finesse flair, to that sound. There is a futuristic vibe like sort of like a space opera prog vibe, largely achieved through numerous synth accents and sound effects. I would say, that is one slight down note for me, but this is more just my tastes, that they may have went a little too heavy on the side melody and harmony this time around at the expense of just heavy riffing. The heavy riffing is there at times (ie – on the track "Suspended Privileges"), but some of the songs or sections of songs are begging for them to let loose with a headbang riff and just ride it a little. The song structuring and pace seem to often not allow for that to happen or maybe the band just does not want to rip it up, so to speak. But, if you love melody over all, and masterfully emotional passages mixed with some heaviness, and with some adventurous elements that borrows heavily from the past while making something their own that is also current sounding? Then you should definitely check this album out now. - Dale
https://www.facebook.com/SacralRage https://www.cruzdelsurmusic.com/
'Hate' is Sarcofago's 1994 album that is getting a re-release through Greyhaze Records. It features eight tracks of old-school black metal with some thrash influences, especially noticeable in the guitar tone. Wagner Antichrist handles the guitar duties for on this recording, which are played with mid paced structured chunky riffs. The guitars do speed up to a more aggressive and thrashier pace throughout some of the songs. Wagner also handles the vocals for this release, which are a mix of gruff death metal growls and some black metal screams. Gerald Incubus performs the bass duties and he creates some well crafted and interesting bass-lines. The drums are programmed, but are not all blasting beats including some sections that feature drums with a more controlled slower, mid paced patterns. If you can get past the drum machine you might like this album from a legendary UG band. - Patrick
https://www.greyhazerecords.com/ https://greyhazerecords.bandcamp.com/
Imagine, if you will, a very large and extremely powerful bulldozer, you are deep in in a dense forest, you can not see the bulldozer yet you already hear it's unrelenting deliberate rumbling engines. As it slowly gets closer, you can feel it in your chest and in your clenched vibrating teeth, as it approaches you can now hear the rending, snapping of trees & roots torn asunder everything in it's path as you are filled with an immeasurable sense of impending disaster waiting to befall you. For me, that is an apt description of the music produced on Sempiternal Dusk's "Cenotaph Of Defectuous Creation". It creates an atmosphere of dense suffocating and obscure sounding death doom metal, which envelops you in it's oppressive mental weight, slowly consuming and pummeling you into submission. I mean this is some really damn good epic old school death doom that is cold, dark and heavy, as it lumbers along pulverizing the listener with unrelenting riffs that keep coming at you like Michael Myers. Alongside this great music, you have these really murky, gloomy growling vocals which really compliments the evil aura of the music, sort of dissolving in and out of the music becoming one with it. I really liked this album and I think fans of extreme death doom along the lines of Disembowelment, Rippikoulu '93 demo, Cenotaph, Adramelech, early Incantation etc… will want to investigate this quality album as soon as possible. - Dale
https://www.facebook.com/SempiternalDusk/ http://www.darkdescentrecords.com/
Sentient Horror are from New Jersey and this trio's individual members have been around for a minute in the UG scene currently or previously in bands like Dark Sacrament, Angmar, Sentience, Dark Empire and Beneath The Red Dawn. Not to even mention this is the bands sophomore release, having their debut and a couple EP's already under their belt. The band from time to time like to just sit down on a catchy riff and just rock out with it, but never really for long enough that I would throw the melododeath or death 'n roll tag on them. No the band sticks to the raw brutality and scathing nature of this great sub-genre of metal. There is a guitar solo in pretty much every song, not entirely uncommon in brutal death metal but close enough to it, but well done here. Again, like the melody injected in their music, it is not prominent and this element (solos) are mixed in in a way that compliments the mainstay extremity of their musical foundation. The vocals on here remind me a little to one of my fave dm vocalists of all time which is Dave Ingram of Benediction (who apparently after a decade away has just rejoined Benediction! Fuck yes!!), ex-Bolt Thrower and various other bands, which is never a bad comparison to have in my personal book. I am guessing this New Jersey band is pretty killer in a live setting, I do not get to live shows much any more, but this is one band I would I think I would dig live. I suppose this is where I could put the disclaimer that I am a fanatic for the Sunlight '90s sound and style of death, and can just never seem to get enough of. So if you are not that into that style you might not love this as much as me, but fuck who cares when a tried and true old sound is done this well, this skillfully?! Not me, this is some sexy old school Swedish brutal death metal madness! Oh, one last thing before I go, the cover artwork is amazing. - Dale
https://www.facebook.com/sentienthorrorofficial http://www.redefiningdarkness.com/
Septagon come to us out of the fertile German metal scene that seems to be deep in talent, and deep in just about every genre and sub-genre of metal. Septagon throws their hat in the ring of worthy bands from that country, how do they measure up? Let's find out. There is really a lot to like here, honestly from the extremely adroit guitar playing (some wonderful fill and solo work), which brings to mind some of the classic bands of the heavy metal and speed metal ala Cyclone Temple, Annihilator, Sacred Reich, Znowhite, Wrathchild America, Ludichrist, Anthrax, Toxic Shock etc... I hear those influences, but Septagon are more often than not, not as heavy as those bands and rely much more on lighter melodic elements. Another of the bands strengths are courtesy of vocalist Markus Becker, who has a great voice that glides and soars around the music wonderfully. I really like those vocals a lot, not always when they are mixed with a lot of lower spoken or spoken sung type sections where he mixes things up, but also gets away from his mainstay vocal style which is his strength. I am not a fan of mixing politics and metal, but having said that with the song "P.O.T.U.S.A." these Germans seem to have a pretty good grasp at the root of what is so wrong over here. All the individual elements on display here are of high quality, but all the same, I am not always the biggest fan of some of the song structuring and style. They often tend to stick on the wandering, light end of the scale taking on more of a commercial edge, rather than turning up the heavier riffing and running with it, like my own personal tastes want them to do. There is no denying the skill and talent on exhibit here even if some of the music is not my cup of tea. - Dale
https://www.facebook.com/septagonband/ https://www.cruzdelsurmusic.com/
This mini-album has three songs, which clock in at about 27 minutes, consisting of dark and aggressive black death metal horror. This Swiss band turn the heat up almost immediately and ride that boiling, churning wave of cutting inflamed tremolo riffs infused with a sinister aura at all times. There are fleeting moments of melancholy and introspection, but they are quickly shattered by vitriolic core that fuels this bands engine. The vocals are a varied mixing of voices, screams and screeches, but the dominant vocal is a hoarse, yelled bellowing voice with a hint of a growl that is filled to the brim with anger and hostility. Some might find the vocals a little grating, but once I got used to them on repeated listens I enjoyed them more. The final song "A Wreathed Skull", which is over 11 minutes long, is quite an effective and even a startling audio varied emotive experience. This is a pretty solid release. - Dale
https://www.facebook.com/SerpensLuminis/ https://goathornedprods.bandcamp.com/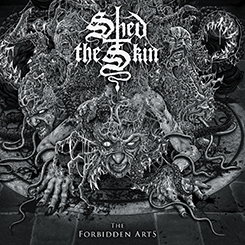 I know this is the bands third album, but it is regrettably my first time hearing them. Shed The Skin play probably my favourite brand of death metal. I mean I am absolute fanatic of bands that blend the early to mid '90s Swedish death metal sound and style together with some of my all time fave American death metal bands from the late '80s / early 1990s. A couple bands I have in mind on the US side are early Autopsy and Repulsion (which to be fair especially with Repulsion were a big influence on the Sunlight Swedish style), and from the Swedish side some bands that come to mind are the demos and early albums of bands like Grave, Entombed, Carnage and Dismember. This band is made up of UG scene legends and long time grizzled vets that are or have been in bands like Incantation, Acheron, Crucified Mortals, Ringworm, Beyond Fear, Eustuary Of Calamity and many more. As you can imagine with that sort of talent and experience that everything on this album, from top to bottom, is top level quality. The songs are memorable, possessing a nice mix of melody and heavy as hell death metal brutality with some doomy undercurrents. They slow things down from time to time (a brief respite from the speed & brutality), steeping these sections with a brooding and gloomy atmosphere, a good example of this is the killer song "Veins Of Perdition". They really vary the song structuring with a mind to keeping the listener engaged, and some of the guitar work with regards to the fills and succinct solos are pure gold and really resonate with me. The drumming on here is beyond reproach with a dynamic and powerful performance put in by Kyle Severn. This style of death metal, for me, needs to have quality, compelling and commanding deep death metal vocals and Ash Thomas brings that in spades! This album comes highly recommended from me. - Dale
https://shed-the-skin.bandcamp.com/ http://www.hellsheadbangers.com/
I knew the second I looked at that amazing cover artwork, it just had to be Dan Seagrave, and it was, seems like this great artist is having a bit of a resurgence with creating extreme metal covers again. Also, I can hear the skilled mind and fingers of master mixer Dan Swano, who helped make this recording sound heavy and crushing as fuck! Skeletal come to us out of the Californian (Whittier to be exact, was that not the home of Wild Rags! back in the day?) scene, and they write and perform devastatingly brutal and proficiently performed death metal. This record is definitely a bit of a throwback to the old school style, which you know I love, bringing to mind some of the best of the early to mid '90s superb output from bands like Gorguts, Pestilence, Sinister, Asphyx, Monstrosity, Brutality, Demolition Hammer, Obituary etc… The band does inject some melody into the barbarism, at times, but they make sure to keep things predominantly brutal at all times. They also inject enough variation in the song structuring to keep things interesting; the guitar fills and solos are classy and emotive adding that extra dimension to complete the songs, and make it a real pleasure to my ears. The vocals are pretty standard mid-range, semi-decipherable growling, nothing too mind-blowing there, but they get the job done nicely and fit the music pretty well. This album comes recommended from me, fellow devotees of the above mentioned bands and old death time period will love this, as it is top shelf quality, top to bottom. I have to say before going that Dark Descent Records continue to prove themselves, as being one of the best labels in the scene, possessing a real ear for picking through the endless masses and consistently finding truly quality bands. - Dale
https://www.facebook.com/SkeletalRemainsDeathMetal http://www.darkdescentrecords.com/
Coming out of Seattle, Washington (after relocating from California at some point) is Skelator, who play a very unique and original style of epic heavy metal. They champion the old school metal lifestyle and look, intertwined with serious lyrical doses of fantasy sword & sorcery, this release in particular lyrically seems to be influenced a lot by Japanese Anime. Some the lyrics are a little cheesy, not going lie. But let's move on the music. The band in addition to the aforementioned epic ultra melodic heavy metal, adds in some speed metal elements into the riffing and guitar work. The vocalist has a really good, smooth vocal range with some siren level high screams and hollering within some very well sung clean melodic vocal patterns. The vocalist Jason Conde-Houston has a distinctive, impressive voice and singing style, but I do definitely hear some Rob Halford and Geoff Tate in there especially in their early years. The music itself is extremely tight and silky with each instrument shining through with some excellent performances. If you are a fan of epic, melodious heavy metal with speed metal touches, then do yourself a favor and pick up a copy of "Cyber Metal" today. - Patrick
https://www.facebook.com/TrueSkelator https://www.gatesofhellrecords.com/
At this point I have listened to this album so many times now; I got the album a while ago and listened to it many times, then I received a kind of a late arriving promo disc for this album some months later. So, it gives me an excuse to re-visit and promote this album and gladly so for me, as I am a fan of the record. Smoulder perform and produce old school heavy metal doom that is very traditionally composed, skillfully building a very emotionally affecting aura wrapped around their sound, which I enjoy the hell out of. There is some very tasteful yet subtle guitar work on this album that keeps that traditional heavy metal moving along slowly, but steadily and smoothly like a small and forceful creek washing over the listener like a warm mournful audio blanket. I absolutely adore the way vocalist Sarah Ann (who I knew of from Banger TV on youtube where she does a solid job as a reviewer and she is from the same province of Alberta in Canada and general area I grew up) enunciates certain words as she sings, emphasizing or elongating certain syllables, giving the words a distinctly different and cool feel, as opposed to just vocalizing them all in the normal and expected way. This helps give the vocals, killer lyrics and the music itself, as a trickle down effect more character and makes certain areas of songs I enjoy just stand out for me that much more. The main creative force behind this band seems to be guitarist Shon Vincent and vocalist Sarah Ann, but this is/was not entirely a Canadian band or production, as the duo recruited a couple American members and I believe this was actually recorded in a studio in Chicago. So, that must have been an interesting process to sort out, but the final result is very cohesive and resulted in one hell of a debut album. Fans of quality archetypical heavy doom metal style along the lines of Spirit Caravan, Solitude Aeternus, Candlemass, Reverend Bizarre will be sure to dig this record. Check it out ASAP! - Dale
https://www.facebook.com/SmoulderDoom https://www.cruzdelsurmusic.com/
Slagmark are a new black metal band coming out of Germany with their debut full-length. It may be a new band, but their line-up features members of Sarkrista and Totenwache. The music is laced with raw and grim black metal influences. But do not be fooled, as the musicians can write and execute some well written and performed skillful melodic patterns within that framework. For the most part the music is rooted in the mid 90's black metal style, but the band do add those aforementioned, slower more melodic black metal fluid passages, which fit the bands musical direction better than you might think reading my description. As fierce and fast as most of the music is, they do mix in accents of some slower, somber melodic passages, which add a wider depth to their overall sound. If you are looking for a new band that combines extremely fast black metal aggression with some measured melodic passages then be sure to pick up a copy of 'Purging Sacred Soils', it is worthy of your attention. - Patrick
https://www.facebook.com/Purity-Through-Fire https://shop.purity-through-fire.com
After releasing a demo and an EP last year, Washington's Solicitor have inked a deal with Gates Of Hell to release their debut full length. 'Spectral Devastation' contains eight songs of well crafted and composed intense speed metal, along side some elements of heavy metal influence sprinkled in. The guitars are played with a lot of skill and memorable passages. The guitars are played with extremely fast patterns, but do slow to a heavier and slower pace throughout a few of the songs on here. The drums are played in the same vein with some crazed drum arrangements. The drummer can, and does, write some slower more mid paced drum parts that fit the band's music perfectly. The vocals are a mix of well sung traditional heavy metal vocals and some screams that are done with a lot of powerful and energy. If you are looking for a new band that plays a very impressive style of speed metal then do yourself a favor and pick up a copy of 'Spectral Devastation' straight away. - Patrick
https://www.facebook.com/solicitor.speedmetal/ http://www.gatesofhellrecords.com/
This package of releases from Paul Caravasi (aka my South American UG scene Guru) from the almighty print fanzine Soulgrinder features four bands from South America on the Thrashshirts and Gate Of Hell record labels. Paul really does his part to promote one of the very best underground scenes, so let's get on with it.
Blizzard Hunter - Live At Padova Italy 2018 (Thrashirts Recs.) So I tried to dig up some info on this label Thrashirts, as I suspected from the name they started out and still do make metal shirts, but they also organize the annual Lima Metalfest and now run a record label as well. Most often bands only release a live album after they have been around a long time with many releases, no so in this case as Blizzard Hunter has been around since 2011 and only released a few eps and one album. Having said that, with how good the sound is on this live show and with how tight the band was on this impressive hour long performance, it is hard to blame the band and label for not wanting to release this! It really is an impressive listen, as the band navigates their way skillfully through twelve songs of early to mid-80s old school heavy metal, which got me going and really into it. The playing is superb, but also I have to mention Sebastian "Dragon" Palma has that classic '80s high vocals that he belts out with authority and range, also his charisma bleeds through his distinctive voice. I would recommend this even to people who have never heard this band, it was my first audio taste of this talented band that have a knack for writing good, catchy songs that rip shit up. Okay, they do wear their influences on their sleeves, but when it is done this well, and you love that style then who cares, right? Fans of American early to middle '80s heavy metal with a healthy dose of Iron Maiden influence mixed into that sound need to check this out!
The Fallen Symmetry - Renancer En La Tormenta (Thrashirts Recs.) This album was originally released in 2016, but only through the band itself, now the Thrashirts label decided it needed wider promotion, so they have re-released it on this beautiful look digipak. I swear one of the opening screams in the first track, it sounded like a dead ringer for this whiny screech my cat does, when she is not happy and I was looking around for what was her problem haha. That is not at all to disparage the vocals on here, because they are really good. Fallen Symmetry like their label mates above play heavy / power metal, however, F.S. push the melody to the forefront and base everything off of that. It is good stuff, though at times I feel like maybe the melody takes a little too much edge off the heaviness of the material and dominates too much in the song construction and flow. I did still enjoy it; the playing on here is really good and features some thoughtful solos and interesting songwriting tidbits. It is not that I would say the material is light, but it does have more of a commercial vibe to me and also maybe listening to Blizzard Hunter's wonderful brand of heavy metal above, which is more to my personal tastes perhaps coloured my mood and view in this review. I think fans that worship melody to the max (unlike me), above all else, will really like this band more than I did.
Aggression - Metal Hasta Snagrar (Gate Of Horror Prod.) I believe the album title translates to something like Metal To Bleed. This Peruvian plays a brand of really heavy, punishing thrash metal with an old school flavour, but also possesses some modern touches and a sharp, contemporary sounding production. Just speaking to the music (not vocals), I get a strong Possessed "Beyond The Gates" vibe from Aggressions brand of thrashing mayhem, some Slayer influence is in there too for sure. The vocals, even though they have that classic gruff thrash yell to them, remind me to somehow like if a death metal growler tried to change over to thrash vocals with a touch of growl lingering in there, even some of the drumming has a death metal style blast beat going on. But, make no mistake, overall this is thrash metal to the max. The songs in some spots seem almost a hair too controlled and could use a little more natural flow, but honestly that is really a nitpick on an otherwise very enjoyable thrash assault.
Epilepsia / Necropsya "Involution" Split Album (Gate Of Horror Prod.) Epilepsia start things off with the first 7 songs on this 14 track album. Epilepsia produce fast, violent and unrelenting thrash metal that reminds me a lot of the early German thrash scene with bands like Sodom, Kreator and Destruction on their first couple albums. The drums are a powerful whirlwind of disciplined chaos paired with ripping razor riffing and hyper adrenaline lightning guitar solos and fills. The vocals remind me of slightly more murky and dirty version of Kreator's vocals from those old days. Good stuff that got my blood pumping! Necropsya grabs the baton from Epilepsia and keep up the rapid thrash metal pacing of this killer split record. Yes, Necropsya are thrash maniacs similar to the band they share this split with, but possibly they have a little cleaner, tighter performance and sound yet no less lethal. The guitar work and song structuring is more refined, complex and catchy, but still very high quality material. Honestly, this has to be the best split I have heard the last couple years and should be a must have for all old school thrash metal fanatics out there reading this. You know what to do and do not waste time doing it! - Dale
https://www.facebook.com/thrashirts https://www.facebook.com/gateofhorror
Mithlond "Death for Those Who Worship" CD (Xibalba Productions & Seol Productions) Hailing from New Jersey is this depressive, ambient black metal band. Despite there of course being keyboards on here, Mithlond do not rely on them heavily like a crutch, no they bring out a lot of their eerie and despondent evil sounds through a lot of traditional instrumentation (i.e. guitars, bass, drums). The vocals are a series of obscure echo-y whispers, yells, rasps and anguished screams kept buried within the music never really standing out, melting in and out to help create that foreboding, gloomy feel. The playing at times is a little loose, the recording a little raw (intentionally so I think and I like it), but both help to make a more richly organic sound by my ear. It took me a few listens to really get into this, to grasp what this trio of demons is going for here. But once I did I grew to enjoy it's malevolent, morose vibe more and more with each successive listen.
Soulgrinder Zine "Assault Volume 3" Compilation CD The new volume of this great fanzines compilation series is now out and in my mitts. Much like the 'zine itself, this features a fairly even mix of South American and American bands. This volume leans heavily on thrash bands, alongside a few death / black / heavy metal & crossover outfits too. A listing of the bands on this 21 song disc are Krusifire, Cruel Bomb, Necropsya, Natthammer, Morbid Cross, Sepulcro, Shark Bullet, Vulture, Concussion, Sylent Storm, Final Judgment, Extinger, Deicidios, Murder Method, Hyena, Father of Sin plus more. This is a killer comp with quality bands and packaging including a booklet with all the bands. Get it ASAP!
Soulgrinder 'Zine "Deadly Mosh Revenge" 6 Way Split CD This is called a split, but it is just one song from every band, which makes it feel a little more like a compilation to me, but that is just me I guess if it had multiple songs it would feel more like a split. Maybe Paul took his fave songs he had had earmarked for the compilation above and decided to feature them on more of a showcased release? The six bands on here are Fatal Agent (USA), The Donner Party (USA), Distruptor (Peru), Dick Vomit (USA), Paralysis (USA) and Azotador (Bolivia). All the bands play thrash metal, and honestly I thought every song on here, at least in my view is truly good to great. There is a lot of energy in each song and great headbanging / thrashing songs with lots of old school feel and attitude. The lyrics to Evil Dead's "Tree Rape" scene are pretty hilarious with awesomely delivered vocals. Just like the packaging on his compilation everything is top notch, also comes with a booklet (full colour this time) and looks great. Please support Paul (Soulgrinder main man), who is an ultra dedicated UG metal supporter that deserves more recognition for all he does. - Dale
https://www.facebook.com/soulgrinder.zine/ http://soulgrinderzine.blogspot.com/
https://mithlond.bandcamp.com/ https://www.facebook.com/Mithlondband/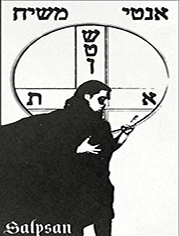 I can not help but wonder if the title of this album is homage to a certain infamous and revered black metal musician, shop and record label owner. I am immediately taken aback by the sinister electricity and gutsfuck high energy right from the opening song of this album. The sound on this album also heavy, gritty and crystal clear and real, for lack of a better term, something only a top notch analog recording can sound can achieve. For influences, I hear strong influence and parallels, to the earlier works from bands Immortal, Darkthrone, Mayhem, Satyricon, Carpathian Forest, Impaled Nazerene, Mortuary Drape, Ancient Rites, Root etc… As well as, I even hear some hints of early on Slayer, stealthily wafting throughout the evil and hateful maelstrom. The guitar sound, song structuring, and nearly headbangable melodies take this album to edge of not being purely black metal. However, Salpsan may be a little more versatile and dynamic, with regards to incorporating structural influences into the bm sound, but he always contains it within a harsh, freezing bestial black metal exterior which encompasses and exemplifies the time-honored ways of darkness and evil. The lyrics and concept follow suit, to me Spite are upholding the true black metal principles, which were set forth by the forefathers in the first and second wave of this sacrosanct and enshrined grand musical / conceptual movement. The vocals on here are fantastic, they are a semi-clear screams that are wrapped in a traditional black rasp with an obscure whispering undertone. They feel very much influenced by the early days of black metal, as the first wave and second wave met and began merging into an astonishingly ominous spiteful force that has possessed me and others for many years. This is highly recommended to old school die hard black metal devotees. Honestly, this easily has to be one of the best black metal records I have heard in the last year or so, maybe alongside White Death's self-titled album. - Dale
https://spitedesecration.bandcamp.com/ https://invictusproductions.net/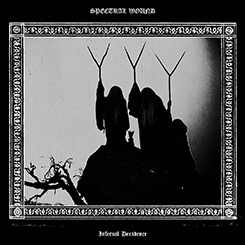 As soon as you plug in Infernal Decadence, Spectral Wound teleport you to a labyrinthine forest crowded with frosty-limbed trees and crispy autumn mulch. The further you explore, the more frightening the scenery becomes--twisting and turning into a vision of occult darkness that will have you losing yourself in its all-encompassing conceptualization. Spectral Wound conjure sonic imagery in Infernal Decadence that, for me, will always make up the defining sounds of black metal at its protean core: cold production that reinforces the serrated edge of the riffing, which itself often settles into a whirlwind of tremolo picking that creates a menacing yet ultimately cathartic atmosphere. Because Spectral Wound focus so keenly on these characteristic elements of the second wave, complete with throaty screams that soar like a bird of prey over the instrumentation, they do two things: (1) they truly hone their abilities to an impressive degree for this medium and by virtue of this propensity (2) they place constraints on their sound that restrict them from taking the genre in an innovative direction. That second point is not to say that Spectral Wound sound unoriginal--I would actually argue that I could certainly pick them out from the crowd in which they situate themselves. I do find Infernal Decadence to be a truly new album because of its creative transitions and tonal shifts that grip the listener from start to finish, but I cannot ignore that the general sound is something that is more customary than I would hope for it to be considering it was released on June 1st, 2018, not in the early '90s. Regardless of my perspective, however, Spectral Wound have produced an album here that shows their skill with refreshing what some might consider a tired genre--an album with a familiar atmosphere yet renewed vigor that is sure to please its target audience. I would call Infernal Decadence a warm, fuzzy blanket for black metallers, but it would be more fitting to call it an icy blanket of snow instead. Give this a listen if you find enjoyment in the side of extreme metal that revels in frigid blasphemy. – Aaron
https://spectralwound.bandcamp.com https://vendettarecords.wordpress.com
There is not much to go on here, just one single song from both bands, so about 12 minutes of music total. But I will give it a good try here. The Static Of Masses track starts off with a distorted sci-fi pulsing mixed with like an old tv white noise type of sound with distorted, slowed down voices filtering in and out, in a trippy sort They Live tv transmission interruption signal. It is tough to make out the spoken word, likely taken from a movie or tv show, it is understandable at times and difficult to discern at others, but it is some sort of recount of a messed up traumatic event or something. It eerily repeats the song title "Just A Dream", again and again and that is it, other than the background effects slightly changing up now and again. Next up, Zogthorgven with their single track that kind of picks up just like the above song, with wavy distorted sci-fi type pulsing, this time with some real vocals that are more sung and slightly growled, but more malevolent sounding than the Static song. Again, like the other bands track with the repeating, slightly different sounding white noise bits along with old sci-fi beeps and sound effects. There is actually more a of rhythmic music that comes in like a very stripped down version of an industrial bands drum beats. This is not really my kind of music, neither band tracks are really for the most part, but this one had a sci-fi feeling mixed with a slight Ministry moody vibe. As well, as I mentioned at times there is a little more musicality and was a little more enjoyable for me. Check it out if you like this sort of thing or think you might, traditional UG metal fans that read this might not like it much as there is no metal to found on this here. Feel free to send orders of physical copies of this tape to either of the following: Doomsday Today Records, Eternal Darkness Creations, c/o Keith Dempe, PO Box 268, Coraopolis, PA. 15108 and also thru Ralph's Records, c/o Doug Stapp, 3322 82nd St., Lubbock, TX. 79423, USA http://www.RalphsRecordsTX.com - Dale
https://www.facebook.com/staticovmasses/ https://www.facebook.com/zogthorgven/
I think this is my first review of a Metalville Records release. The label interestingly, to me at least, happens to be owned and ran by Holger Koch (manager of Doro Pesch) and Chris Boltendahl (vocalist / songwriter of the mighty metal legends Grave Digger!). This is also my first encounter with Surgical Strike who play a high octane brand of power metal and thrash, which is decidedly polished precise, both in performance and album production. It is impressive how seamlessly they meld those power and thrash metal influences together, it just switches back and forth with perfect flow like two large creeks converging into one smooth river current. The guitar playing on here is superb, whether it is the briskly paced melodic heavy chug or the lightning blitz of the aggressive thrash riffing it is sure to induce headbanging and sore necks. Surgical Strike also has an infectious, fuck you sort of raucous attitude that comes through their music and lyrics including includes some memorable choruses and gang sung sections. The vocalist Jens Albert, while singing in English throughout does not really try to totally lose his accent, as many Euro bands heavy metal and thrash bands do. So, I suppose that might be an acquired taste for some, but for me it is totally fine and he is a pretty killer singer for this style. I think "Part Of A Sick World" can be recommended to old school (late '80s, early '90s era) heavy metal / thrash fans, who do not mind a bit of a modern coating on their classic metal and an ultra clean (possibly too clean?) production job. - Dale
https://www.facebook.com/surgicalstrikemetal http://www.metalville.de
Norway's Svarttjern return with, is it already their 5th album?! The band was originally formed by brothers HaaN and Hansfyrste, including HaaN there is now 3 members of Carpathian Forest in this band. Interesting album title aside, Svarttjern play what is these days a razor sharpened, battle tested style of hateful and vigorous thrashing black metal that can get you headbanging pretty hard. They keep their audio damnation at a high energy level, that does not always mean at maximum speed though as they often slow things down to a mid to semi-fast pacing, where they let their wicked riffing run free at times. It was not listed as such in any of my promo material or promo track listing, but I realized pretty quickly towards the end of the album there is even a "Bonded By Blood" Exodus cover, which has them showing their appreciation for their thrash roots in a literal sense. The band construct songs that are solid, but also straight forward in a formula that follows very much along the lines of song structuring from late '80s / early '90s cleaner, highly produced thrash metal bands. If you took a few of the musical touches and the black metal rasping vocals (and general imagery) away, replacing them with cleaner, gruff traditional thrash metal vocals then this really would be a straight up thrash metal record. But those black metal style elements are there; those bm rasps are there and are good with a pretty nimble delivery to keep up with the somewhat stylistically divergent music they are overlaid upon. I have to confess, I went into this looking forward to and expecting a full on black metal record, yet somewhere along the way I found blacked up thrash metal album, but it is a pretty good one so alls well that ends well with my listening experience. - Dale
https://www.facebook.com/svarttjern http://www.soulsellerrecords.com/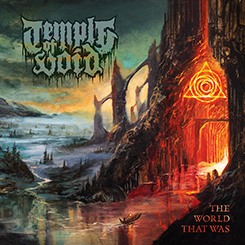 The purveyors of demise and slow motion disaster emanating out of Detroit, Michigan return with their third album, which is an immense slab of musical suffocating darkness. I have heard a lot about Temple Of Void, but this is my first up close audio taste of what the band is all about. Beyond my possibly silly way in my opening sentence of describing their sound, yes if it is not clear, Temple play doom death metal, and they do so in a crushingly brutal form. Yet at the same time, their sound has this engrossing hypnotic edge that undercuts the melancholy and gloom in just the right amounts. When I listen to this album with regards to the doomy side of the coin, I can't help but think of early '90s doom pioneers like My Dying Bride, Anathema and especially Paradise Lost, before those once great bands generally "progressed" and as a result distanced themselves away from the great roots that to me made those bands special. Temple have picked up that mantle, they embrace and embody that sound faithfully and combine it with brutal death metal, which is more akin to this side of the ocean in their native country, once again in the 1990s tradition. All combined with superb quality and skill. Yes, this album absolutely crushes, steamrolling all in it's unhurried deliberate path. The vocals by Mike Erdody (also guitarist in Acid Witch) are monstrously guttural, roiling elongated growls that are commanding as they weave in and out of the music like a thick and creeping fog. Those vocals are fantastic. Do you like early to mid '90s death doom metal of the highest order? If the answer is yes, then I have an excellent album you need to add to your collection that goes by the name "The World That Was". - Dale
https://templeofvoid.bandcamp.com/ https://www.shadowkingdomrecords.com/
This is, I suppose, a project band of Robert Williams (Ignitor & Witches Mark) and features a cavalcade of friends/guest musicians who are currently or previously in bands like D.R.I., Bat, Watchtower, Dangerous Toys, Ignitor, Helstar, Manowar and probably every member of Agony Column. We are talking 20+ guest musicians! Some of the songs really reflect this revolving door, where things are going at very high speed and they have tossed in so many elements that there is little room to breathe or pay attention to everything. During those times, for me, the songs do not work as the manic pacing and vibe are kind of weird, there is wall to wall guitar fills and solos, it makes it hard to enjoy the overall song flow or lack there of. Back to the pacing, those parts or even whole songs, not sure how to get it across but it is very happy, upbeat and all over the place and those songs or sections just do not work for me. Now, I don't want to sound too negative here, because I love all the elements that make up this heavy metal extravaganza, and every one of those elements display a high level of skill and often times creativity, but the overall song is not always there. However, later on in the album like I say there are songs that are not like that and work great the whole way through like the tracks "Black And Green" & "Within The Spell" for example are killer from start to finish. One of my other fave tracks I guess fortunately or unfortunately, depending on how you view it is a cover song of "Running From The Law" by Riot. The lyrics follow suit with the music, there are some superbly penned lyrics that go together like hand and glove and are thoughtful, then other times they are super clunky, lame and awkward. Some vocalists have more than one song, the rest only one song, the album vocally though does not feel as a hodge-podge as the music, as there are some absolutely superb vocal performances on many of the songs on this album and is a real highlight overall. I found this album hard to review, you can not help but appreciate the elevated levels skill and talent in every song on this album, but that does not always equal great songs as a whole, rather than a lot of fantastic individual parts and performances. When the quality is at such a high level, it is hard for me to be this critical of it, but I feel I have to at least to some degree. It is a really mixed bag of an album here, but parts & performances occasionally equal quality song writing then the result is pretty magical. - Dale
https://www.facebook.com/texasmetaloutlaws/ https://heavenandhellrecords.bandcamp.com/
I would like to know more about the history of the this Swedish band, as they started the band in their early to mid teens, played some shows and released a couple demo tapes in 1987 & 1988!! Then broke up, and the band was not revived again until 2014!! The band was rejuvenated by two original members vocalist Herval Bozarslan and guitarist Jimmy Eriksson, since then Eriksson recently left the band leaving only Herval (he is also longtime vocalist of the band Sarcasm), as the lone founding member. As is the case with many Swedish bands, the rest of the members have lots of experience in bands like Catatonic, Tyrant, Insision, Imperial Domain, Anguish etc… Since returning the band released only one EP, but now 22 years after their initial formation comes Third Storm's debut album!! The band produce razor sharp speedy black death metal, with some doomy elements sprinkled in from time to time, to produce some nice contrast. These guys handle their instruments very well, showing off some excellent, sometimes intricate (at times even acrobatic) guitar work and superbly composed and performed drum work. After getting cut into strips by the speed and brutality of the first few songs, it is interesting to listen to the band direct their talents towards an epic length doomy and/or moody songs like "The Third Thought From The Sun" and "Forgotten Diety" that are steeped in slow, emotive mainstay passages. Having said that, even those two songs, somehow in a very flowing graceful transition manage to convert to short segments in those songs of racing heavy speed and cruelty. I have to give the band top marks for those two magnificent songs alone, as they successfully marry those two elements and not make it feel like two songs that do not belong together. Having said that, I am not sure I would want an entire album of that, it is the mainstay crushing velocity of the rest of the album, which makes disparity and contstrast of those two tracks that much more powerful and dynamic – sometimes moderation of one element that makes that element much more profound. The production on here is pretty flawless; it is almost too good, too clean for my liking haha. Such a weird nitpicky comment I agree, but I would not mind if the production was a bit dirtier and more organic sounding, just being honest. I did not mention the vocals of founding member Herval, but they are excellent and another highlight for me, he projects a dark rolling powerful growl that has a great dark whispery rasping edge that I find quite satisfying. There is not much else to say, Dark Descent Records seems to only be capable of finding and releasing some of the finest death and black metal bands on the planet, you can most definitely add Third Storm to the list of top notch quality bands on their roster! - Dale
https://www.facebook.com/thirdstorm http://www.darkdescentrecords.com/
http://thrashirts.com/ https://www.facebook.com/thrashirts/
This is my first encounter with the United Kingdom's Thy Dying Light (assume the band name is an homage to Judas Iscariot), who now present their debut album after releasing 3 demos and a string of ep's, so far in their four year existence. The members of this band are well traveled, as it's three members having also featured in many other bands like Atra Mors, Blood Countess, Ethereal Forest, Cave Dweller, Nefarious Dusk Morte Lune and a handful more. Thy Dying Light play cold second wave Scandinavian black metal, while faithful to that base sound, also seems to have a root or two in the thrash scene with some big flowing riffs. Now, when I say thrash metal, not to the point I would call them black thrash, but more in the way that influence is clearly present in mid to late '90s Satyricon or post "Blizzard Beast" Immortal. Anyone who really knows me, knows I fucking worship 2nd wave bm so when it is done this well, it is hard for me not to be on board. My only complaint is maybe the production, for my taste is too clean, too big and too crystal clear. I personally think their music would go to another level with a less sanitary, dirtier and gloomier heavy sound. But, that is just my hang up and probably not yours, so you should not hesitate to check out this very worthy piece of majestic yet hateful black metal. - Dale
https://www.facebook.com/thydyinglightuk/ https://shop.purity-through-fire.com/en/
In case the lovely reader has not heard this story before, Canadian death metal outfit Tomb Mold turned a shitton of heads last year with their harrowing debut Primordial Malignity. It made a lot of "Album of the Year" lists in the metal community due the band's professional adeptness with making old school death metal sound fresher than a (totally brutal) spring salad, and I personally found great enjoyment out of the demo they released in a similar vein last September, Cryptic Transmissions. That release in particular secured a slot on my list of favorite EPs and demos released in the year 2017, right next to Thantifaxath and Devouring Star's respective EPs. In short, Tomb Mold gained themselves well-deserved praise and thus a larger audience last year, setting the bar pretty high for future releases. Well, the future is here in the form of...infinite...forms. The first takes shape in the title track with winding doom riffing that curls like a dark vine through the rolling fog of drums and vocals. There are moments in this track where the vine drops you into the abyssal rhythm section before dragging you by the scruff of your neck back into varied riffs and new passages. In what is sure to be a crowd-pleaser, "Abysswalker" takes a more straightforward approach with riffing slightly reminiscent of Human-era Death with the affordances of modern production quality and an eye on obsidian Finndeath, often making the riffing bear the weight of a tank. With obvious and absolutely welcome loyalty to this vein of death metal comes equally welcome hybridization of genres--stewing together hook-laden doom metal and dank, murky death metal, Manor of Infinite Forms will bring just the right amount of fantastic filth to your sound system. Mark that Tomb Mold do not sacrifice velocity for their occasional doom inspiration; they instead expertly incorporate it into their riff construction while still keeping up the pace for a headbanging audience. If you are a fan of extreme metal that keeps brutality at the forefront of its ethos, then you should definitely give Tomb Mold's work a listen. – Aaron
https://www.facebook.com/tombmold http://listen.20buckspin.com/album/manor-of-infinite-forms
Can you tell I have been in a real old school '80s speed metal mood lately? I can not seem to get enough, so I find myself searching out current bands keeping the old tradition alive as of late, such as Bütcher & now Torpëdo. This is actually the bands demo from last year, which has now been picked up by Gates of Hell for a release in the new decade we have just rung in. Despite it being a demo, which the band admittedly recorded in their basement, it sounds good and old school, but clear and heavy enough to compliment the music. "Mechanic Tyrants" clocks in at just a little under an albums running time at around 28 minutes. To say the band has a total throwback sound would be understatement; they sound '80s as hell, right down to the aforementioned production job. The attitude and energy on here is infectious and there some really nice guitar work going on, with some killer guitar fills and there was even a bass guitar fill – sweet. The songwriting and construction is very catchy and memorable with some satisfying, stick in your head choruses belted out by vocalist Flo Fait, who has a sterling voice for this great old style of music. I think you would have to be a pretty big fan of traditional speed metal with roots in NWOBHM to really dig this, but it is an addictive fun listen if you are and I am really looking forward to their debut full length album! - Dale
https://www.facebook.com/torpedometal http://www.gatesofhellrecords.com/
Coming out of the Oregon UG metal scene is Triumvir Foul, who play a heavy and destructive style of death metal. 'Urine of Abomination' is four tracks of violent and chaotic death metal that has an electric level of intensity to it. The vocal duties are handled by Ad Infinitum who does a great job of combining raw screams with some deep growling that compliments the music nicely. Ad Infinitum also handles the guitar duties, which are made up passages performed and played skillfully at lightning speed. The are some memorable and well crafted guitar patterns, the speed slow down at times to a heavier mid paced range throughout the songs. Cedentibus handles the drum duties, which feature extremely fast drumming arrangements that fits very well the rest of the musical elements and style. If you are familiar with Triumvir Foul's previous works then do yourself a favor and pick a copy of 'Urine Of Abomination' as soon as it is released. - Patrick
http://www.vrasubatlat.com/ https://invictusproductions666.bandcamp.com/
Graf Werwolf, the mastermind behind this one man band among many other well known UG bands (ala Satanic Warmaster, White Death, Heavy Cross, Gestapo 666, ex-Horna and lots more!) he is a key member of. The True Werwolf was formed in 2002, the band has released many demo's, ep's and splits over the years. The "Devil's Crisis" is the cult's debut full-length featuring seven songs of traditional grim, cold black metal. The guitars are played with a lot of skill, which are well written and performed guitar arrangements. The guitars tempos are slowed to a more mid paced range within some of the tracks to contrast the faster high energy base core of the music. Graf Werwolf, in addition to his acid black rasping vocals even adds some well performed keyboards that add an extra dimension to the music. If you are a fan of The True Werwolf's past releases, and second wave Scandinavian early '90s bm in general, then definitely do yourself a favor and pick up a copy of this album soon. - Patrick
https://www.facebook.com/werewolf.rex/ http://www.hellsheadbangers.com/
Twitch Of The Death Nerve are a brutal, slamming death metal band coming out of the U.K brutal death scene. "A Resting Place For The Wrathful" is the bands second full-length featuring eight tracks of insanely fast extreme metal, which is both complex and vicious. The music is played with a lot of skill, highlighting the musician's experience which shines through and rages on with extremely well written and performed passages. The vocals are guttural, low death metal growls that fit the bands style perfectly and command the listener's attention. If you are a fan of brutal death metal, with some elements of technical death influences then be sure to pick up a copy of the new release when it is released. - Patrick
www.twitchofthedeathnerve.co.uk/ http://www.comatosemusic.com/
Coming to us out of the United Kingdom's growing black metal scene is Ulfarr with their debut full length release. "Hate And Terror…" contains six songs of savage and cold black metal similar to the early '90s black metal gods but also mix in from time to time adventurous Celtic Frost type catchy parts and even briefly slip into shouted fill black 'n roll sections. This two man band features Dominus (Thy Dying Light, Atra Mors, Nefarious Dusk, Torver plus more!) and Afallach (Úir). The music generally is played with extreme fast razor sharp guitar chords; though the guitarist does slow down and get into the odd slow to mid paced groove in a few of the songs, but that does not last too long. The vocals are a grim, raw mix of raspy black metal screams and screeches and are well done and well timed. Ulfarr play a very destructive, varied and power black metal style that is worth your attention. - Patrick
https://www.facebook.com/ulfarr666 https://www.purity-through-fire.com
Unmerciful hail from Topeka, Kansas (which is a city that automatically makes me think of one of my fave movies "Almost Famous", fans of that film will know what I mean). Anywho, on to the review, the band play late '80s / early '90s brutal death metal to the max. Like from the time when this sub-genre was all about speed and brutality, before much of the technicality and melody was injected into this style. That lack of intricate or fancy time changes, and especially melody, I could see that turning off some newer death metal fans that are only conditioned to modern death metal. But for me, it does, I must confess take me on a bit of nostalgia trip. It even took an old UG goat (who was in and around the scene when it first started it's embryonic steps and growth spurts) like me, a minute or two to shake my expectations of those elements listed above. But my love for the roots of dm took over and I got back into that primitive, battering mindset and got into this record a lot more on repeated listens. They do this style up well. If you have an affinity for very early days of straight forward death metal, during the amorphous and primordial stages when brutality was king, then you will enjoy this album, and if not you likely won't. - Dale
https://www.facebook.com/officialunmerciful https://willowtip.bandcamp.com/
Well now that is one hell of a band name, no?! Haha. These Austrian audio serial killers bring the fucking heat and the depravity to their brand of ultra intense goregrind. The music is just total death grind, but fully drenched in gore with brutal head caving killer riffing, order from chaos whirling dervish drumming that sounds like machine gun fire. There are crazy background underlying synth music sample music that can only be heard now and then when the punishing musical violence lets up or pauses, which is not very freaking often. VxPxOxAxAxWxAxMxCx possess a true arsenal of verbal emanations, conjured up from the pits of hell might be a more apt description, rather than just calling them vocals. Some of the sounds presumably produced by human beings, such as the variety of totally indecipherable (are there even lyrics half the time?!) broiling & gurgling toilet growls, an insectoid alien from Doctor Who in it's purely menacing, disturbing form, in addition to those I expect would be the sounds of an axe wielding backwoods killer to make as he is running down a shrieking victim with a hatchet, plus more!! Yes, the battery of wonderfully maniacal voices ejaculating is worth the price alone on this motherfucking EP! I don't listen to total goregrind a lot, though I do love it, but when I am in that mood for some, this EP will be among my elite collection of releases in this sub-genre for sure. I think fans of bands like Cock And Ball Torture, Dead, Gut, Squash Bowels, Dead Infection, Gore Beyond Necropsy and the like then you will dig the hell out of this release I am pretty certain. - Dale
https://www.facebook.com/VxPxOxAxAxWxAxMxCx/ https://www.xenokorp.com/
Valdrin are a band who come out of the legendary blackened death metal scene. Two Carrion Talismans is the bands second full length release featuring eight songs of majestic black metal with a healthy dose of death metal influence as well. The guitarist can write and perform both mid paced passages and some extremely fast patterns very adeptly, even adding some solos into a few of the songs. The drumming is done with both slower, mid paced tempos drum beats and elevating to a faster, more furious drum style. The vocals are a mix of raw black metal screams and some deep death metal growls used in a few of the songs. If you are looking for a new band that mixes a unique blend of blackened death metal with some other elements, then do yourself a favor and make sure you pick up this release once it is out. - Patrick
https://www.facebook.com/valdrinausadjur https://bloodharvestrecords.bandcamp.com
Ohio's Valdrin (previously known as Dawn Of Wolves from 2006-2010) return with their third full-length release, once again working with the dedicated Blood Harvest label. 'Effigy Of Nightmares' contains six songs of majestic, well crafted black metal music that seems to be rooted in the more melodic side of the black metal style. The guitars are played with a high level of skill with the bands experience showing through the mainly mid paced range music. But, it does speed up to a faster guitar pace throughout some of the songs. The drums are played at a high level of skill with mature drumming patterns that are done with some slow drum passages, but do speed up to a faster pacing in a few of the songs. 'Effigy Of Nightmares' for me is a masterpiece of well impressively composed black metal that is both flowing and fluid as well as majestic. - Patrick
https://www.facebook.com/valdrinausadjur http://www.bloodharvest.se/
I must confess I do not know a whole about this Italian band, besides hearing their name from time to time over the years, and yes, there has been years passed indeed. As despite this being a re-release of this bands debut album, originally released in 2012 on CD, they had started way back in 1996 and had no less than 4 demos out on tape and that disc at that point in time. I am not sure what happened in the ten years between their last demo and this debut full-length. But there is an intro, followed by two decent but quite standard deathrash songs, which again were okay yet quite standard and forgettable quite honestly. Then the third track post intro, entitled "Dark Dressed Shepard" kicks in and suddenly the sound on the guitars is more brutal, more straight up good death metal. The riffs and song structuring suddenly possess more dynamic quality, variation and even feature some cool, brief guitar solos that really spice things up. What a turn around from those first couple songs, which left me a bit listless as a listener and wondering how this band was around for 16 years already at that point, then suddenly before I can write anything down the quality in nearly every aspect goes up a level. That was a pleasant surprise! Maybe the band thought let's keep expectations low to start and then turn it up and hit them hard and don't look back? Maybe they just put every song they wrote during that decade and just suddenly got way better? The growled vocals are solid, deep and decipherable and pretty classic sounding. I would say both the vocals are music remind me a lot to early to mid '90s Floridian death metal (excluding those couple early songs) that is catchy, heavy and features some really nice individual and collective performances in the playing and construction of these tracks. I don't know what the two albums and ep released after "Morning Will Come…" sound like, but it feels like the band were starting to really find their sound and identity on this enjoyable release. I will have to check out some of their later works one day, but until then check out this unearthed hour long diamond in the rough. - Dale
https://www.facebook.com/valgrindband https://nihilistic-webzine-distro.fr/
Sweden's melodic black death metal band Vananidr return with their third full length release. "Damnation" contains seven well composed and crafted tracks, which mix raging fast black metal with a more controlled melodic style. The guitarist knows how to write and arrange some skilled, extremely fast and furious guitars, but also utilizes more of a restrained melodic guitar tone and style. This is my first time hearing Vananidr, so I can't compare this to previous releases, but if you are someone who enjoys both fast, chaotic black metal with a healthy dose of melodic guitars and drums then do yourself a favor and pick up a copy of "Damnation" as soon as possible. - Patrick
https://www.facebook.com/vananidr www.purity-through-fire.com
Finland's Violent Hammer play a vicious and violent form of old-school death metal with some aggressive thrash metal thrown into the musical mixed. After releasing three demo's in 2006, 2008 and the final demo in 2014 entitled "More Victims". 'Riders Of The Wasteland' is the bands debut full-length album being released through Hells Headbangers on both cd and Lp. The drums are played with in a whirlwind of aggressive and unrelenting fast blast beats. Even though the drums are played mainly with blasting beats, the drummer does write some well executed and performed drum passages that mixes things up. The vocals are old school gruff death metal growls and some gruff thrash screams are used in a few of the tracks. The vocals really fit Violent Hammer's music perfectly. The guitars are played at an extremely fast whirlwind pace that is features chaotic and well executed arrangements. The guitarists do write some more controlled guitar passages that are done with skill and their experience shines through. If you are looking for a band that plays unrelenting and destructive old school metal, then do yourself a favor and pick up a copy of 'Riders Of The Wasteland' today. - Patrick
https://www.facebook.com/violenthammer http://www.hellsheadbangers.com/
Sweden's Voodus (formerly known as Jormundgand for nearly a decade) have composed an interesting and well rounded mini-album here. They play black metal, some might even call it black death metal, but they combine those sub-genres quite smoothly with sweeping, emotive guitar passages. Those sections feel more like something from a progressive heavy metal band ala something you might hear from (again guitar wise in the more somber sections) Fates Warning, early Queensryche, Rush, Dream Theater, Savatage etc… It is a surprising combination and while the heavier, colder bm elements have an underlying melody, these two styles tend not to overlap yet the transitions (back and forth), as I alluded to above are smooth and relatively natural sounding in the flow of the song. When they are on the black metal sections they are quite cold, employing that old second wave early '90s black metal with a vocal that melds the bm rasp and a sinuous dark death metal growling undercurrent. I feel like when reading this back and thinking things over, this really should not work, but Voodus find a way to make it work and feel pretty natural. Despite this I can certainly see those with purist leanings (like myself) having a problem with that and being turned off. I feel this way to some extent myself, yet the music on here is strongly enough composed and constructed that it managed to win me over on this release. - Dale
https://www.facebook.com/voodus666/ https://www.shadowrecords.se/
This is actually this Greek bands first release, in fact, it is essentially their demo that impressed Helter Skelter Records enough to want to pick up and release it on all three of the prevailing physical formats. They are a brand new band as you would expect from my preamble above, but the members are certainly not new to the UG scene as all three have previously done time in and/or are currently in a plethora of bands like Kawir, Nergal, Cult Of Eibon, Black Blood Invocation, Caedes Cruenta, Nargothrond, Funeral Chant and more! The 22 minutes of music is permeated with a sinister suffocating aura, and a sound that celebrates the great early '90s tradition of Greek black death metal with nocuous evil influences from the old South American war metal style. The music is the opposite of intricate, instead keeping things stripped down in the old tradition with emphasis on the overall malevolent atmosphere. It is dark and odious old fashioned warring black death with a perfectly matching raw, but still clear enough production on this recording that suits it. I am sure UG fans that worship elaborate (possibly convoluted depending on your tastes?), over produced modern style black death metal may well not like this, but I certainly do and I think diehards of the glorious early days of the scene will too. - Dale
https://walpurgia666.bandcamp.com/ https://helterskelterproductions.bandcamp.com/
Warsenal burst out of the Quebec, Canada scene like a caged beast, finally set free as they rip 'n tear through some killer high velocity thrash metal possessing rabid energy and zest. There is wall to wall vicious riffs bouncing at you in every song at light speed with some killer rhythmic force that, if you are like me, will force you to headbang like a maniac! I can really pick out some influences, and they have chosen to be inspired by some like truly classic releases from bands like the early works of Kreator, Whiplash, Razor, Destruction and especially old Voivod and Possessed. I feel like I even hear a hint of the criminally underrated Canadian band Disciples of Power here and there. The whole band kills it, the drummer is a real force, but the guitar work on here is technical and superb with the band showcasing it through some really tasty playing and infectious songwriting. There are some really speedy and impressive guitar solos worked into the musical maelstrom that will wreck your mind. I think the band did a decent job of keeping up the speed and aggression throughout the album, but they have crafted the songs with just enough definition to each song to inject a touch of it's own stand alone character, which is impressive. This album is a slam dunk excellent release for me. I think it will be the same for any thrash metal die hard to want to make sure this is added to their collection. - Dale
https://www.facebook.com/WarsenalOfficial https://svartrecords.com/
These Australian Sorcerers keep the old flames burning bright with their brand of mixing old school NWOBHM with '70s and early '80s traditional doom metal. This is my first dance with these Occult metallers, even though this is the bands fourth full-length album. The vocals of Ol' Rusty are really interesting and fairly unique sounding at times, they could well be an acquired taste for some, but I found I enjoyed them more and more with each successive listen. These guys write some really cool riffs and smooth harmonies that sucked me in and kept me engaged. The guitar work in general is so classic and quality, dripping with strong emotive virtues, and even feature the odd tasty guitar solo thrown into the mix. There is an array of excellent bands general sounds and music swimming in my head as listen to this, such as Witchfynde, Satan, Pagan Altar, Witchfinder General, Solitude Aeturnus, Warlord, The Sword, In Solitude etc… As usual Cruz Del Sur finds high quality bands that almost always satisfy my musical tastes, now you can add The Wizar'd to that list of bands. Check it out. - Dale
https://hcrthewizard.bandcamp.com/ https://www.cruzdelsurmusic.com/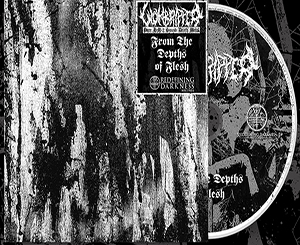 I need to be up front, a little bit here, I am an absolute diehard fanatic for early to mid '90s Swedish death metal with that great archetypical production style. With that out of the way, what we have here is a young Russian death metal band on their debut album, where they express much the same affinity I have for that scene. They do the style very well here, a lot of Swede bands come to mind, but probably the two that come to mind the most are chiefly Dismember and also Entombed. Which is a-fucking-okay by me! Something that strikes me about the band, besides some killer riffs, is the high energy they play with energizes me as I listen. There is one thing the classic bands from Sweden all possessed, and that was dm vocalists that were very strong growlers with an ability to sing extremely powerfully. Not only that, but also an ability to convey a level of emotion and range (I know range with growling sounds strange to some, but a discerning long time fan knows that is a thing and knows what I mean), while still keeping the growl deep and brutal. So, with that in mind, the vocalist on here is good he and surely gets the job done, at the same time for me he does not quite put them over the top like their inspirations did. It is a bit of nitpick, but there you have it. Something related to that, which seemed a little out of left field was the song "Godless Slaughter (In The Name Of Doom)", which feels a bit more Floridian death metal and the vocalist suddenly, just for this song does his best John Tardy impression and it is a very good one! Another thing that should not go unnoticed is the bands ability to inject some emotional dynamics into their structuring, which keeps things interesting and shows some depth to their sound. There is also some tasty guitar fills, which may go unnoticed by some, but not me. I realize some reading this might be more discerning and picky with style of dm, only wanting to hear the original classics or some new mind blowing new twist, I can understand that. Because I am that way with melodic death, where I only like the very best of the best and the rest I can usually live without. But, as I mentioned, I just can not get enough of this style of old school Swedish death metal!! Fellow fanatics check this shit out; it is pretty killer to me, to hear this from a Russian band. A final parting note, for buyers of the cd, you will be getting three (two unreleased previously) good bonus tracks not on the other version of this release overseas. - Dale
https://wombripper.bandcamp.com/ http://www.redefiningdarkness.com/
'Spiritual Sickness' is the bands debut full length album featuring eight songs that are well crafted and performed death metal insanity. The band does a great job of crafting their own brand of death metal, with some influences from the excellent mid '90s time period of this genre. The guitar work on this debut is filled with extremely fast guitar riffing though the guitarist does slow down to a slower and guitar style at times. The vocalist does a good job of mixing both gruff old school growls and some deeper death growls that Zealot Cult's style perfectly. The vocalist kind of reminds me of early John Tardy and Chuck Schuldiner, but they are not a complete rip off by any means. If you are looking for a band that pays homage to early US death metal, without copying anything, then be sure to pick up a copy 'Spiritual Sickness' when it is released. - Patrick
https://www.facebook.com/zealotcultDM/ http://www.bloodharvest.se/
I first encountered this Mexican death squad several years ago, and they didn't make a huge impression on me for whatever reason. That has changed. Zombiefication belched forth quite the album with this new release, and it's solidly crafted and well-written death metal of the highest order. Stylistically it reminds me of a cross-pollination of mid-period Entombed (think To Ride Shoot Straight and Speak the Truth or Uprising) and old Desultory, and perhaps faster Asphyx material. There's a looseness to this that makes it sound so much more human than a lot of modern death metal, a violent swagger that not too many bands can own. The vocals are quite different, being more of a yell than a growl, which is refreshing. There is a little musical experimentation here, but the morbidity never lets up, and the twists and turns the album takes simply enhance the experience. The track order is paced perfectly, and the frenetic style they present adds even more character to the flow. Zombiefication has matured with this release, and I look forward to the next record. This is going to stay in my rotation for some time, and I dare say this is one of the best releases of 2018. – Andrew Parrish
https://www.facebook.com/zombieficationofficial/ https://doomentiarecords.bandcamp.com/